Welcome to my Quiz Star Review! 
I recently stumbled upon a slick commercial for Quiz Star, which tempted me with the opportunity to strike it rich! 
A woman boasting stacks of cash encouraged me to try this game and win real money easily. 
The job? Well, answering primary school questions like "What Planet do we live on?" doesn't feel like a challenging job, does it?
But that's what you are supposed to do. Answer simple quizzes and watch commercials in return for incredible cash rewards that amount to thousands of dollars! 
Of course, the idea of earning free money sparks doubt that this might be another fake money game.
No one wants to spend hours answering questions only to fall into an advertising trap with nothing to show for it. 
So, is Quiz Star legit or fake? Let's find out!
Before you leave this page, don't miss out on the step-by-step program that helped me to generate $2,000+ each month and quit my job in 2019.
Quiz Star Review
Name:

Quiz Star

Developer:

 rcwbernd

Availability:

 Worldwide

Price:

 Free

Payout threshold:

£800

Overall Rating: 0 stars
What Is Quiz Star? 
Quiz Star is an Android Quiz Game where you answer pretty straightforward trivia questions in return for cash! 
They really want you to think it's the real deal by promising all rewards will be redeemable after the 24-hour countdown.
Or, you can cash out immediately via PayPal and many other platforms after hitting £800! 
The app is free, so you don't have to risk your money to magically grow your balance. 
It's like playing the Moment of Truth on your smartphone with a 100% chance of winning!
Quiz Star is still classified as Early Access on the Play Store, meaning the game was released before it was fully finished. 
This classification allows developers to get feedback and make app improvements before allowing reviews. That's fair! 
However, some dishonest developers use this method to avoid receiving negative reviews. That's especially the case for games that falsely claim to pay users but never do! 
Since reviews play a crucial role in determining their reliability, I am always skeptical of reward apps still in Early Access. 
How Does Quiz Star Work? 
The trivia game can be installed on an Android device from the Google Play Store.

Upon launching Quiz Star for the first time, you will immediately get the first quiz question that will add £80 to your account. 
Right at the bottom, it says you should expect to answer 100 questions correctly to withdraw cash. 
After tapping the "Claim" button and collecting your first reward, it prompts you to click the cash spin to win more cash. 
Next, you will discover that you can earn up to £800 within the 24-hour countdown and cash out immediately after reaching this amount. 
Before jumping to the questions, choose from nine major payment platforms: PayPal, Cash App, Coinbase, Paytm, and more! 
Finally, you can participate in quiz games by answering a sequence of trivia questions covering an extensive range of topics.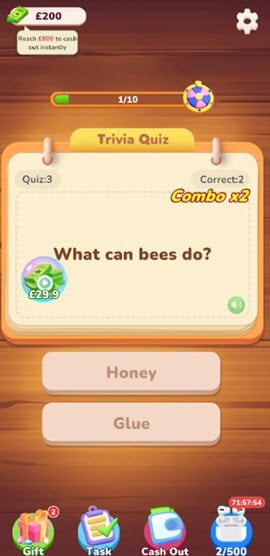 They start with elementary questions and become more challenging as you advance. 
If you answer the question correctly, you will get a decent amount of cash, usually after watching the video. 
Answering multiple questions correctly in a row will trigger combos and give you a boost reward in the following quiz. 
Sometimes, you will also get the chance to multiply your winnings by clicking "Reward x3 ~ 5 and watching the video. 
Win Gifts
Believe it or not, Quiz Star has a gift section where you can collect items for different prices, such as Airpods, PS5, iPhone 13, Rolex Macbook Pro, and more. 
You can supposedly win the gift once you collect 50, 75, or 100 items, depending on the product. 

You will get three lucky chances to earn items for every five questions answered correctly. 
Besides, you can redeem Airpods if you answer 500 questions during the 72-hour event. 
Is Quiz Star Legit? Does it Pay? 
No, it doesn't! Quiz Star is just one of those fake money games that entice you with real cash but only deliver disappointment. 
There is no chance of winning anything from this app as the developer only collects advertising revenue for himself. 

This reward platform is going viral! Cash out via PayPal, Visa, Gift Cards, and in-game currencies - Click here to find out how to generate an extra $10+ per day! 
It's no surprise the app is still in Early Access. Otherwise, many people would spill the beans and expose the reality of this application on the Play Store. But, of course, they don't want that!
I played Quiz Star for a long time and noticed the same pattern of diminishing returns. 

The cash reward decrease as you approach the payout threshold of £800, pushing your target further away!
It's disheartening to receive pennies when you are so close to reaching the target.
Unfortunately, this tactic is very effective in making players stick with the app for longer and spend a ridiculous amount of time watching videos. 
After 24 hours or after meeting the requirement, Quiz Star will take a well-known card under its sleeves and ask you to watch even more videos.
I refused to waste so much time in this game because the outcome is always the same: A tremendous waste of time, data, and patience! 
Conclusion 
Don't waste your time answering trivia questions with Quiz Star because it doesn't pay a dime. 
It's just a trap developed by smart individuals who use fake rewards to monetize your desire to make easy money. 
Wanna make real money online? Here is my advice:
Learn proven strategies and take massive and consistent action toward your goals. 
One of the best opportunities is to build a content-driven business that attracts an audience searching for information. 
This step-by-step program opened my eyes to this business model and helped me create this lucrative site you are reading. 
This platform will give you the proper training, support, and tools to succeed as a content creator and achieve a steady online income. 
Final Words
We appreciate you taking the time to read our Quiz Star. If you have any requestions regarding the app or would like to offer your frank opinions, please feel free to leave a comment below.
Peace!