Welcome to my Mystery Paper Fold Review!
Ah, Mystery Paper Fold, the game that promises free Robux in exchange for your gameplay! 
How enticing is the feeling of earning thousands of Roblox currency worth an arm and a leg! 
But wait a minute. Before you start folding virtual papers on your smartphone, taking a step back and looking at this opportunity with a curious spirit is crucial.
After all, the Play Store is rife with mobile games that promise the moon and deliver nothing but useless pixels! 
So, is Mystery Paper Fold legit or fake? Will they transfer Robux when you meet the conditions as advertised? 
In this review, I will dispel all the secrets behind this application and give you all the necessary answers. Let's dive in! 
Before leaving my blog, check out the step-by-step system that helped me generate $2,000+ per month and quit my job in 2019.
Mystery Paper Fold Review
Name:

 Mystery Paper Fold

Developer: 

Dillon Sinclair

Price:

 Free (no in-app purchases)

Overall Rating: 0
What is Mystery Paper Fold?
Mystery Paper Fold is an origami game where you tap the screen to fold a piece of paper to reveal a hidden image. 
It's like solving a puzzle, as the players must fold the segments in the exact sequence.
Therefore, it requires attention to detail and strategy, especially as the folding patterns get increasingly complex at higher levels.
After completing the level, you will receive a Robux reward that accumulates in your wallet. 
However, watching commercials is a prerequisite for the game currency to be credited to your game balance. 
Mystery Paper Fold has been installed over 5 million times, making it one of Android's most popular free Robux games. 
How Does Mystery Paper Fold Work? 
Mystery Paper Fold is available on the Play Store for any Android device. The free game doesn't require registration before users start playing. 
It's important to mention that although the developer claims to encrypt your internet connection, Google states otherwise. 
Not only is your data not encrypted, but the company refuses to delete them upon request. This is undoubtedly against privacy regulations in Europe (GDPR). 
The first step is to bind your Roblox account so that Robux is issued for you through the official platform. Well, at least that's what they say! 
Simply tap the screen to fold the virtual piece of paper until the image is entirely revealed. The correct sequence of folds is crucial to complete the puzzle.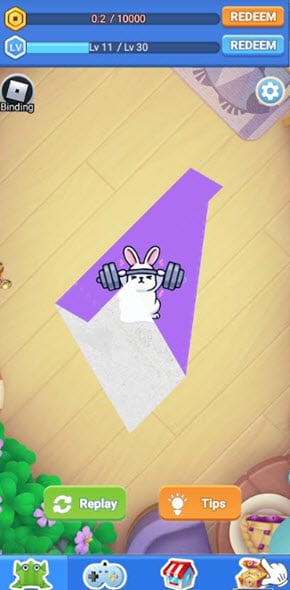 After each stage, Mystery Paper Fold will award you Robux that can be multiplied up to five times Robux. 
To claim your prize, you must first hit the "Multiple Claim" button and watch the commercial until the end.
Most of those videos are trying to lure you into installing games with unrealistic cash prizes. So, be careful! 
If your focus is to make money, you have probably realized activating these videos without playing Mystery Paper Fold is possible. 
The app features an area where you can instantly trigger the reward by tapping the Robux icon. Or, you can tap the floating box full of Robux!
How do You Redeem Robux? 
According to the app's instructions, you must collect a minimum of 1000 Robux to claim the prize. 
You can also collect 15,000 Robux by reaching level 30! 
Is Mystery Paper Fold Legit? Free or Fake Robux?
The Robux prize is utterly fake, as you will never see 10,000 Robux miraculously appear in your Roblox account.
The game is nothing but a trap for players who are unaware of how these applications operate. 
The real purpose of the Mystery Paper Fold is to engage users in watching countless videos that generate revenue for the developer. 
However, the money this app receives is not enough to pay for all these Robux prizes, which would amount to millions of dollars! 

Mystery Paper Fold deploys a tactics known as diminishing rewards to maximize profits. 
It starts great. But as you approach 10,000 Robux, the rewards dwindle to mere fractions, leaving you deflated.
But brace yourself, as the worst is yet to come!
Just when you think you will enjoy your currency, the app demands you watch 35 videos within 24 hours to activate the order. 
It's a cruel system where you jump through hoops with no guarantees of receiving rewards. The same behavior is found in Mystery Coin Box and hundreds of fake money games. 
Many people will keep trying because they have already committed a lot of time.

This reward platform is going viral! Cash out via PayPal, Visa, Gift Cards, and in-game currencies - Click here to find out how to generate an extra $10+ per day! 
However, they will be greeted with another video requirement before being placed in a queue with over 9000 people.
It's a complete joke! 

Conclusion 
I recommend you avoid Mystery Paper Fold unless you enjoy playing puzzle games. 
This "origami game" might sound tempting with its promises of free Robux, but the free Robux offer is just an illusion.
The best short-term strategy for people who crave Robux is to join a GPT platform where they can complete simple tasks for cash rewards. 
There are legit apps where you can redeem for game currency, but the time and effort required will be similar at best. 
So, save yourself the trouble of finding the right platform and discover my top reward site here. 
Final Words
Thanks for reading my Mystery Paper Fold, and I hope it helped keep you in the know.
If you want to share your thoughts and experience with this app, leave us a comment below. 
Peace!