Welcome to my Goopinion review! 
I was exploring the Google Play Store in hopes of finding a great survey app when I came across Goopinions. 
The app has been installed over 50k times and received an overall rating of 4.1 out of 5.
So, I was optimistic about this application, which doesn't look anything like other misleading apps I review in this blog. 
The convenience of making money from anywhere, at any time, is one of the key benefits of survey apps. 
However, legit applications can make the cashout process extremely cumbersome despite their high overall rating. 
That's why it's important to do proper research and read a couple of reviews before jumping with both feet. 
In this review, I uncover the pros and cons of Goopinions and give you my honest opinion on whether the app is worth your time and effort.
Is it legit? How much money can you make? Let's find out!
Before leaving this page, don't forget to check out the step-by-step program that helped me to generate $2,000+ each month and quit my job in 2019.
Goopinion Review 

This reward platform is going viral! Cash out via PayPal, Visa, Gift Cards, and in-game currencies - Click here to find out how to generate an extra $10+ per day! 
Name:

Goopinion: Gift Cards & Surveys

Developer:

 BitBurst

Availability:

 Worldwide

Price:

 Free

Payout threshold:

£14

Overall Rating: 3/5
What is Goopinion? 
Goopinion is a reward app that allows you to get paid for sharing your opinions and completing advertising offers. 
Anyone over 18 can use this platform to earn a little extra cash in their free time! 
Goopinion is developed by BitBurst, a German company known for many other survey apps like Easy Bucks, CashBaron, and Poll Pay. 
The app works as a middleman between consumers and marketing research companies seeking valuable insights into their products and services. 
Although Bitburst operates different apps, the opportunities in each are similar. Therefore, installing multiple apps from this provider may not be advantageous. 
By completing tasks from Goopinion, you will earn coins that can be redeemed for cash incentives, such as PayPal and Amazon gift cards.
How Does Goopinion Work? 

The Goopinion app is accessible on Google Play, and it's 100% free to use.
After installing the app, you must agree with the Terms of Use and Privacy Policy, promising they will never collect or share your data. 
Next, you can register for an account using your Google account or a referral code. Use my code GKPX4F3HT4 to claim 250 coins. 
Goopinion features an intuitive design that makes it easy to find all the activities to earn coins.
Speaking of coins, it's essential to know how much they are worth, as it helps you maximize your earnings. 
In the UK, users should collect 14,900 coins in order to receive a minimum payout of £14. Therefore, 1000 coins are equivalent to almost £1. 
Earning Coins
The first step is to complete your first profiling survey, which takes only 3 minutes and awards 5000 coins.
That's almost £5 in under 3 minutes answering simple questions, such as your gender, birth date, postcode, and job status! Not bad at all! 
The profile survey will match you with studies that are more relevant and interesting to you.
As a result, the platform will unlock all the surveys from the list and boost your subsequent survey earnings by 15%.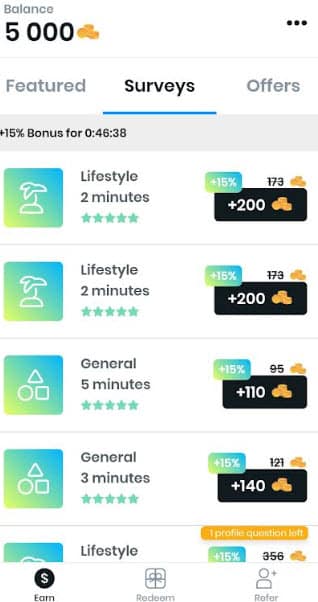 Typically, Goopinion surveys award fewer than 1500 coins and take less than 10 minutes to complete.
The good news is that the platform has partnered with BitLabs and Adgem, two platforms that pay you to install third-party apps and games. 

To claim rewards for completing offers, you must carefully read the instructions and satisfy all the requirements. 
For example, if you install NordVPN and sign up for a free trial, you will get 1,800 coins! 
How to Cash Out
Withdrawing funds from Goopinion is pretty straightforward, provided you have reached the payout threshold.
The minimum payout for PayPal, Google Play, Zalando, and Amazon gift cards is £14, which requires 19,500 coins.
The minimum redemption amount for those who prefer a Spotify card is £29 ( 39,000 coins).
It's important to mention that Goopinions will charge a fee of 650 coins for those who withdraw funds via PayPal. 
According to the app's Terms of Service, the company will attempt to process the reward within the first two business days. 
Invite friends
You may increase your earnings by inviting your friends to join Goopinions.
Enter the "Refer" section and share your invitation code with your friends. 

If the person installs the app and enters your code, you will get a 15% reward commission, and your friends will get 250 coins as a starting bonus. 
Is Goopinion Legit? Does it Pay? 
Yes, GoOpinion is a legitimate app that may or may not pay you based on the company's sole discretion!
I am saying this because if they find any suspicious behaviors in your account, they may reject the payment. 
You may think, "Fine, I never try to cheat anyway, so I have nothing to lose."
Well, the problem is that if they flag your account for whatever reason and you are innocent, they are not obliged to prove you are guilty. 
So, it's your word against theirs!
That being said, I haven't found any complaints from people who cashed out and didn't receive the money. 
Unfortunately, some users have reported negative experiences with this app.
One common issue is that it disqualifies users halfway through a survey, resulting in disappointment and waste of time.
This is particularly frustrating for users who always answer honestly. The main problem is when participants have to endure over 5 minutes of questions only to be told they are not a right fit. 
Another concern is that the app may abruptly freeze or interrupt a survey, leaving participants with no compensation. 
After reviewing hundreds of reward platforms that provide surveys, I can tell you that's a common behavior in this industry. This great survey app never disqualifies! 
So, there is nothing we can do except keep trying, or give up on surveys altogether. 
Pros and Cons 
Pros
Available worldwide

Easy to navigate and complete tasks. 

Multiple cashout options, including PayPal and gift cards

Ability to invite friends and earn 15% commission.

Payment takes up to 2 business days. 
Cons
Low earning potential.

The minimum payout threshold is high compared to other survey apps. 

A fee of 650 coins is charged for PayPal withdrawals. 

There are few surveys available. 

Frequent disqualifications

 like in most survey panels. 
Conclusion 
Goopinion is a legitimate platform that will most likely transfer your funds if you meet the minimum cashout criteria.
However, it's almost identical to Poll Pay, a much more popular app by Bitburst. 
You will find the same surveys and offers in both apps, but the main difference is that Poll Pay has a lower payout threshold of £10. 
Therefore, I don't see any advantage of using Goopinion instead of Poll Pay since you can cash out faster with the latter. 
Overall, Goopinion is a decent survey app but don't set high expectations about the income potential. It's low, like most reward sites and apps. 

Final Words
Thank you for reading this Goopinion review. I hope that the information in this post is valuable and informative.
If you have any questions or want to express your thoughts on the app, please leave a comment below.
Peace!