Welcome to my Cash Cow review!
Are you craving a legit application that allows you to monetize your playtime fairly?
Cash Cow is a new opportunity for those who want to try mobile games and earn a little extra cash for doing so! 
When I first saw the advert for this reward app, it immediately reminded me JustDice platforms like Cash Giraffe and Money Turn. 
The offer looks the same, so I suspected the same company also operated Cash Cow. And I was right! 
These apps are very tempting because they combine financial incentives with enjoyable activities. 
But with so many fake apps out there, can you trust you will get the money in your PayPal account? Is Cash Caw legit or fake? 
Let's find out!
Before leaving my blog, check out the step-by-step system that helped me generate $2,000+ per month and quit my job in 2019.
Cash Cow Review
Name:

 Cash Cow

Developer: 

JustDice GmbH

Payout Threshold:

£0.50

Price:

 Free (no in-app purchases)

Overall Rating:

2.5/5
What is Cash Cow? 

This reward platform is going viral! Cash out via PayPal, Visa, Gift Cards, and in-game currencies - Click here to find out how to generate an extra $10+ per day! 
Cash Cow is an Android app that rewards users for completing various tasks, such as playing games, completing offers, and taking surveys. 
As you engage in these activities, they'll accumulate coins in your Cash Cow wallet.
For example, you can play a game and earn coins per level. 
Cash Cow has also partnered with Bitlabs, which helps monetize users' opinions through an integrated platform. 
You will answer simple questions about specific topics, products, or services in exchange for coins. 
Cash Cow is almost identical to Cash Giraffe and many other apps by the same company called JustDice. 
It's achieved a remarkable 50k installs on Google Play in less than 20 days, thanks to a massive advertising campaign. 
Indeed, I was bombarded with over ten commercials while testing a fake reward app called Royal Task Deals. 
How Does Cash Cow Work? 

With just a few taps, you can download Cash Cow on Play Store the start collecting coins. 
The first step is to read and accept their Terms of Service, which informs users about how the company handles their data. 
It's important to mention that they will eventually ask you to submit a selfie as part of the verification process.
That is required to ensure bonuses are given to real user accounts, not automated ones trying to exploit the system. 
After hitting the "Accept" button, you must choose between Facebook, Google, and email as your login method. 
Creating an account guarantees you don't miss your coins in case you have to change your phone or uninstall your app.
Next, Cash Cow needs you to allow usage tracking, allowing the company to track your playtime and give you the coins you deserve. 
It's easy! Just hit "grant," choose the app from the list, and toggle on "Allow usage tracking."
Following this prompt will get you a welcome gift of 3599 coins, which will be added to your first payout! 
This bonus will help you achieve your first payout threshold much faster. 
How Much Money Coins Are Worth? 
The conversion rate depends on your country. For example, in the UK, where I am testing this app, you can exchange a minimum of 6399 coins for £0.50. 
Therefore, UK residents need 2800 to redeem their first £0.50! 
If you live in the USA or Australia, you will probably find a similar cashout requirement converted to your currency! 

How to Collect Coins? 
The first option to collect coins on Cash Cow is to install a featured game on your phone and play it.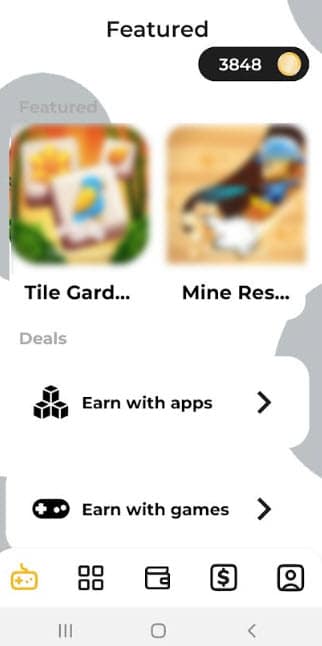 Just be aware you must launch the game within the Cash Cow library for it to track your playtime.
If you tap "play" immediately after installation, you won't get any coins. 
Like other JustDice applications, it says you will earn a specific number of coins per minute of gameplay.
But after the first minute, they will ask you to complete the next level to be rewarded. 
Furthermore, it may drop your earnings over time, making it increasingly harder to rack up coins. This will encourage users to install another game for a fresh start. 
If you want a more extensive game selection, you may find Mistplay a great alternative to Cash Cow! 
Another way to earn with Cash Cow is to visit the offer wall section, where you can earn coins by installing third-party apps and games.
It is essential to read and follow the offer's instructions carefully. Some require additional actions, such as making an in-app purchase or subscribing to a trial. 

As mentioned earlier, you can also complete surveys from Bitlabs and earn coins upon completion. 
The downside of surveys is that if you don't meet the target audience's criteria, you may be disqualified and not allowed to complete the survey.
As a result, you may waste a lot of time trying to qualify! 
How do You Get Paid? 
To withdraw funds from the Cash Cow app, you must first collect a minimum number of coins.
The following are the prerequisites for different payment methods:
PayPal: £0.50, 6399 coins needed

Starbucks: £5, 60243 coins needed

Zalando: £5, 60243 coins needed

Amazon: £2.5, 31044 coins needed.
Since JustDice is a Germany company, you will receive your payments in Euros, no matter where you are from.
Is Cash Cow Legit? Does it Pay? 
Yes, Cash Cow is a legitimate application. Many users report receiving money from the company after meeting the payout threshold. 
However, it's important to know the risks and limitations. 
Not everyone will have a positive experience with Cash Cow because the company doesn't guarantee earnings. 
That means you can complete the tasks and not receive your well-deserved coins. 
Some users also complain about not getting their payments, which doesn't render the app a fraud. 
As per Cash Cow's Terms of Service, the provider does not guarantee the user any winnings. Besides, you have no right to the payout of a certain award. 
You may also find people disappointed with the low pay since they have to play for hours to cash out. 
Unfortunately, the lack of games is also a significant limiting factor since you will need to install other additional apps to earn a decent number of coins. Otherwise, you will get stuck! 
Conclusion 
I praise Cash Cow for not misleading users with false claims of making a lot of money. But I am afraid you will be milking a very lean cash cow here! 
Not only that, but the "animal" may wander off the pasture and leave you empty-handed.
Like many other JustDice apps, you should not set high expectations about your income potential. 
You won't earn much money playing games on this platform, and you may even get stuck due to a lack of apps. 
The good news is that Cash Cow partnered with an offer wall and survey provider, giving you more opportunities in case you run out of games. 
Nevertheless, it's one of the most inefficient strategies to earn money online. 

Above all, the risk of not getting paid should not be ignored, as the company doesn't guarantee any winnings. 
If you enjoy playing new games on your phone and don't mind the low pay, go ahead and install Cash Cow. It's completely free anyway, so what's there to lose? Yes, time! 
In this regard, you're better off joining a GPT platform and focusing on online surveys, which is not the best approach to making money online either. 
That's why you may want to try a completely different approach, which I will cover in more detail in the next section. 
Earn a Full-Time Income Online 
Working long hours for someone else's dream was definitely not part of a memorable existence.
I was craving freedom, and the idea of working as a digital nomad was filling up my soul back in 2015!
That's when I stumbled upon a step-by-step training on how to build a content-based business.
The platform was crammed with successful online entrepreneurs helping each other set up their website and generate life-changing affiliate sales.
After following the lessons and taking massive action, I was able to rank high on google and achieve great success.
The result? I have the freedom to work remotely and enjoy life to the fullest!
With a proven track record of over 15 years in the industry, this platform has empowered thousands of members achieve exceptional results, including myself!
Click here to learn more and start your online business today!
Final Words
Thank you for reading my Cash Cow review. I hope it was an informative and enjoyable read!
Please don't hesitate to share your valuable thoughts and expereinces in the comments section below.
Peace!