Welcome to my Get Rich Scanner review!
The developer of Get Rich Scanner claims that his innovative software allows you to earn money by simply scanning barcodes with your phone.
According to the advert, you can convert coins into USD and withdraw via PayPal and other payment methods. 
Imagine being able to make hundreds of dollars by simply scanning any bar code you can encounter!
Life would be so much easier, right? You could quit your job immediately and say goodbye to all your financial troubles.
Well, not so fast…
You see, the desire to make easy money is exploited by unscrupulous developers all over the world.
They will exploit your time and possibly trick you into paying ridiculous fees only to neglect your payment request.
That's why it's important to conduct careful research before embarking on a journey of disappointment with fake money apps.
So, is Get Rich Scanner legit or fake? Does it pay for scanning? Let's find out!
Before leaving this post, check out the step-by-step program that helped me build an affiliate site and quit my job in 2019. It's free to join, and you don't need any previous experience.
Get Rich Scanner Review
Name:

 Get Rich Scanner

Developer: 

BlackArrowow

Availability:

 Worldwide

Price:

 Free

Payout threshold:

 $200

Overall Rating: 0 stars
What is Get Rich Scanner? 
Get Rich Scanner is a mobile app that claims to pay vast sums of money for scanning receipts and playing games.
Simply find any barcode, point your phone's camera to it, and boom! You will get lots of coins redeemable for cash rewards!
The developer allows users to earn a lot of money and cash out a minimum of $200.
Indeed, each barcode will initially trigger cash prizes worth $20, which you can double by watching a commercial.
Get Rich Scanner was developed by BlackArrow, the same developer behind the money-making app called Royal Task Deals.
How Does Get Rich Scanner Work? 
Many legit apps pay users for scanning receipts because they provide vital data on customer behavior and buying habits. Receipt Hog is one classic example! 
Companies use this data to make smart decisions regarding product development and marketing strategies to increase sales.
So, in essence, users are getting paid for their participation in market research. But is Get Rich Scanner using the same principles in their business?

Before I answer this question, let's explore how the app operates.
After launching Get Rich Scanner for the first time, you will see a page with the $200 Prize and three simple steps to get 100% real cash.
Step 1
Go to the task hall to choose any offer.
Step 2
Collect cash rewards by scanning barcodes and playing games.
Step 3 
Cash out your money, which according to the developer, will be transferred to your account immediately.
After that, you will be selected as a lucky user and get a welcome bonus of $60. Then, tap "Receive" to add the money to your balance like magic!
The dashboard shows the total amount of cash you have and warns you will lose it after 24 hours.
Therefore, you must collect the minimum cash amount of $200 before the countdown ends.
Scanning barcodes
The first option is to collect cash rewards using the scanner feature.
First, tap the "Scanner" button and allow the app to take pictures and record videos. Then, point your device's camera at a barcode or QR code, and wait for recognition.
As a result, it will trigger a generous cash reward, which you can double by tapping "claim 2x" and watching the video.
Unlike other receipt-scanning apps, all barcodes and QR codes are eligible for rewards.
Heck, you can even scan the same barcode thousands of times and profit indefinitely from the same product. Big red flag, huh?

Playing Games
Another way you can earn money with this app is by playing games.
However, tapping "Play" will direct you to a page full of adverts and links to different sites.
You will need to select another "entertainment" tab to access a list of in-app games.
After choosing a game, more intrusive and annoying advertisements will pop up on your screen.
But guess what? You don't need to play any game to claim all this virtual cash! Instead, you must tap the banknote icon on the right and watch the video.

This reward platform is going viral! Cash out via PayPal, Visa, Gift Cards, and in-game currencies - Click here to find out how to generate an extra $10+ per day! 
As you can see, it's all about getting an audience for advertisers!

Withdrawing Funds
There are two conditions you need to meet to withdraw your funds.
Condition 1:

 Collect $200

Condition 2: 

Scan three barcodes or QR codes.
After that, you will be prompted to choose a redemption platform, including PayPal, Dana, OVO, PayTm, and Coinbase.
Is
Get Rich Scanner Legit? Does it Pay? 
No, it doesn't! Get Rich Scanner is another fake reward app disguised as a receipt scanning platform. 
So, don't be fooled by the tempting offer of making over $200 because they will never leave your virtual Get Rich Scanner balance. 
Those who complete the two conditions and try to cash out will be hit with a harsh reality. 
Get Rich Scanner will ask you to waste hours of your life watching an extra 40 videos to activate the order. 
And if you don't have the patience, there is an attractive solution: Pay $1.99 to activate it immediately!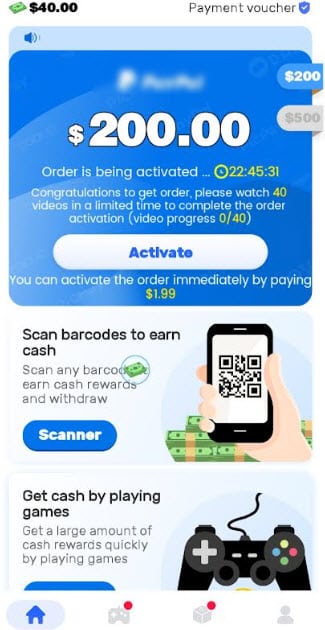 Of course, everything is an illusion intended to persuade people to watch countless videos and even spend money. 
Legitimate reward platforms will never ask for money to process payments by any means. 
Conclusion 
Get Rich Scanner is a typical fake money application that promotes the tricky get-rich-quick concept. 
The only person making money is the developer every time you watch a video in return for fictitious dollars. 
So, save time and money because there is no chance of getting paid. 
Earn a Full-Time Income Online
If you want to live life on your own terms, start a content-based business today! 
This is a lucrative and fulfilling alternative for those who dream of breaking free from the traditional 9-5 job.
As a content creator, you can share your passions and knowledge with the world and monetize your audience via affiliate marketing, advertising, and more! 
As you create more content and your audience grows, so too will your earning potential! 
The best part of having an online business is that you can earn passive income from all the content you have produced. 
Money will continue flowing whether you are traveling or asleep since your site will attract visitors 24/7! 

Interested? So, click here and learn how to create your online asset and start making real money! 
Final Words
Thanks for reading my Get Rich Scanner review. I hope it helps you steer away from frustration! 
If there is anything you'd like to share about this app, don't hesitate to leave us a comment below. 
Peace!