Welcome to my Royal Task Deals review!
I stumbled upon the Royal Task Deals app while testing a fake reward app ready to expose on my blog.
The advert had two women sitting on a couch, one looking at the other in disbelief as she raked in hundreds of dollars via PayPal.
It said I could earn $300 every 10 minutes by playing mobile games! Not only that, but it states cash could be withdrawn to the payment wallet at any time.
Yep! They want you to believe Royal Task Deals is like a money tree ready to spew out cash for you on demand.
These claims are often associated with fraudulent schemes, so you must take extreme caution and research.
So, is Royal Task Deals legit or fake? Does it transfer real money to your PayPal account or not? Let's find out!
Before leaving this post, check out the step-by-step program that helped me build an affiliate site and quit my job in 2019. It's free to join, and you don't need any previous experience.
Royal Task Deals Review
Name:

 Royal Task Deals

Developer: 

BlackArrowow

Availability:

 Worldwide

Price:

 Free

Payout threshold:

 $200

Overall Rating: 0 stars
What is Royal Task Deals? 

This reward platform is going viral! Cash out via PayPal, Visa, Gift Cards, and in-game currencies - Click here to find out how to generate an extra $10+ per day! 
Royal Task Deals is an Android app where you can supposedly earn money by completing tasks and playing games.
Their Play Store description goes as far as to state the possibility of earning a second income and achieving financial freedom at home.
The app's dashboard presents a lit of high-paying offers awarding up to $30 for completing the task.
Royal Task Deals has gone viral, achieving over 100k installations in January.
However, the developer's decision to release it as Early Access only serves to raise a giant red flag.
That's because an incomplete application doesn't allow user reviews on the Play Store, making it easy for them to hide some inconvenient truths.
How Does Royal Task Deals Work? 
Royal Task Deals is an entirely free app accessible on the Google Play Store.
After launching the application on your Android, you will be selected for a lucky user bonus of $60.

Then, you will be taken to the task hall, where you will see a list of apps or games you must install on your device and play for a certain amount of time.
Some of them will pay you up to $30 after completion, which is a very unrealistic offer compared to legit GPT platforms like Prizerebel or Freecash.
Now, here is the catch: When you try to complete one of these offers, Royal Task Deals will bombard you with banners that will try to confuse you.
But this is just one of the ways the developer is exploiting your time and making profits.
Another tactic is to show you a sponsored video when you tap the treasure chest and try to claim a cash prize.
The easiest way to collect cash rewards is by entering a section that pulls up shorts from TikTok.
You have to wait 5 seconds, tap the cash icon, click "Claim and watch the video until the end.
Withdrawing Funds
You need to be aware of two conditions before you can cash out.
First, your wallet must hit the $200 mark, which seems pretty easy initially.
However, it will require more than 30 minutes watching overhyped videos of money-making applications!
Secondly, you will need to complete three tasks in order to select your payment method and enter your account details.
You have several options to choose from, including PayPal, Dana, PayTm, and Coinbase.

Is Royal Task Deal Legit? Does it Pay? 
No, it doesn't! Royal Task Deal is another fake reward app that solely serves the developer's best interests.
The dollars you receive in the app are fictitious, meaning they will never be transferred to your bank account.
I played for long enough to meet the first two conditions and find the truth.
Sadly, Royal Task Deal will destroy your house of cards by asking you to watch 40 videos.
Not only that, but this has to be completed within 24 hours. Alternatively, you can activate the order immediately by paying $1,99! 
I am serious! They ask for money to process your payment, which is something legit companies would typically never do!
Here is the proof: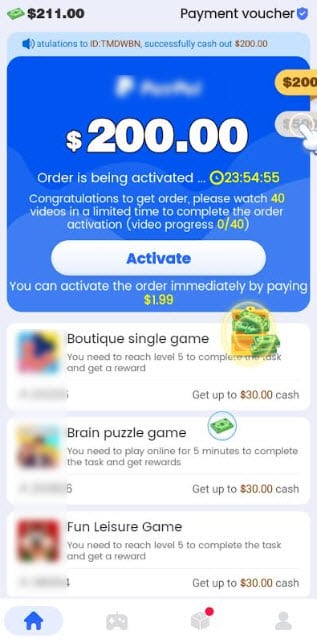 Many believe this is a fantastic deal and will either open their wallets or spend several hours trying to meet the video requirement. 
But unfortunately, Royal Task Deal won't pay you a dime! 

Conclusion 
I would like to give a big shoutout to the developer for creating such an innovative app that could potentially make everyone rich in no time. 
The possibility of earning $300 every 10 minutes by simply playing mobile games would shock even Elon Musk! 
So, forget about years of hard work and dedication, as you can achieve financial freedom thanks to BlackArrowow. 
You only need to watch a couple of commercials and pay a tiny $1,99 to activate the order! 
Sarcasm aside, it is a shame that apps like Royal Task Deals still prey on people's desire to make easy money.
The frustration of completing multiple tasks and watching videos for hours with no compensation is just crazy! 
So, if you want to make real money, I suggest you avoid Royal Task Deals and invest your energy into strategies that have the potential to pay off.
Earn a Full-Time Income Online
If you're anything like me, you're probably tired of being stuck in a dead-end job, looking forward to your next 2 or 3 weeks of vacation. 
But what if you could earn enough income online to actually enjoy the laptop lifestyle? Can you imagine true freedom?
That's what I experience daily when I open my affiliate account and see commissions ranging from $50 to $150. 
So, how did I make it? It all started in 2015 when I found this excellent step-by-step program that guided me to create a lucrative site. 
After following the lessons and putting in the hard work, I grew my site's traffic and achieved a consistent income. 
Click here to learn more and start your online business today! 
Final Words
Thank you for reading my Royal Task Deals review! I hope it provides valuable insights and saves you time. 
If you have any thoughts you'd like to share about this app, don't hesitate to use the comment section below. 
Let's continue this conversation and help each other avoid the pitfalls of fake money apps! 
Peace!