Welcome to my Booyah Box review!
I stumbled across Booyah Box, a reward application that claims to transfer Free Fire diamonds to your Player ID. 
This platform attracts millions of gamers because they cannot afford pricey game currencies. 
Unfortunately, many people download the app with high expectations and without conducting any investigation to see if it delivers.
That's a big mistake because the chances of it being a fake are pretty high, especially if the prizes look too good to be true. 
Boooyah Box is enticing users with the opportunity to redeem 10,000 diamonds worth roughly $100, which is insane!
Can the developer generate enough revenue to provide such an unrealistic prize? Is it legit or fake? Let's find out!
Boooyah Box Review
Name:

  Boooyah Coin Box

Developer: 

NomNom Puzzle Game

Availability:

 Worldwide

Payout threshold: 

10,000 diamonds

Overall Rating: 0 stars
What Is Boooyah Box? 
Booyah Box is an Android app where people can play games and earn Free Fire diamonds. 
It stores multiple games on its servers, allowing users to play without downloading any on their phones.
Although their games are not extraordinary, Booyah Box still managed to achieve 1 million installs on the Play Store. 
The reason for this outstanding achievement is simple:
The developer supposedly enables users to redeem Free Fire diamonds by watching video commercials. 
I have tested and reviewed many similar apps like Thumb Box, Cut Grass, and Mystery Coin Box! And I can tell you that none of them delivered on their promises! 
How Does Boooyah Box Work? 
Booyah Box is a 100% free, worldwide app available on the Play Store. 
After loading the app, the developer will ask if you want to win Free Fire Diamonds. Yes, of course! 
So, you tap the "yes" button, and then you are prompted to enter your Free Fire ID. 
Next, he encourages you to collect 10,000 diamonds before you can transfer the game currency through the official website. 
You will then receive a Lucky user bonus of 2000 diamonds just by clicking "Get."
Booyah Box's diverse collection of in-app games is organized into different categories, including Hot, Premium, Featured, Arcade, Casual, Sports, Adventure, and Kids.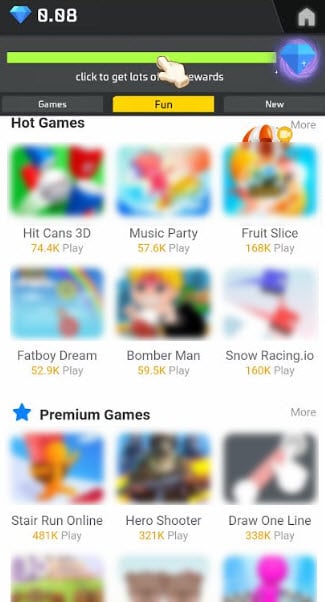 You can play any of them straight from the app without opening the Play Store. 
But the thing is, you don't need to play any game to collect diamonds! 
Instead, you must click the progress bar at the top when it's full to activate the diamond reward. 
Double your earnings by clicking the button and watching the commercials until it finishes. 
Another option to gather diamonds is to click on the paraglide that appears regularly on your screen, instantly triggering the video. 
Mystery Box
Booyah Box also features this section where you can get Free Fire skins by collecting 100 items for each skin.
For every two videos you watch in the app, you will get five boxes with a random number of items. 
Is Booyah Box Legit? Does it Pay? 
No, it doesn't! Booyah Box is not rewarding users with Free Fire diamonds because the developer could never fund this prize. 
It will take an incredible amount of time to reach 10,000 diamonds, making users watch a ridiculous number of adverts. 
As a result, the developer can make more money from all those videos you end up watching! 

Most of these videos promote a money-making game that supposedly provides unrealistic cash prizes ranging from hundreds to thousands of dollars. 
Booyah Box employs a common tactic known as "diminishing rewards," where the number of diamonds you receive decreases as you get closer to the target.
This is used in many games to keep users engaged and continue watching commercials for a very long time! 
The expectation of winning a big reward and the fact that it feels so close to achieving the goal motivate people to keep using the app. 
It reaches a point where you earn less than one diamond at a time, adding an extra decimal to your diamond balance. 
But it gets much worse! 

This reward platform is going viral! Cash out via PayPal, Visa, Gift Cards, and in-game currencies - Click here to find out how to generate an extra $10+ per day! 
After reaching 10,000 diamonds, they will ask you to watch 20 videos to activate the order for a limited time. After the 24-hour countdown, the order will be invalid. 
However, activating the order will simply put you in a queue with over 9000 users ahead, waiting for the reward.

But guess what? That number will get stuck, and you will never get Free Fire diamonds.  
So, yes. The reward is fake! 
Conclusion 
Booyah Box provides several free games to enjoy on your device, but the Free Fire reward is entirely fake.
The expectation of earning game currency lures people into watching countless videos that only benefit the developer.
It's a shame to see so many frustrated users in the review section of the Play Store. 
Sadly, many people don't even check those reviews before hitting the install button and jumping through hoops. 
I am not aware of any reward application that gives Free Robux. However, there are plenty of platforms where you can earn cash for simple online tasks. Here is my top recommendation!
You can then use that money to buy anything you want, including game currency. 
Final Words
Thank you so much for reading my Booyah Box. I hope it was eye-opening! 
We would love to hear your thoughts on this app since they add a fresh perspective to the discussion.
So, feel free to use the comment box below to leave your own review or ask any questions! 
Peace!