Welcome to my GameBit review!
Are you a gaming enthusiast looking for an easy way to earn extra cash?
I recently stumbled across Gamebit, an app that allows users to earn money to play mobile games.
By looking at the pictures and descriptions on the Play Store, I assumed it would be similar to Mistplay, PlaySpot, and other apps.
And I was right! The reward application follows the same concept by giving coins that can be exchanged for cash once the payout threshold is reached.
Unfortunately, many developers are not worried about playing fair with users, making it hard or even impossible to cash out.
Is this the case with GameBit? Is this application legitimate? How much money can you make?
This review will examine its features, earnings potential, and user experience to help you decide if this app is worth your time.
Before leaving this post, check out the step-by-step program that helped me build an affiliate site and quit my job in 2019. It's free to join, and you don't need any previous experience.
GameBit Review
Name: 

GameBit: Play-to-Earn

Developer: 

biesun

Availability:

 Worldwide

Payout threshold: 

$1

Price:

 Free

Overall Rating: 0 stars

This reward platform is going viral! Cash out via PayPal, Visa, Gift Cards, and in-game currencies - Click here to find out how to generate an extra $10+ per day! 
What is GameBit? 
GameBit is an Android application where every featured game gives you coins redeemable for real money. 
Choose a third-party app from the list and meet gameplay targets to accrue virtual currency. 
After you collect enough coins, GameBit allows you to redeem cash prizes in your PayPal account. 
The company also allows users to collect random coins by opening chests. 
With over 100k installations on the Play Store, it is quickly becoming a popular choice for money-making app hunters. 
How Does GameBit Work? 
Getting started with GameBit is pretty straightforward because it doesn't require registration. 
Unlike many platforms, this app uses encrypted data to protect your data and ensure a secure gaming experience. 

Simply download the app from Google Play and accept a welcome bonus of 3777 coins before landing on the dashboard. 
After that, you can start earning coins immediately by selecting a sponsored game or app from the list.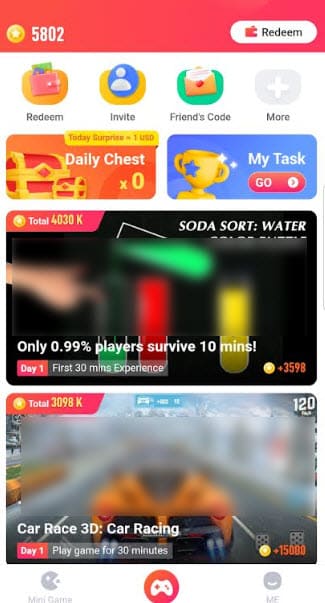 GameBit will then show you various tasks you need to complete to get credited. 
If it's a game, you will typically need to play it for 30 minutes to collect your first coins reward.
Additional targets comprise reaching specific levels or watching videos. 
For example, with Car Race 3D, the first reward for playing for the first 30 minutes is 15,000 coins.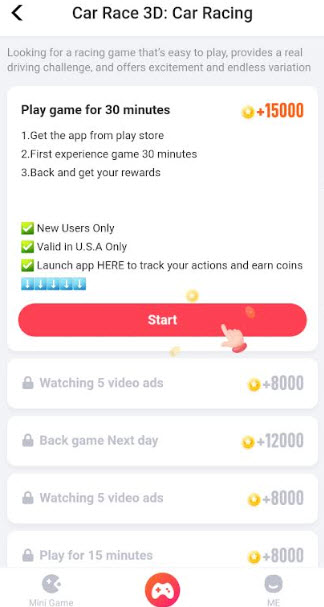 You might think you are hitting the jackpot with all these thousands of coins, but let me break it down for you:
80,777 coins can be exchanged for a measly $1, which cannot even buy you an expresso in most countries!
Therefore, you will spend hours on end playing these games for something that doesn't even add 1 gram to your wallet. 
You may also find apps like Tinder or TikTok on the list, but in that case, you just have to open and create an account. 
Get paid to share your thoughts on products and services! Check out my Qmee review! 

Daily Chest
GameBit allows users to earn boost earnings by opening daily chests. 
Each chest contains a random number of coins you can collect simply by tapping the "open" button.
To get more chests, you can complete more tasks in GameBit, such as playing games and reaching milestones. 
Besides, you'll be rewarded with five chest chances if you invite five friends who enter your invitation code. 
Exchanging Coins for Cash
To exchange coins for cash in GameBit, you must open the redeem section at the top. 
Once there, you'll see a list of cash amounts corresponding to the number of coins you have accumulated.
The minimum requirement to cash out is 80,777 coins, which converts to $1 paid into your PayPal account. 
Bear in mind you can only cash out once in 24 hours. 
I
s GameBit Legit and Worth Your Time? 

Yes. GameBit is a legit application, but you may encounter challenges when redeeming cash. 
First of all, it's important to note the earning potential is extremely low and it takes a long time to accumulate enough coins. 
Here is a full range of problems that users have reported:
GameBit provides very few apps, which may prevent you from reaching the target. 

Points earned are different from the ones advertised.

The person played for 30 minutes, but the app denied coins due to incompleted tasks.

Gamebit has stopped running following a recent upgrade, and users can no longer access their accounts. They have most likely lost all of their earnings due to the lack of registration.
Despite all the complaints, some people have reported receiving cash in their PayPal accounts with no issues. 
That's why it's a matter of hit-and-miss! 
Conclusion 
GameBit allows users to earn a little extra cash while enjoying mobile games.
Unfortunately, many customers have left negative comments on Google Play to express their frustration. 
Not only does it take a long time to cash out, but the reward system is conveniently working against users who don't always receive the coins they deserve. 
Therefore, it's important to avoid setting high expectations with GameBit because it might fail to deliver. 
To increase your chances of success, I always recommend focusing on platforms with very few complaints, like JustPlay or Mistplay. Here is my JustPlay Review! 
Earn a Full-Time Income Online
Tired of wasting your time on penny-earning mobile apps? Upgrade to a real job-replacing income with digital entrepreneurship. Experience the freedom of working whenever and wherever you want!
I know the feeling because I've done it myself. I traveled the world and worked on my terms while earning a steady income through affiliate marketing and advertising.
And the best part? It all started with this one training program that is free to join! 
This platform gave me the knowledge and tools to build a successful content-based business from scratch.
And I'm not alone. Thousands have already changed their lives by following their lessons and taking massive action. 
I invest in your future and start your digital entrepreneurship journey today.
Final Words
Don't let your experience with this app go unheard! Kindly share your thoughts in the comments below and contribute to the discussion. 
Thank you for visiting my blog and taking the time to read my GameBit review. 
Peace!