Welcome to my Ocean Merge review!
In today's post, I will dissect the latest money-making sensation called Ocean Merge.
This merge game promises to pay users large sums of cash! 
I stumbled upon this application through a commercial with bold claims of direct PayPal payments and a whopping $100 bonus for new players.
Not to mention the ludicrous game simulation that portrays a virtual cash balance jumping to over $1700 in no time!
As if no one had noted the small print in their advert saying, "result is not guaranteed."
But the truth is that most people rush to the Play Store with high hopes of making easy money without careful consideration. 
No wonder fake applications have thrived for years despite repeatedly using the same tactics. 
So, is Ocean Merge legit? Does it transfer the money or not? Let's find out!
Before leaving this post, check out the step-by-step program that helped me build an affiliate site and quit my job in 2019. It's free to join, and you don't need any previous experience.
Ocean Merge Review
Name: 

Ocean Merge – Gather Wealth

Developer: 

Dam Nhipy Life

Availability:

 Worldwide

Price:

 Free

Overall Rating: 0 stars
What is Ocean Merge? 
Ocean Merge is an underwater merging game that takes players on a voyage through the ocean's depths.
Your job is to drop and combine identical coins representing a sea creature like a fish, crab, or starfish. 
As a result, the two coins will merge and unleash a bigger coin featuring a different marine animal. 
But the adventure supposedly extends to the real world too! 
As you merge, you will come across PayPal coins that, when combined, will result in fantastic cash prizes! 
The crazy thing is that you can withdraw the funds to your PayPal account anytime. 
However, it's important to note that cash rewards are so unrealistic that it makes even an 8-year-old kid question their legitimacy. 
How Does Once Merge Work? 
Ocean Merge is available for quick download on the Play Store and is 100% free. 
Upon launching the app on your Android, it prompts you to drop two PayPal coins and unlock your first bonus ranging from $10 – $500.  

Next, Ocean Merge will show you the cash-out page featuring a 24-hour countdown and the following question:
How much bonus can you take away within the time limit?
That's the page where you fill in your account details and request the payment to be sent to your PayPal account. 
Clearly, the developer wants users to play as much as possible during the timeframe before hitting the cash-out button. 
The game is a clone of countless merging games available on the Play Store and is pretty straightforward.
You have to tap and try to collide two coins of the same size featuring a specific aquatic life. As a result, they will merge into a bigger coin featuring a different creature!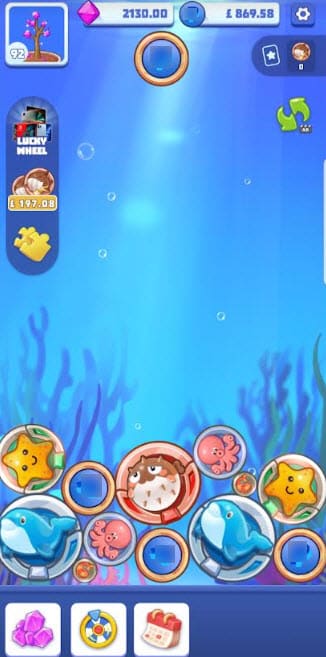 You will unlock a special coin with the PayPal trademark whenever you merge two octopuses.
When combined, this coin triggers cash bonuses ranging from $10 to $500. 
In the beginning, you will collect virtual dollars without any commercial interruption.
But that will change after accumulating over $300 when the app starts pushing a video before crediting your reward. 
Amazon Gift cards
Ocean Merge entices users to watch videos and collect pink diamonds that can be exchanged for an Amazon gift card. 

Lucky Wheel
In the Lucky Wheel section, you must watch a video to collect pieces corresponding to different prizes. 
Once you collect 100 pieces, you can redeem an iPhone 13, iPad, PlayStation 5, Nintendo Switch, and AirPods. 
Is Ocean Merge Legit? Does it Pay? 
No, it doesn't! Ocean Merge is a fake reward app designed to collect revenue with no obligation to compensate participants.
Unlike most money games I have reviewed, this one allows you to cash out at any time. But it doesn't mean you will receive the payment in your PayPal account. 

This reward platform is going viral! Cash out via PayPal, Visa, Gift Cards, and in-game currencies - Click here to find out how to generate an extra $10+ per day! 
So, this is how Ocean Merge behaves once you try to cash out! 
After entering your PayPal email in the space provided, the app says the order is successful. 

However, there is an odd note stating that cash out requires the usage of Google's server protocol, and as a result, you will be charged a small fee.
There is a "cash out" button, but nothing happens when you press it, meaning the cash reward is totally fake.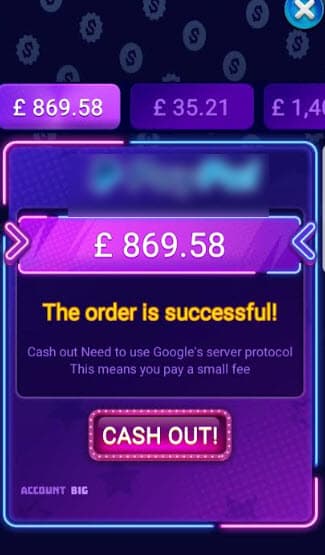 If you try to withdraw other amounts, the game tells you the gift card will arrive in your account within two weeks. 
But of course, Google has nothing to do with your winnings in the joke of an app called Ocean Merge. 
Since the money is entirely fake, you have been lured into watching countless videos that only benefit the app's owner! 
Conclusion 
Ocean Merge is another fake money game that lures users into an unrealistic cash reward system. 
Unfortunately, thousands of people are wasting time merging coins and watching loads of commercials for no pay. 
At least their fictitious withdrawal page does not direct users to the Play Store to pay a fee.
Otherwise, people would also be wasting hard-earned money on this illusion of making easy money, just like with TikTube or Wow Translate. 
Earn a Full-Time Income Online
Are you trapped in a 9 to 5 job with no flexibility to do the things you love?
Live could be so much better if you had the time and location freedom achieved by successful internet marketers! 
The internet has created an infinite number of opportunities for making money online. 
But being a content creator is one of the most accessible ways to tap into the digital economy and get a slice of the pie! 
It's a truly remarkable and rewarding process as you can build a sustainable income while providing value to others. 
But where do you start? Building a site, ranking articles on Google, and growing an audience can seem overwhelming for a beginner.
That's why I recommend checking out this top step-by-step program that will guide you through the process.
Imagine what your life could be like if you made an extra 1k, 2k and even 5k per month!  
I built this business back in 2015, and it still earns me a decent monthly income and allows me to travel whenever I want. 
You, too, can achieve your dreams and live how you want. Click here to learn more about this program and start your journey today.

Final Words
I truly appreciate you taking the time to read my Ocean Merge review, and I hope it was helpful! 
If you have any questions or thoughts, please do not hesitate to comment below. 
Peace!