Welcome to my Wow Translate review!
I've recently stumbled across an advert promising real money for watching short videos with an app called Wow Translate.
Although the name, the commercial doesn't mention anything about translating services.
Instead, it focuses on the cash reward aspect, saying there is no limit to the amount you can earn.
Of course, the concept of making hundreds of dollars effortlessly with an Android application seems too good to be true.
Not only the cash prizes are very unrealistic, but they make it seems like a risk-free opportunity to cash in big time.
With thousands of people downloading Wow Translate from around the globe, I felt the urge to install and install it and give it a try.
So, is Wow Translate legit or fake? Does it transfer the money to those who meet the requirements? Let's find out!
Before leaving this post, check out the step-by-step program that helped me build an affiliate site and quit my job in 2019. It's free to join, and you don't need any previous experience.
Wow Translate Review
Name: 

Wow Translate – Win Rewards

Developer:

Team Kolala

Availability:

 Worldwide

Price:

 Free

Payout threshold:

 $500

Overall Rating: 0 stars
What is Wow Translate? 
Wow Translate is a reward app that allows you to earn real cash for translating words or sentences with your smartphone.
It seems so profitable that it could make a professional translator ditch all their clients and switch to this cash cow!
With Wow Translate, users can earn hundreds of dollars by simply snapping pictures of text they want to be translated.
In other words, the application makes you dream of achieving financial freedom without effort.
If you are skeptical, this will surely raise a "red flag" and urge you to investigate further before wasting your time.
Wow Translate has been installed over 10,000 times, but it has the potential to reach an even larger audience thanks to its overhyped adverts.
It reminds me of this fake reward app disguised as a translation tool.
How Does Wow Translate Work? 
Wow Translate is available on Google Play for Android devices and is 100% free.
After launching the app, you will immediately receive a lucky user bonus of 888 coins.
According to the app, coins collected can be cashed out via PayPal, cash App, and gift cards.

The developer guarantees that all coins you earn within 24 hours will be exchanged for cash rewards.
However, you can withdraw the funds immediately once you reach 5000 coins, equivalent to $500.
Wow Translate provides many different ways to collect coins. The main one consists of translating using your camera or manually entering the text into the app.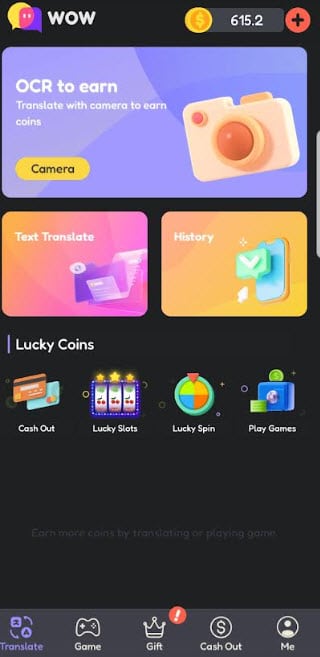 First, you must allow Wow Translate to take pictures with your Android by tapping "Allow."
Then, choose the language and point your phone at any sentence you wish to translate.
The app will automatically detect and translate all the words in the picture, giving you coins in the process!
You can always click the button and watch the advert to double your lucky reward.
Of course, this is a smart marketing tactic since watching videos will help everyone reach the target and cash out faster.
Another thing you will notice is that the coin reward decreases as you inch closer to the 5000 mark.
As a result, you are lured into using Wow Translate and watching more and more videos!
No words nearby? No problem!
Enter the "text translate" section, where you can manually type any text, and press "translate" to rack up coins.

Earn More Coins
Wow Translate also provides many other ways to get coin rewards without wasting time with translations.
Here is the list of activities that helps you reach the payout threshold:
Lucky Spin

 – Tap the spin button and win big rewards by tapping the claim button and watching the video.

News

 – earn coins by leaving the news page open or tapping the Lucky Egg.

Games

 – Collect coins rewards while you are browsing or playing in-app games.
How to Withdraw Funds
Wow Translate makes the processing of withdrawing funds straightforward. 
Once the minimum payout threshold of 5000 coins is achieved, users can cash out $500 via PayPal, Cash App, Amazon, Steam, and Google Play. 

This reward platform is going viral! Cash out via PayPal, Visa, Gift Cards, and in-game currencies - Click here to find out how to generate an extra $10+ per day! 
According to the app's instructions, your application will be issued to your account within 4 – 5 business days. 

Is Wow Translate Legit? Does it Pay? 
No, it doesn't! Wow Translate is another fake rewards app disguised as a translation tool. 
Thousands of people are using this app only as an opportunity to collect enough coins and earn easy money. 
Unfortunately, this is an illusion designed to entice users to reach the target and watch lots of videos along the way. 
It takes around 30 minutes and less than 20 videos to accumulate 5000 coins. 
Afterward, it prompts you to enter your email, mobile, or user account in the field. 
Next, it says your order has been successfully submitted, and your money will be transferred to your account in 3 days. 
However, you will need to watch 30 videos or pay a £0.69 fee to activate this order, which is ridiculous! 
You won't receive any money even if you pay them for activation. 
No legit platform charges fees for transferring cash from your online activities.
Seven years of reviewing rewards sites and applications have taught me one valuable lesson:
Be extremely cautious when dealing with companies that ask for money in exchange for payments!
Hundreds of fake money games and apps use identical tactics mentioned above. 
Their goal is always the same: Maximize the time people spend on their apps to increase profits with advertisements.
Conclusion 
Wow Translate makes users believe they will earn more money than a professional translator, which is nonsense!  
Avoid Wow Translate like the plague because there is no chance of winning $500 from this joke of an app. 
Like hundreds of fake reward applications, it will bombard you with videos that only generate revenue for the developer.
Final Words
We hope you found this review helpful and eye-opening! 
If you have any questions, please don't hesitate to drop us a comment below. We also would love to hear your thoughts! 
Peace!