Welcome to my StarTube review!
StarTube is the hottest new app on Google Play that supposedly allows users to turn their video views into cold hard cash!
The advert entices people with flashy PayPal logos and the opportunity to make thousands of dollars.
The concept is simple: Collect enough coins by watching videos and withdraw the money via PayPal, Cash App, and Gift cards.
The more you watch, the more you earn!
With over 50,000 installations in just a month, it's clear that many people are flocking to StarTube in search of easy money.
But considering many fake apps out there, it's only natural to wonder if the developer will waste your time and money.
So, is StartTube legit? Does it transfer the money if you satisfy their demands? It's time to find out!
Before you leave this page, don't miss out on the step-by-step program that helped me to generate $2,000+ each month and quit my job in 2019.
StarTube Review
Name: 

StarTube

Developer: 

WoW! Game LLC.

Availability:

 Worldwide

Price:

 Free

Payout threshold:

 $500

Overall Rating: 0 stars

This reward platform is going viral! Cash out via PayPal, Visa, Gift Cards, and in-game currencies - Click here to find out how to generate an extra $10+ per day! 
What Is StarTube? 
StarTube is a reward app that allows users to monetize their idle time by watching short videos on their phones.
It's like a genie in the form of a mobile application, granting your wish for extra cash with just a few taps and swipes!
Who needs a job when you have a money-making spice of software able to make money on demand?
Although the name StarTube evokes YouTube, it has no relation to the video streaming platform.
The app has a section where you can watch TikTok shorts, but it doesn't reward you for watching them. 
Instead, you will be enticed to watch loads of commercials, mainly targeting individuals who dream of making a lot of money playing games. 
Unfortunately, the app is still in Early Access, making it impossible for users to share their valuable reviews.
I have reviewed several similar apps like TikTube,  PicMix, WowTube, VicTube, and Huuuge Tube!

How Does StartTube Work? 
StarTube is free to download on the Play Store and requires no registration. 
Once you launch the application for the first time, you will receive a lucky user bonus of 2000 coins. 
Coins can be exchanged for cash rewards once you meet the minimum cashout requirement of 5000 coins.
That's a whopping $500 that can be redeemed for various options, including PayPal, Amazon, Cash App, Google, and Steam.
StarTube is such a weird application full of advertisements and financial indicators.
It contains various sections such as news, in-app games, and TikTok-style shorts.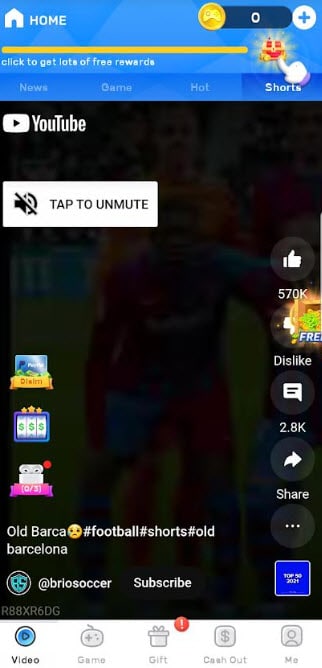 But if you want to earn coins, forget about that and focus on only clicking on the treasure chest at the top.
Once you click on it, it will activate the Lucky reward, and you will collect coins, which can be doubled by watching a commercial.
However, the video is frequently played even if you do not select to double your earnings.
Then, wait another 10 seconds for the progress bar to fill up, rinse and repeat!
You can also unlock bonus coins by clicking on the "Free" chest and watching the video. It appears randomly appears while using the app and playing games.
This 100% legit app pays you to play cool games! 

How Do You Get Paid? 
StarTube supposedly pays you once you meet the minimum cashout requirement.
Reach the 5000-point threshold and redeem them for $500 through various payment options such as PayPal, Cash App, Amazon, Steam, or Google Play gift cards.
To redeem your coins, head to the "Cash out" section, select your preferred payment method, and enter your account details.
Your payment will be processed within 3-5 business days, as per the app's instructions."
Is StarTube Legit? Does it Pay? 
No, it doesn't! StarTube is far from an actual money-making application, so you won't receive any funds in your account. 
This is how the application behaves. The closer you get to the payout threshold, the fewer coins you will receive for watching the commercials.
Earning will drop to less than 10 coins at a time, making users spend more time using the app and consuming advertisements. 
After reaching 5000 coins and entering your account details, they will congratulate you on successfully submitting your order.

But instead of transferring the funds, they show you a countdown from 72 hours and ask you to complete one of two requirement options.
The first one is to watch 75 videos within the countdown period. The second option is to pay £0.69 to immediately activate your order without the need to watch any videos.
Since watching 75 videos will take a couple of hours, many people are tempted to pay the small fee and skip the inconvenience. 
I assume this amount of money is similar to what the developer makes from advertisers when people watch 75 videos.
So, you could say that developers make around 1 penny for every video displayed on people's devices. 
Think about it. To pay hundreds of dollars to each user, the developer would need to earn more than $10 for every video view, which is nonsense! 
Conclusion 
StarTube is nothing but an advertising trap designed to hook users and use their time for profit. 
The application allegedly awards coins redeemable for exaggerated cash rewards when people watch videos. 
But after reaching the cashout amount, the user is confronted with another condition: Either watch 75 videos or pay £0.69. 
This bait-and-switch tactic ensures the developer generates additional profits at the expense of people's time and data. 
Earn a Full-Time-Income Online
Don't fall for empty promises or claims of easy money! Instead, I highly encourage you to search for proven methods to make money online, such as content marketing. 
The business model is simple: Create valuable content that helps solve people's problems and earn income through affiliate marketing or advertising. 
With a solid online presence, you can grow and scale your online business to pay for all your living expenses while working remotely. 
Imagine the possibilities with over $1000 in your pocket each month! 
This excellent step-by-step program was designed with the complete newbie in mind to guide anyone to succeed as an internet marketer. 
So, don't miss out on the opportunity to create profitable online assets from your laptop. 
Final Words
Thanks for reading my StarTube review!
 I would love to hear your thoughts on this app and your own experiences using it.
Peace!