Welcome to my Lucky Market review!
I stumbled upon this market simulation game through an advert while testing a money-making app. 
The advert entices people with the opportunity to earn receive £50 via PayPal within 10 days. 
Then, it shows the guidelines for earning money – a list of fruits and vegetables valued at £10, £20, £50, and £1000.
With the ability to grow and sell virtual fruits and vegetables, and the option to upgrade your business, Lucky Market allows players to accumulate virtual cash earned from sales.
But it gets even better because all that money can supposedly be cashed out to your PayPal account! 
The question is: Can a mobile farming simulator line your pockets with real cash as if you owned an actual business? Or is this just a cleverly disguised fake money game?
In this review, I will uncover the facts behind Lucky Market and give you my honest opinions about it. 
Before you leave this page, don't miss out on the step-by-step program that helped me to generate $2,000+ each month and quit my job in 2019.
Lucky Market Review
Name: 

Lucky Market

Developer: 

Mary D Smith

Availability:

 Worldwide

Price:

 Free

Payout threshold:

 Mary D Smith

Overall rating: 1/5
What is Lucky Market? 

This reward platform is going viral! Cash out via PayPal, Visa, Gift Cards, and in-game currencies - Click here to find out how to generate an extra $10+ per day! 
Lucky Market – the mobile farming paradise where the crops never wilt and the profits never stop! 
Developed by Mary D Smith, this idle game simulates the growing and selling of fruits and vegetables. 
With the virtual cash you earn from sales, you can also upgrade your facilities, decorate your market and make it more attractive to customers. 
But that is not the whole story about Lucky Market. This game suggests turning your virtual farming into real cash paid through PayPal. 
Unsurprisingly, over 5 million individuals have downloaded the app with high aspirations of making quick money.
How Does Lucky Market Work? 
Lucky Market is available for free on the Google Play Store and requires no registration.
The game begins immediately after launching the app with an automated chat telling you how to play. 
The first step is to buy seeds and cultivate tomatoes, which are the only unlocked vegetable when you begin the game.

In the meantime, customers will start flocking to your market, and you can sell them in the market in return for coins and virtual cash.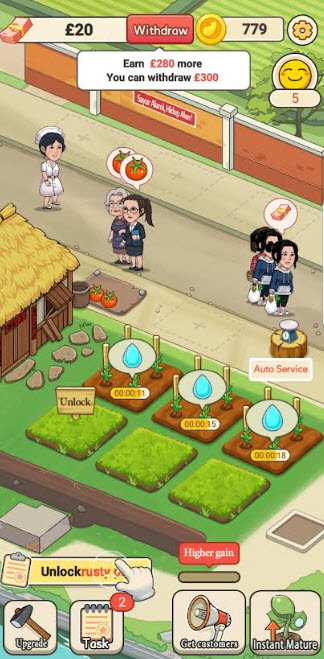 You can also expand your land and unlock a wider variety of fruits and vegetables to boost earnings. 
Besides, use coins to upgrade your facility, land, and stalls to improve your business capacity and generate more revenue. 
Lucky Market features a cash-out section where you can enter your PayPal account and withdraw your earnings. 
However, you can only get paid after reaching the minimum cashout amount of £300.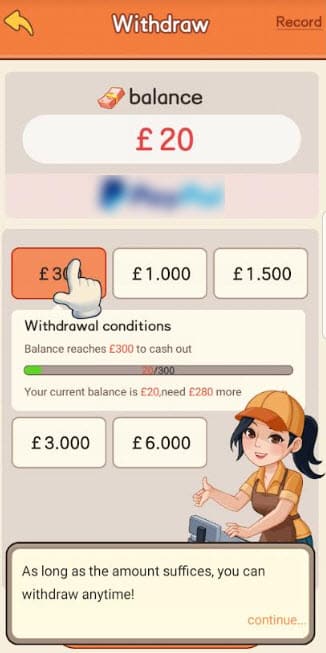 Since it takes a long time to achieve meaningful progress, the game allows users to mature the crop instantly as long as they watch an advert. 
This is a clever monetization strategy in mobile games, where developers offer in-game shortcuts in exchange for video views. 
And, as you are playing Lucky Market, random notifications appear at the top saying people cashed out £1000! 
Is Lucky Market Legit? Does it Pay? 
Since the game is a simulation with unrealistic cash rewards, many people wonder if the money is real or fake.
And the answer is no. You cannot transfer real money to your PayPal account even if you meet the cashout requirement of £300. 

Therefore, the advertising with claims that you will be able to receive money after 10 minutes is very misleading! 
It's a shame that players will get hooked on this game for hours and get no compensation for their time.
Once you reach £300, you may be enticed to complete additional requirements or wait forever with no money to show for it. 
I have seen some YouTube videos from Filipinos that were able to cash out 0.50 pesos. That's around 1 penny of the dollar! 
They are paying this small amount as a "smoke screen" to make people believe that the app delivers, encouraging them to play more and reach higher prizes. 
Unfortunately, those who try to make a meaningful amount will be very disappointed! 
Conclusion 
Lucky Market is a fun and addictive idle farming game that offers hours of fun and no real cash rewards. 
To be fair, some people in Asia are actually making the equivalent of $0.01. Not more than that!
Therefore, growing a profitable virtual market and converting virtual currency to actual money is a pipe dream. 

The game entices players to watch sponsored videos to advance and grow their cash balance faster. 
Despite that, it will take ages to reach the minimum cash-out requirement only to find out everything was just a simulation disguised as a money-making app. 
If you want to play a well-designed idle game to kill boredom, Lucky Market is fit for the purpose! 
However, it's important to note that the game currency can't be exchanged for real money. 
Earn a Full-Time Income Online
Tired of earning virtual cash that never converts to real money in your bank account? 
You should change your mindset and focus on fundamental strategies based on value creation. What do I mean by that? 
One of the best ways to achieve this is by providing valuable content that answers people's questions. For example, you can operate a website or a YouTube channel targeting a specific topic! 
I prefer the first option because I have more control and face less competition. But of course, you can succeed using both strategies or, even better, by combining them!
Imagine the freedom of working from your laptop and setting your own schedule! 
It's not that difficult as you don't need coding or any special skills.
If you want to get started on the right foot and maximize your chances of success, I highly recommend you join this step-by-step program. 
These guys showed me all the secret weapons to becoming a successful online entrepreneur! 
Final Words
Thanks for reading my Lucky Market review!
 I would love to hear your thoughts on this game and your own experience using it.
Peace!