Welcome to my Wealth Banknote review!
Are you tired of living paycheck after paycheck while working at an unfulfilling and soul-draining job? 
If you are like most people, you have been trying to find a decent method to earn some quick money online. 
That's when you discovered that Wealth Banknote could be the answer to all your financial woes with its get-rich-quick simulation.
I bet you were pretty excited when you watched their flashy advert with stacks of cash and the phrase: "Makes you $500 in one day". 
But before you rush to download the app and claim your $99 welcome bonus, it's essential to take a step back and ask yourself: is it legit or fake? 
Will Wealth Banknote transfer real money to your PayPal account? Let's find out!
Before leaving this page, don't forget to check out the step-by-step system that helped me to generate $2,000+ each month and quit my job in 2019.
Wealth Banknote Review
Name:

 Wealth Banknote – Tyconn Time

Developer: 

ZitherYeah

Price:

 Free

Payout threshold: 

£35.21

Overall Rating: 0/5
What is Wealth Banknote?
Wealth Banknote is a mobile app that allows users to simulate making easy money by simply touching the screen.
It's similar to Note Counter, Money Cash Clicker, and Money Storm, all of which have already been removed from the Play Store. 
As you tap the screen and banknotes fly, you will earn virtual game cash that can be used to level up and boost earnings. 
The crazy thing about Wealth Banknote is that it occasionally awards players bonuses ranging from $10 to $500. 
This cash is added to your virtual PayPal balance so you can withdraw to your PayPal account anytime.
Everything, from the advert to real-world currency symbols and PayPal logos, makes players believe they can earn real money.
How Does Wealth Banknote Work? 
Are you wondering how they manage to stay afloat as a free app? 
The two key ingredients to Wealth Banknote's success lie in its advertisements and the promise of making real money."
You'll have a better grasp when I show how the game works in practice.
After downloading the app through the Play Store, you can begin playing by tapping on the virtual banknotes. 
Every time you touch the screen, you will earn virtual currency that you can use to level up and increase your earnings per tap.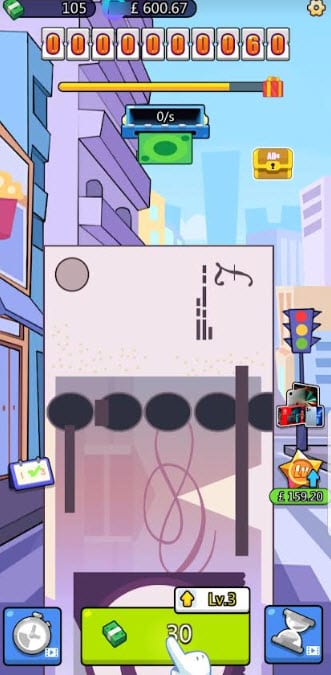 As you continue playing, you will notice a progress bar that advances toward the gift icon at the end. 
When the progress bar is complete, you can flip four cards and win cash rewards with the PayPal logo.
That's the money that will be added to your redeemable cash balance. 
However, keep in mind that before you are able to flip the card, you will need to watch a short promotional video. 
You will also receive random bonuses ranging from $10 to $500 while tapping on the banknotes.
At first, the money is added to your account by simply pressing the "Get button."
But after you have collected more than £800, they will sneakily activate an advert when you try to collect the reward. 
More Incredible Rewards
If you thought the cash bonuses were amazing, wait until you hear about the other prizes Wealth Banknote has in store for you. 
You could win an iPhone 13 and iPad by collecting 100 puzzle pieces with the lucky wheel.
Heck, you could even earn a daily dividend of over £159 after reaching level 50! 
Who needs a job after discovering this incredible get-rich-quick game, right? 

How do You Get Paid? 
Withdrawing your funds from Wealth Banknote couldn't be easier! 
First, open your cash balance with the PayPal logo and select the amount your wish to transfer. There are three options for UK residents:
Then, enter your real PayPal email and press the redeem button. 
Please note that it may entice you to enter your personal information, such as your mobile phone number or other account details. 
It's important to remember that entering sensitive information like this to strangers can be dangerous! 
The reason is that there is no way to know how the developers of Wealth Banknote are collecting and using this information. 

This reward platform is going viral! Cash out via PayPal, Visa, Gift Cards, and in-game currencies - Click here to find out how to generate an extra $10+ per day! 
This applies to other applications, especially those that entice users with cash rewards and are operated overseas. 

Is Wealth Banknote Legit? Does it Pay? 
Sorry to be the one to burst your bubble, but this app doesn't pay a dime! 
That's right, all the time you spend tapping and watching commercials is entirely wasted.
The developers of Wealth Banknote have thought of a clever way to keep you hooked in the game for many hours! 
When you try to withdraw your funds, you'll be shown a pop-up with an estimated time for the payment of 240 minutes.
There's even a countdown timer to really get you excited. Here is a screenshot: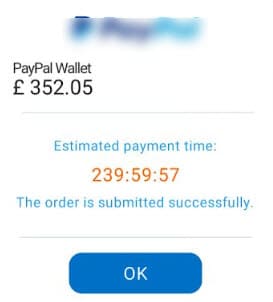 You'll be left waiting eagerly for the moment you'll finally see some actual cash in your PayPal account. But unfortunately, that moment will never come. 
Wealth Banknote is just a cruel joke designed to trick you into wasting your time, battery, and data in the hopes of making money.
To make matters worse, the developer may collect sensitive information from unsuspecting individuals. 
Conclusion 
Wealth Banknote is a time-wasting simulation that will leave you with nothing but virtual cash and a broken heart.
While you spend hours collecting tapping on pixels and collecting fake currency, the developers are making real money off of your ingenuity. 
So, save yourself time and frustration and stay away from Wealth Banknote! 
Earn a Full-Time Income Online
Are you tired of just playing fake money games that only enrich greedy app owners? 
It's time to take control of your income by creating multiple income streams from y our laptop! 
I've successfully created a profitable affiliate site that earns me a reliable online income month after month. 
And now, I'm sharing my #1 recommendation to help you do the same. That's the platform I used to create this website called My Room is My Office! 
So, don't just dream of making thousands of dollars per month – make it a reality by learning and taking consistent action! 
Final Words
Thanks for reading my Wealth Banknote review! If you've played the game and have some thoughts to share, we'd love to hear from you

Peace!