Welcome to my Pin Puller Winner review!
Are you tired of playing games that never pay off?
The Pin Puller Winner advert claims to "prepare cash" and share it with everyone!
With the PayPal logo prominently featured in their commercial, it's hard to resist downloading the app and begin profiting from it.
But simultaneously, you are skeptical due to the sheer number of fake money games on the Play Store.
So, is the Pin Puller Winner game actually legit? Does it pay out as advertised?
I am writing this review to address your questions and expose the inner workings of yet another suspicious money game.
RECOMMENDED: Check out the step-by-step program that helped me build an online business and generate $2,000+ per month. No special skills are required! 
Pin Puller Winner Review
Name:

 Pin Puller Winner

Developer: 

Felicity Borham

Availability:

 Worldwide

Price:

 Free

Payout threshold:

$777

Overall Rating: 0/5
What is Pin Puller Winner? 

This reward platform is going viral! Cash out via PayPal, Visa, Gift Cards, and in-game currencies - Click here to find out how to generate an extra $10+ per day! 
Pin Puller Winner is an addictive Android game currently in the development stage on the Google Play Store.
As of writing, the app has around 100,000 installs but no reviews yet due to the early access classification.
I'm sure the developer just can't wait to hear all the positive reviews they'll get once this money-making game is fully released.
Or wait, maybe they're trying to hide all the frustration from players who didn't receive a dime.
The game's premise is straightforward: pull the pin in a particular order to make coins drop into a glass bucket and fill it up to 100%.
Every time you complete a level in Pin Puller Winner, virtual dollars are awarded to you. However, you can only cash out the money once you reach the minimum payout amount.
How Does Pin Puller Winner Work? 
Pin Pullar Winner is available for free on the Play Store and works on any Android device. 
The game features a container with pins creating compartments full of coins. 

Your goal is to pull these pins strategically and make as many coins as possible fall into the glass bottle.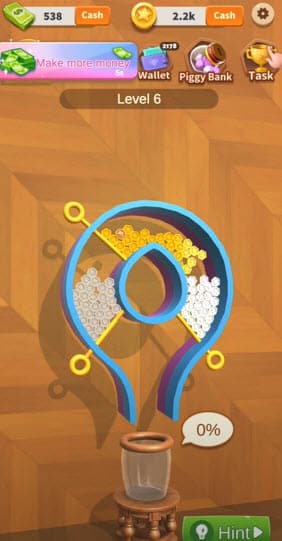 If you choose the wrong order or allow any silver coins to drop into the bucket, you will fail and have to retry. 
So, you must ensure that 100% gold coins drop into the glass! If you feel stuck, select the hint button, and you will get some help! 
After completing each level, you will receive a decent sum of money deposited into your cash wallet. 
You can double your winning by simply tapping the "Double reward" button and watching the sponsored video. 
That will put over $100 in your balance, at least in the early stages of your gameplay. 
Pin Puller Winner also gives you coins redeemable for cash when you install and play third-party games on your phone. 
How Do You Get Paid? 
To withdraw the virtual funds from Pin Puller Winner, you must first accumulate $777 in your cash balance. 
Then, visit the "Withdraw" section and follow the prompts to receive the money via PayPal.  
You also have the option to exchange their coins for cash. To do this, collect 5000 coins and go to the app's "Exchange" section to redeem $0.30. 
Before you get too excited, I am just explaining the conditions and cashing out. It doesn't necessarily mean you'll actually earn any money.
So, stick with me as I will show you whether the developer will pay you or not! 

Is Pin Puller Winner Legit? Does it Pay? 
Pin Puller Winner entices players with unrealistic cash prizes that will never be transferred to your PayPal account. 
I am sure they will never pay you $777 because game developers cannot afford to pay such generous cash prizes. 
After reaching the target amount, you will be asked to enter your PayPal email, only to be confronted with another condition. 
This time you must collect 30,000 coins before they send you the money. As if they had earned enough trust to be believed this time, right? 
And as you already know, you must install apps and play other games for a long time in order to meet this ridiculous requirement. 
There is still a little chance of receiving the tiny payment of $0.30 when you reach 5000 coins.
But there are no guarantees, and I doubt you will be able to withdraw higher amounts like $1, $2, and $5! 
Conclusion 

Pin Puller Winner is a great game… for those who just want to be entertained while their PayPal accounts remain at $0. 
If you want to pass the time, this is a fun game that keeps you hooked for hours! 
But if you are hoping to actually make some money while playing games, you better look elsewhere. Here is a legit option! 
Now, if you are serious about your make-money-online journey, stick with me, as I will show you a great strategy in the next section. 
Earn a Full-Time Income Online
Are you looking to join the ranks of those making a decent income online and enjoying the laptop lifestyle? 
Then, content marketing is the way to go! 
Becoming a content creator enabled me to work remotely and earn over $2,000 month after month.
And the best part is that it's not that complicated, and you don't need significant investments. 
All you need is the willingness to learn and put in the work consistently.
Luckily, I found an excellent program that showed me step-by-step how to set up this type of business and use effective SEO techniques to attract thousands of daily visitors.
So don't wait any longer to make your dreams a reality, and get started today! 
Final Words
Thanks for reading my Pin Puller Winner review! I hope you found it helpful.
If you have any thoughts about the game, we'd love to hear from you in the comments below. 
Peace!