Welcome to my Gangster Legends review!
Are you ready to play Gangster Legends and earn some serious cash?
Today, I am going to expose another Android game where you can have the bonuses sent straight to your PayPal account.
Or at least, that's what the advert claims!
The commercial states there is no second chance if you miss it, showing a PayPal balance with a couple of $100 payments.
But wait, if the game is entirely free to play, how can the developer pay out all this surreal bonus cash to players?
Are we supposed to believe that advertisers alone are funding these unrealistic prizes? Is Gangster legends legit or fake?
In this review, I will dig deeper into the inner workings of Gangster Legends so you can make an intelligent decision.
RECOMMENDED: Check out the step-by-step program that helped me build an online business and generate $2,000+ per month. No special skills are required! 
Gangster Legends Review
Name:  Gangster Legends: Crazy Jump
Developer: YY Happy
Availability: Worldwide
Price: Free
Type: Entertainment (no financial risk)
Payout threshold: $1000
Overall Rating: 0/5

This reward platform is going viral! Cash out via PayPal, Visa, Gift Cards, and in-game currencies - Click here to find out how to generate an extra $10+ per day! 
What is Gangster Legends? 
Gangster Legends is a casual dice-rolling game developed by YY Happy using the Unity platform.
If you are familiar with Unity games, you are probably sick and tired of wasting time collecting cash rewards that are never transferred to your account.
With over 100k installs, Gangster Legends has become a viral sensation on the Play Store.
In the game, players move gangster characters by rolling the dice to determine how many platforms they will climb. It's almost identical to Monkey Jumping! 
As a result, they will land on platforms filled with PayPal coins and earn virtual cash on the way up.
The money builds up in your wallet and can only be withdrawn after you reach $1000.
How Does Gangster Legends Work? 
Gangster Legends is available for free on the Play Store for Android devices.

Upon launching the game, you need to press the "Start" button, so the game begins immediately.
Have you noticed there are no Terms of Service? This is concerning because, without an explicit agreement between you and the developer, you cannot hold them accountable for anything that goes "wrong."
Furthermore, no registration form is available, meaning the developer doesn't bother with people creating multiple accounts.
Of course, all this makes the game even more suspicious regarding their cash claims!
How to Play Gangster Legends? 
Simply roll the dice to make your gangster character climb up the platforms according to the number you get.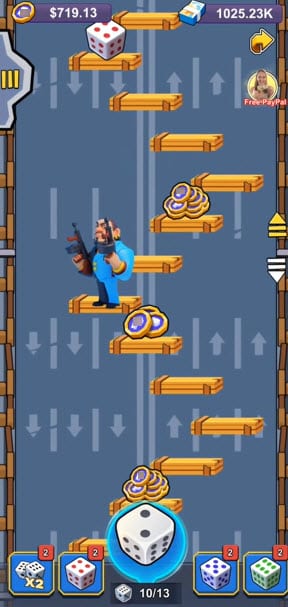 Keep an eye out for those coin-filled platforms. Whenever you land on them, you will win a PayPal card worth a certain amount of money ranging from $10 to $110.
However, Gangster Legends only adds the money to your balance after you press the get button and watch the sponsored video.
Watch as your character magically lands on the reward platforms as if you were the luckiest person on earth!
Well, until you realize the dice is rigged, and the money is fake… ops, sorry for that little spoil.
The goal is to complete the level by making it to the "End" platform.
Of course, as you go through the stages and get closer to the minimum payout, the dice rolls may get less favorable.
Some levels come with slots and other mini-games to give you even more chances to rack up virtual dollars.

How do You Get Paid? 
Gangster Legends suggests you can cash out via PayPal once you accumulate the magic amount of $1000.
But do these virtual dollars you collect during the gameplay have real value? Hold tight and find the answer in the next section.
Is Gangster Legends Legit? Does it Pay? 
No, it doesn't! But the worst thing is that the entire process of trying to withdraw your earnings is an absolute nightmare!
Once you reach the minimum cash-out amount of $1000, you'll be prompted to enter your PayPal email address, account, and phone number.
Please, do not enter bank information and passwords here, as you might get in trouble!
Great, so now you can just sit back and relax as your $1000 prize is transferred to your account.
Well, not so fast, as the developer has another card under his sleeve! Now, it comes up with a new condition – you must now watch seven videos within 24 hours.
Oh, only seven? That's still a terrific deal, right?

But wait, it gets even worse. After completing this task, they will put your order under review for 24 hours and ask you to watch 30 more videos.
And if that wasn't bad enough, they'll ask you to watch 50 more videos only to put you in a queue with over 8000 people ahead of you waiting for the payment.
Now for the icing on the cake: the developer has the audacity to include a button labeled "quickly complete," which will prompt you to pay $2.99 to complete the order.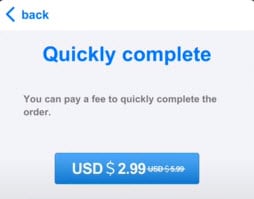 Of course, this is 100% fake, and you will never receive any money. So, do NOT open your wallet!
Conclusion 
Gangster Legends will not transfer money to your PayPal account despite watching endless videos and paying the ridiculous fee.
It's nothing more than a platform to lure players into watching endless advertisements that only benefit the developer.
Not only is this game tedious and useless, but it is also potentially dangerous as it asks for account information and phone number.
My advice? Avoid Gangster Legends and search for a reliable strategy to make money online.
Here is my top recommendation! 
Final Words
Thank you for reading my Gangster Legends review. I hope you found it helpful!
If you'd like to express your opinions on this money game, please do so in the comment box below.
Peace!