Welcome to my Super Charge review!
Today, I'll be taking an in-depth look at this seemingly too-good-to-be-true app that claims to pay a lot of money for the easiest of tasks: Charging your smartphone!
The advert even suggests the possibility of racking up hundreds of dollars a day while your phone charges.
Of course, it sounds like a dream come true for everyone, including the wealthiest! After all, who doesn't like free money?!
Yes, it's an exciting concept that hooks thousands of people craving easy cash. But does it actually pay? Is Super charge legit or fake?
Let's find out!
RECOMMENDED: Check out the step-by-step program that helped me build an online business and generate $2,000+ per month. No special skills are required! 
What is Super Charge? 
In short, Super Charge is an Android application that supposedly pays you for charging your phone.
It gives the first impression that you can earn money simply by opening the app and letting it run while your phone charges.
But that's not straightforward, as the developer is not generating income out of thin air!

This reward platform is going viral! Cash out via PayPal, Visa, Gift Cards, and in-game currencies - Click here to find out how to generate an extra $10+ per day! 
Like many other reward apps and money games, Super Charge profits from users watching commercials.
Therefore, you must activate rewards by touching buttons and watching videos through the app.
Also, be aware that you'll only be able to cash out your earnings from Super Charge once you reach the minimum payout threshold.
Super Charge has been installed over 100k times on the Play Store and rated 3.8 stars. If the app is so amazing, then why such as mediocre rating? You will understand why!
How Does Super Charge Work? 
Super Charge is accessible on the Play Store and doesn't require registering.
That might seem convenient, but it strongly indicates that the reward app might be fake!
The reason is that a legit application that actually pays users needs to prevent multiple fraudulent accounts.
Otherwise, individuals will exploit the system, causing the developer to lose a ton of money!

When you first open Super Charge, you'll see a page that suggests your battery's health and power are being analyzed.
After that, you'll receive a new user bonus of $10 and be taken to the hectic and colorful dashboard.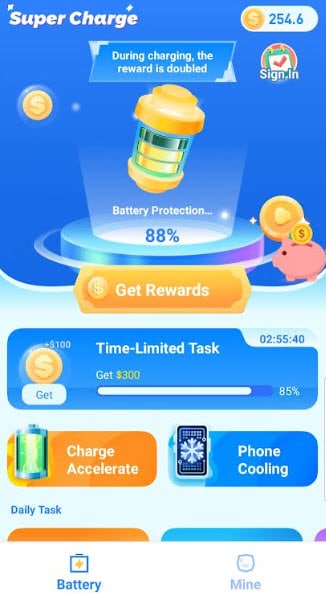 It has a battery icon in the center of your screen and several icons that activate perks, mini-games, and other features.
If your phone isn't currently charging, the app displays a message at the top saying three problems need to be "optimized."
Therefore, you are lured into clicking the "optimized" button, which will trigger an advert and replace that button with the "Get rewards button."
You see. These "problems" are just a clever ploy to get you to watch the video inadvertently. There is no issue!
The same "get rewards" button will appear once your phone is plugged in. But you will only receive the reward after watching the video.
Super Charge speeds up your phone charging by closing unnecessary apps running in the background. It also cools down the phone's temperature.
Note that the app will display an advert whenever you tap any icon on the dashboard, which is extremely annoying!
You'll have the chance to earn around $0.50 – $1 by tapping on coin bubbles that appear on the screen.
You may also occasionally receive higher cash bonuses of $10 or $20.
How do You Cash Out? 
Withdrawing the funds can be challenging, as the minimum payout threshold is a whopping $500.

Navigate to the "Cash Balance," where you'll see a list of cash-out options, such as $500, $800, and $1000. Then, select the cash amount and follow the prompts.
Is Super Charge Legit? Does it Pay? 
No, it doesn't! Super Charge is another fake cash incentive app that doesn't share any profits with users.
Don't be fooled by the illusion of earning easy cash with this app because the truth is, it doesn't pay out a single dime!
Even after you've watched lots of videos and hit $500, you still have to complete six more missions before you can "cash out."
And guess what these tasks are all about! Yep, more commercials down your throat, all while the developer counts his stacks of cash and laughs all the way to the bank.
But the madness doesn't stop here for those brave souls who complete all missions.
Some reported they were placed in a queue with thousands of people ahead and told they could speed up the process by watching more videos.
Oh, as if users hadn't suspected that the entire 'queue' thing was another excuse!
And, when you think you're approaching the front of the queue, Super Charge pulls a fast one on you and resets that number back to thousands.

At the very least, it won't charge you $4.99 as Jewel Craft did!
Conclusion 
Don't waste your time, energy, and mobile data with this fake reward app called Super Charge.
Despite its flashy graphics and tempting advert, the application is not rewarding users for charging their phones.
It's about getting you to watch as many commercials as possible, so the developer gets paid by advertisers who couldn't care less.
You cannot make money by charging your phone, just as you cannot earn money by breathing!
Likewise, countless fake money games try to convince people they can win thousands of dollars without risks. That's nonsense!
Don't fall for any of these apps, as they only prey on people's desperation to make money.
Earn a Full-Time Income Online
Are you sick of fake money games? Here is the deal…
As an online entrepreneur and content creator, it is possible to make thousands of dollars per month and live the good life.
The freedom that comes with being able to make money online is unparalleled!
Picture this scene: You open your laptop and see over $2,000 in your account, the result of a successful month of publishing helpful content on your affiliate blog.
With the ability to work from anywhere in the world, you buy a one-way ticket to Bali, pack your laptop in your backpack, and embark on an unforgettable journey as a digital nomad.
With a website earning money 24/7, you can now travel to exciting places while making a living doing something you love!
But even if traveling the world isn't your thing, the benefits of building a successful online business are endless.
You can save more money, pay off debt and support your loved ones!
That being said, it's essential to set realistic expectations, as it requires dedication and persistence.
With so many scams and misinformation, it's important to find a well-structured training program to guide you on your journey. Click here now to discover my top recommendation! 
Final Words
Thanks for reading! I hope my Super Charge review has shed some light on the true nature of this app.
Your feedback is always valued and appreciated in the comment box below.
Peace!