Welcome to my Lucky Charge review!
The developer of Lucky Charge is trying to persuade thousands of people that they can profit while charging their phones!
He advertises the app by saying it can be charged for 10 minutes on average and earn $10.
But the cash balance indicates the possibility of making hundreds of dollars just for charging your device.
According to a commercial, the longer you charge, the more money you can make. It's crazy!
You may not know how Lucky Charge works, but your expectations are high since you crave free money.
It looks terrific, but I would like to discuss something about this app that will certainly put you off. Is Lucky Charge legit or fake? Will they pay you?
Let's find out!
Before you leave this page, don't miss out on the step-by-step program that helped me to generate $2,000+ each month and quit my job in 2019.
Lucky Charge Review
Name: 

Lucky Charge

Developer: 

whalegames

Availability:

 Worldwide

Price:

 Free

Payout threshold:

 500 USD

Overall Rating: 0 stars
What Is Lucky Charge? 
Lucky Charge is an Android application that supposedly pays you to charge your smartphone.
It gives the impression that the app will dish out money while your phone is plugged in without further action from you.
But that's not the case since you must tap buttons inside the program to activate and watch video adverts.
Like countless other money apps, it will entice you to watch commercials in order to earn virtual dollars.
However, you can only cash out if you reach the minimum payout threshold, which is ridiculously high!
Lucky Charge is almost identical to Wonder Charge, a fake reward app also claiming to reward users with at least $500!
How Does Lucky Charge Work? 
Lucky Charge is available on the Play Store for Android users worldwide. The app is 100% free, and unlike most reward platforms, it doesn't require users to sign up.
This is a big red flag, as companies usually need to prevent people from creating multiple accounts.
Upon launching the application, the loading page will suggest Lucky Charge is testing your battery's health and power.
Next, you will get a new user bonus of $10 before landing on the dashboard.

There, you can find an overwhelming number of icons and a battery in the center.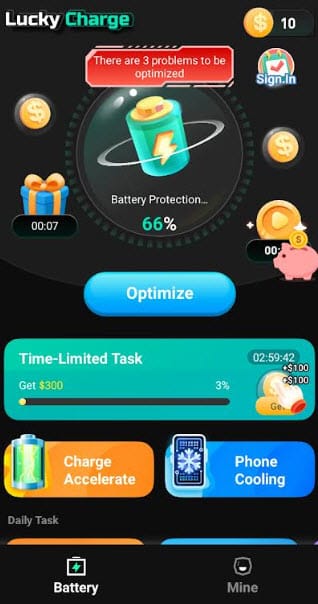 When your phone is not being charged, it says there are three problems to be optimized.
They want you to click the "optimize button," but it will simply trigger an advert without solving any problem.
Of course, the "issues" are just an excuse to make users watch the video and generate profits for the app developer.
Since Lucky Charge claims to pay while charging our phones, I plugged in mine. As a result, the "Optimize" button was immediately replaced by a "Get Rewards" one.
Also, the message above the charger icon changed, and now it says the reward is doubled while charging.
To collect virtual cash, tap the "Get rewards" button and watch the video until it ends.
As a result, it will release coin bubbles beside the battery icons, which you must click to collect between $0.50 – $1. You may also earn large cash bonuses of $10 or even $20!
Every time you watch a video, you are clearly lining the developer's pockets with real money from advertisers.
Most commercials try to convince the audience they can make easy money by playing a game. Many of those were proven fake countless times on this blog, except for this game app. 
Earning More Money
Lucky Charge allows the user to collect more money by completing daily tasks such as daily battery optimization and charging for 10 minutes.
It claims to pay $300 if you complete the time-limited task, which consists of watching a bunch of commercials until 100%.

However, they gave me $100 instead of $300, so I wasted more time and data to meet the high minimum requirement.
Is Lucky Charge Legit? Does it Pay? 
No, it doesn't pay a dime!
Like any fake incentive app, Lucky Charge will bombard users with adverts and leave them empty-handed.
You will watch more than 40 videos before reaching $500 and pressing the cash-out button.

This reward platform is going viral! Cash out via PayPal, Visa, Gift Cards, and in-game currencies - Click here to find out how to generate an extra $10+ per day! 
After selecting the PayPal or Cash app, the app will ask you to enter your name, email address, and account ID.
This account ID is an enigma because people only have to provide their email to get paid via PayPal.

So, I just gave them a random number and got the following message:
"Your order has been shipped! Complete six more missions to get it immediately."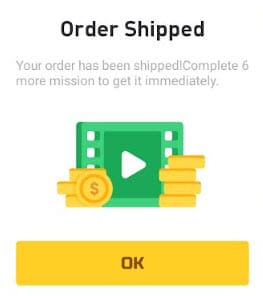 For example, the first task requires you to redeem three charge rewards, while the second involves spinning the lucky wheel 30 times.
All missions demand you to view other videos that benefit the developer!
The Play Store is jam-packed with complaints from hundreds of users who felt cheated by Lucky Charge. 
Some claim that once they are close to completing the missions, the app will glitch and not allow them to cash out. 
Others report they were placed on a waiting list with thousands of people and asked to watch more videos to speed up the payment order. 
However, once they got to number 200, the queue reset to 2000! What a Joke! 
Conclusion 
You will complete lots of tasks only to be told you need to watch more videos that make the developer more money. 
Every new task is an excuse to make you spend more time on the app, increasing their revenue. 
There is no intention to pay anyone who meets all the conditions!
So, I recommend removing Lucky Charge from your phone since you won't get paid. 
Verdict: AVOID! 
Earn a Full-Time Income Online
There are many genuine opportunities to make a decent income online! 
But one thing is certain: You will not be able to make it if you expect money to come quickly.
Instead, it's crucial to change your mindset and understand you will need to put a lot of work into a proven strategy.
One excellent method of earning money online is setting up a website and attracting an audience searching for honest opinions and reviews. 
Then, you can monetize your site using affiliate marketing programs, banners, and sponsorships. 
You don't need to be an expert in any specific area. All you need is the willingness to do basic research and provide accurate information to your audience. 
There is so much to learn, which is why I recommend laser-focused training to help you stay on a fast track to success. 

Click here to read about my top recommendation and how it helped me reach over $2000 per month!
Final Words
Thanks for reading my Lucky Charge review!
What are your feelings on this game? Please share your thoughts in the comments box below.
Peace!