Welcome to my Lucky Pirates review!
The developer of the game Lucky Pirates claims that you could earn large amounts of cash just by paying it for free.
It jumped from 50k to 100k installs on the Play Store in only one week, indicating the app is getting massively popular!
Of course, this achievement was only possible with the incredible cash incentives and the presence of the PayPal trademark in the advertisement.
In the game, players must shoot balls of the same color to destroy them and collect cash rewards.
Making money couldn't be easier with this casual Android game! But does Lucky Pirates actually pay? Is it legit or fake?
Let's find out!
Before you close this page, check out the step-by-step program that helped me to generate $2,000+ a month and quit my job in 2019.
Lucky Pirates Review
Name: 

Lucky Pirates

Developer: 

Beta Battle Studio

Availability:

 Worldwide

Price:

 Free (no in-app purchases)

Overall Rating: 0 stars
What Is Lucky Pirates? 
Lucky Pirates is an Android game where players use a cannon to shoot at bubbles of the same color.
They all dissolve when they glue to a set of identical bubbles, making room for new balls from above.
While playing Lucky Pirates and watching its videos, you will collect virtual dollars you can cash out once you accumulate $1000! 
This is a free Early Access application, meaning the developer doesn't allow users to publish reviews on the Play Store.
Such classification only helps app devs avoid a bad reputation if they don't honor cash rewards.
Serching for the real stuff? Here a list of the best ones surveys apps to make money online! 
How Does Lucky Pirates Work? 
Lucky Pirates can be downloaded free on Google Play and played instantly without registration.
After launching the game, you will get a $10 welcome bonus, which is nothing compared to the following cash prizes.
You will play with a cannon that displays the next bubble color it will shoot.
Tap the screen, aim at bubbles of the same color, and then release the finger to shoot.
Your mission is to complete the level by destroying all the balls from the screen.

As you progress, you will receive cash prizes and tokens redeemable for real money in the wallet section.
You can collect $30 by tapping the button at the bottom of the screen and watching a video until the end.
You can obtain more cash rewards by tapping the gift icon, playing the scratch card game, and completing tasks.
At the end of the day, they want you to activate the reward offer so that you accept watching the commercial.
That's how the developer makes money off your time through the Lucky Pirates app!
Withdrawing the Funds
The Lucky Pirates users may open their virtual wallets and withdraw money after satisfying specific requirements.
Open the cash balance to withdraw the money after collecting at least $1000. According to the app's instructions, you have 24 hours to receive this bonus!
As for tokens, you can exchange them for at least $100 after collecting 980k. Cash-out methods include Visa, Amazon, Steam, Google Play, and Nu Bank. 
Is Lucky Pirates Legit? Does it Pay? 
No, it doesn't! You won't receive any money or gift card despite completing the cash-out requirements! 
It's frustrating because every player will be enticed to watch videos to grow their cash balance and reach the target amount. 
This is a well-known static employed by game developers to increase their own profits.

But they do that by shamelessly exploiting the fact that people are desperate for money and will agree to watch many videos to cash out. 
I played Lucky Pirates for long enough to reach $1,000, and here is what happened: 
After reaching the required amount, they immediately showed me the cash-out button and clicked it. 
Next, I was prompted to enter my PayPal email or Cash app number and was told transfers to my account might take 24 hours. 
Of course, that was not the end of the story. I knew they would try to get me to watch even more videos, and voila!
A pop-up said, "Succeeded – Please complete other conditions during this period." 

This reward platform is going viral! Cash out via PayPal, Visa, Gift Cards, and in-game currencies - Click here to find out how to generate an extra $10+ per day! 
It required that I play the game 20 times, which means completing level 20!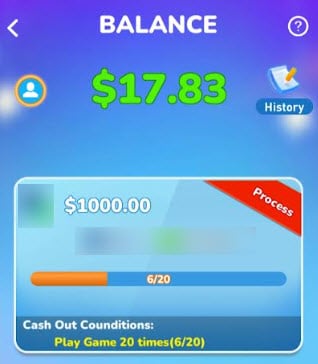 I didn't complete them all because that would require watching an additional 15 videos and wasting even more time. Enough is enough! 
Honestly, I shouldn't have spent so much time to reach $1000 because such a generous cash incentive is just a pipe dream! 
Conclusion 
Lucky Pirates is another bubble shooting game with fake cash rewards and a strong desire to exploit your time. 
You will spend one hour or so trying to reach $1000, only to find you need to complete level 20. 
However, additional hidden requirements will probably emerge after you fulfill this. 
The main objective is to increase app revenue by enticing the player to watch the videos with no chance of winning real money. 
Earn a Full-Time Income Online
Many people dream they could supplement their income or work full-time as digital marketers. 
It's possible to build wealth online by providing value as a content creator via blog posts like this. 
By setting up a website and publishing articles that rank on Google, you can attract visitors worldwide and make money through banners and affiliate marketing. 
People, including myself, make thousands of dollars with online businesses!
You can also benefit from this excellent business model and start today by following this comprehensive step-by-step program. 
These guys took me by the hand and helped me build a lucrative site that pays for all my living costs. Not to mention I could travel non-stop for three years while working as a digital nomad! 
That's why I highly recommend it! Click here to learn more! 
Final Words
Thanks for reading my Lucky Pirates review! What are your thoughts on this game? Leave your honest opinions in the comment section below. 
Peace!