Welcome to my Fruits Blast review!
Over 1 million people worldwide have already installed Fruits Blast with high hopes of exchanging diamonds for game credits. 
The app awards diamonds that can be exchanged for currency from popular games such as Roblox, Free Fire, PUBG, Mobile Legends, Cash of Clans, and more!
It's no small feat considering the reward value ranges between approximately $50 and $200.
No wonder so many players are excited about this simple block elimination game! 
But with so many fake reward apps out there, you are probably wondering if Fruits Blast will honor the currency redemption. So is it legit or not? 
Let's find out!
Before you leave this page, check out the step-by-step program that helped me to generate $2,000+ each month and quit my job in 2019.
Fruits Blast Review
Name: 

Fruits Blast – Pop Puzzle

Developer: 

goldmaster LLC.

Availability:

 Worldwide

Price:

 Free (no in-app purchases)

Overall Rating: 0 stars
What is Fruits Blast? 
Fruits Blast is an Android elimination game that gives diamonds redeemable for unrealistic amounts of game currency. It's very similar to Blast4Win! 
It consists of tapping two or more adjacent blocks of the same color to destroy them and trigger rewards. 
The goal is to collect 100,000 gems to transfer the currency to your Player ID account. 
Fruits Blast has achieved the incredible mark of 1 million installs on the Play Store and is rated 4.7 out of 5 stars. 
With such a high rating, you would expect everyone playing this game to exchange their diamonds with no issues. 
But, as you will see by the end of this post, that's not the case! 
How Does Fruits Blast Work? 
Fruits Blast can be downloaded for free on the Play Store and played immediately with no registration. 
The game features a 10 x 10 grid with blocks representing different fruits.
You must tap groups of two or more identical blocks to eliminate them and score.
It's important to know that the fewer blocks that remain in the end, the higher your score!
The goal is to complete the stage and pass the level by reaching the target score, which appears right at the top.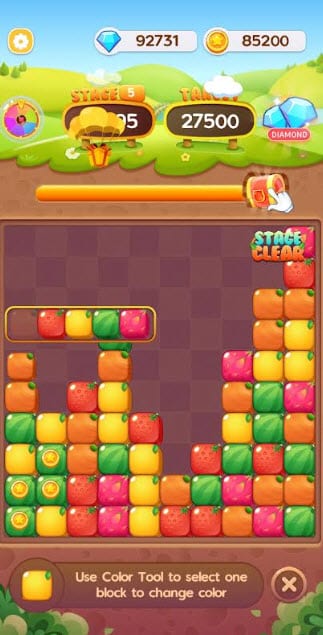 When you demolish a group of fruit blocks, you may be awarded diamonds provided you touch the "Claim" button and watch the video.
After completing each level, you will get four cards to flip and collect even more rewards. But as usual, you have to watch a video to win! 
In addition to diamonds, you can also collect coins while eliminating specific blocks, spinning the lucky wheel, or completing the level. 
Don't forget to use the hammer, lightning, or color tools to eliminate more blocks at ease. 
This legit block elimination game transfers real BTC to your digital wallet! 
Redeeming Virtual Currency
Fruits blast allows you to exchange diamonds for currencies of several popular games. 
Once you accumulate 100,000 gems, open the diamond wallet, choose a game and press the redeem button. Here is a list of all games available:
Free Fire

Roblox

PUBG

Mobile Legends

Coin Master

Clash of Clans

Candy Crush

Pokemon

ROV

Browl Stars

Kart Rider
Is Fruits Blast Legit? Does it Reward Players? 
No, it doesn't! Fruits Blast is just using fake game currency as bait to get people to watch more commercials. 
The app is programmed to offer fewer and fewer diamonds as you approach the target.
Therefore, it takes ages to achieve 100,000 gems, and you may have to watch over 40 videos to get there! 
Nonetheless, many individuals feel it is worthwhile because they are about to redeem hundreds of dollars in gaming currency.

But when they finally reach the requirement and tap the redeem button, Fruits Blast unleashes another requirement.
Next, players are required to watch 100 videos to activate the order. But those brave souls who meet this ridiculous goal will be lured into watching an extra 300 videos in 5 days! 
It's crazy to know that some players will keep their hopes high even after all these hidden conditions! 
Finally, they will put the order under review and never transfer the currency to your player ID. 
Conclusion 

This reward platform is going viral! Cash out via PayPal, Visa, Gift Cards, and in-game currencies - Click here to find out how to generate an extra $10+ per day! 
Fruits Blast doesn't reward anyone who meets unreasonable and abusive video requirements. 
Needless to say, the developer is the only one who benefits from gamers who, sadly, play for hours to fulfill the objectives.

They get paid from advertisers whenever you watch videos in return for useless diamonds. 
I know you would love to put your hands on thousands of Robux or other game currency that cost an arm and a leg. 
However, there is no way to skip the shopping basket on the official game website. In other words, you have to buy the game currency or use a gift card!
So, is there another option for those who cannot afford it? 
YES! Freecash is an excellent platform where you can collect points and redeem them for gaming and many other gift cards. 
You can earn points by completing offers, answering surveys, testing sites, and more! 
Check out my freecash app review here!
Final Words
Many thanks for reading my Fruits Blast review. I hope it has been helpful! 
If you have any further questions regarding this app or want to share your thoughts, please leave them in the comments below.
Peace!