Welcome to my Jewel Mystery review!
I have recently found Jewel Mystery through an advert promoted while playing a fake money game.
It tries to convince players they can redeem all the money collected during the first 24 hours to Bitcoin.
Are they referring to a "bitcoin wallet"? Possibly, but why is the PayPal logo displayed instead? That is truly bizarre!
You are reading this post to determine whether the developer transfers real money to the user's accounts.
Since the game is classified as Early Access, there are no reviews on the Play Store.
That's why people must search for reviews from independent content creators like myself.
I have helped thousands of people avoid fake money games and find great opportunities to make money online.
So, is Jewel Mystery legit or fake? Let's find out!
Before you leave this page, check out the step-by-step program that helped me to generate $2,000+ each month and quit my job in 2019.
Jewel Mystery Review
Name: 

Jewel Mystery: Gem Match

Developer: 

VodoFun

Availability:

 Worldwide

Price:

 Free (no in-app purchases)

Overall Rating: 0 stars

This reward platform is going viral! Cash out via PayPal, Visa, Gift Cards, and in-game currencies - Click here to find out how to generate an extra $10+ per day! 
What Is Jewel Mystery?
Jewel Mystery is another simple match-3 game where players collect crazy cash rewards.
The game consists of placing at least three identical gems side by side.
As a result, they will merge into higher-level gems with the potential to combine with adjacent diamonds.
Most importantly, you will collect virtual dollars that can be redeemed for PayPal cash or Amazon gift cards.
Although it has been installed over half a million times on the Play Store, it's still an Early Access application.
That's why you won't find a single review on the official page of the Play Store.
How Does Jewel Mystery Work? 
Jewel Mystery is free to download from the Play Store and is available worldwide.

After launching the game, you can claim your first $10 bonus by tapping the "Claim" button and watching the video.
The sign-in bonus increases daily until you get $100 on the seventh day!
The game is pretty simple! Just swipe and place at least three gems next to each other so they merge into a higher-level diamond.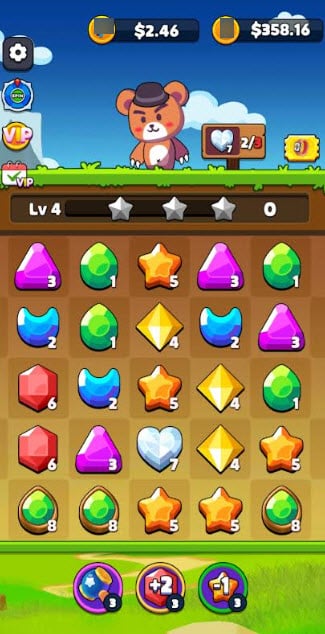 Every merging will result in $0.10 being added to your Amazon balance!
Furthermore, the progress line will move anytime you combine gems, and you will complete the level once it's full.
When the bar hits the star, Jewel Mystery will offer you a great PayPal prize with the condition you tap the Claim button and watch the video.
After clearing the stage, you can spin and win up to four PayPal cash rewards.
Withdrawing Your Funds
Players can withdraw all the money to PayPal after 24 hours without a minimum cashout requirement. 
However, players who collect $500 can cash out immediately. 
Besides, you can redeem Amazon gift cards once your balance reaches $1,000. 
VIP Membership 
Jewel Mystery provides VIP membership so players can enjoy the following benefits: No interstitial adverts, 20 lucky coins daily, and additional rewards. 

The membership costs £4.99 per week, and you can try it for free for three days. 
Is Jewel Mystery Legit? Does it Pay? 
No, it doesn't! The developer of Jewel Mystery pockets all the advertising revenue without paying a dime. 
You will be enticed to watch many commercials in exchange for virtual dollars that will never be converted to real money. 
It takes only about half an hour to reach $500 and see the confirmation button.
After you click through it and input your PayPal email address, the page is updated with not-so-good news.  
It says this order has been successfully submitted, and your money will be transferred to your account in 1 day. 
However, they put your order under review until you watch 30 videos. Here is the proof!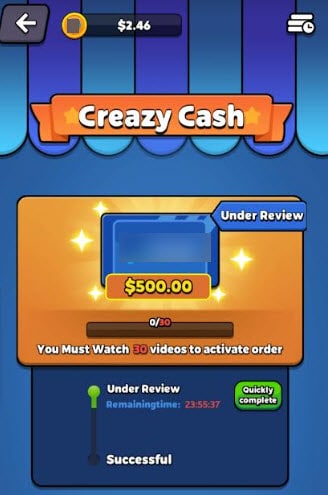 So, you have to complete this requirement to activate the order, which in reality, doesn't mean a thing! 

Why? Because after you meet this condition, they will come up with another one, and in the end, you won't get any money! 
It's sad to witness so many people installing this kind of game with high hopes of earning cash rewards.
That is why I write informative blog posts that help people avoid greater disappointment.
Conclusion 
Jewel Mystery is a clone of countless match puzzle games offering unrealistic cash prizes. 
It's nice to pass the time, but you should not expect a single penny from developers who profits from your video views. 
They are not rewarding users hundreds of dollars simply because that would defy all the laws of economics. 
A game only funded by advertisements cannot generate enough cash to pay hundreds of dollars. It's just plain nonsense! 
If you want to earn real money, join a reward or survey platform where you can provide something tangible in exchange for cash. 
For example, you can share your opinions or complete offers using a reputable GPT site. 
Earn a Full-Time Income Online
Making $20 – $100+ daily is attainable when you learn how the internet works and how to attract an online audience. 
If you are prepared to work hard to achieve this income level, my recommended program will show you the right steps. 
This excellent program showed me how to set up an affiliate site that attracts thousands of visitors daily and generates profits even while I am not in front of my laptop. 
It's called residual income because the work I put in today keeps paying me for months and even years. 
This incredible business model gives me time and location freedom like nothing else! 
My advice? Join for free and start the first five lessons for free! I've been a member for over seven years, and I can help you succeed using the link on this page. 
Final Words
We'd love to hear your thoughts on Jewel Mystery! Did you watch all 30 videos? What are your findings? 
Please share with us in the comment box below! 
Peace!