Welcome to my NiceWalk review!
Attention all fitness fanatics and online money hunters! Are you tired of your mundane daily steps going unnoticed and unrewarded?
NiceWalk has arrived to save the day! Or so they say.
This miraculous pedometer will track your steps and award you coins that can be exchanged for cold, hard cash.
And I am not talking about small pocket change. I am talking about earnings that can pay for a week's worth of instagrammable latte in Qatar.
Or, replace a full week's worth of work if that makes more sense to you.
The question is: can we really trust an app that bombards us with adverts at every turn? Is Nicewalk legit, or is it just trying to take us for a walk?
Let's find out!
Before leaving this page, check out the step-by-step system that helped me generate $2,000+ per month and quit my job in 2019.
NiceWalk Review
Name: 

Nicewalk

Developer:

Arline Black

Availability:

 Worldwide

Price:

 Free

Payout threshold:

$66

Overall Rating: 0 stars

This reward platform is going viral! Cash out via PayPal, Visa, Gift Cards, and in-game currencies - Click here to find out how to generate an extra $10+ per day! 
What Is Nicewalk?
At its core, NiceWalk is a 100% free app that lets you earn coins by walking and hitting your step goals.
These coins can then be exchanged for real money once you reach the minimum requirement (or at least, that's the idea).
But where do the app's profit and cash prizes come from?
Well, NiceWalk is funded by advertisers, which means you'll be bombarded with commercials from the moment you launch the app until you close it.
The app has managed to rack up over 500,000 installs and a 4.5-star rating. That's pretty impressive, but does it reflect people's expectations?
How Does NiceWalk Work? 
Nicewalk is free on the Play Store and doesn't require registration. So you can download and start using it right away!
When you first launch the app, they'll ask for some personal information like your gender, height, and weight in order to provide more accurate step tracking.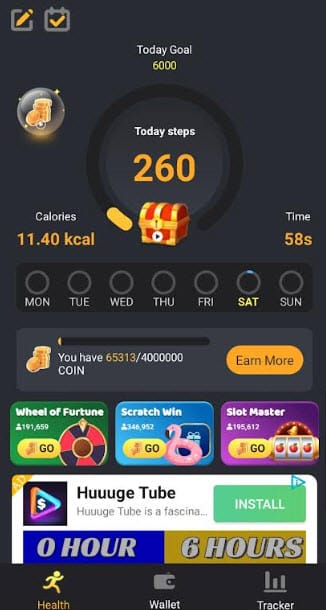 The developer promises never to share your data with third parties, but we all know there are no guarantees!
And as a bonus for being a new user, you'll even get a coin bonus of 50,000 just for joining. Of course, they will push you an advert before you can collect the coins.
The app will automatically start counting your steps both indoors and outdoors.
But don't expect it to be super accurate, especially indoors. That's because Nicewalk relies on your phone's sensors rather than GPS to track your movements.
Once you've accumulated a few steps, you can convert them into coins by clicking on the treasure chest icon below the step counter.
Then, again, you will be prompted to watch a video in order to activate the conversion. The good news is that you can collect bonuses by meeting your daily goal of 6000 steps.
Have you walked enough? Earn more coins by playing Wheel of Fortune, Scratch Win, and Slot Master!
In addition to tracking your steps, NiceWalk calculates your distance, calories burned and walking time.
There is also a handy tracker graph that allows you to stay motivated.
Now for the downside: NiceWalk also functions as a lock screen. This means you have to swipe the screen whenever you want to unlock your phone.
How Much Money Can You Earn? 
You'll need to collect around 65,000 coins or take approximately 65,000 steps to earn a measly $1.
Therefore, Nicewalk is not as wildly unrealistic as many other step-counting apps on the Play Store, which promise to pay out over $500 with only a few steps.
It's worth noting that you'll need to accumulate a minimum of 4 million coins before you're able to cash out a respectable $66.

Is NiceWalk Legit? Does it Pay? 
It's very unlikely that Nicewalk will pay you since the minimum payout of $66 is pretty high!
One user reported that all his coins vanished just when he was close to reaching 4 million coins
Another user mentions experiencing a "parameter error" that wiped out their hard-earned coins.
All the negative reviews, combined with the high payout threshold and the lack of a TOS, raise red flags about its reliability.
That's why I say you must be very lucky if they transfer $66 to your account. The reason is that without a user agreement, the developer doesn't need to pay anyone!
Conclusion 
Nicewalk has many drawbacks, such as the high payout threshold, the risk of coins being wiped out,  the ridiculous volume of ads, and uncertain payouts.
Therefore, I don't think it's worth investing your time and energy in using Nicewalk.

If you wish to get paid for walking, it may be worth considering other apps with more positive reviews and a higher success rate.
One option to consider is the popular Winwalk, which has a solid reputation for paying out users as promised.
Of course, no reward app can guarantee that you will receive any money! So, it's important to set your expectations low to avoid frustration!
Final Words
Thanks for reading my Nicewalk review! If you have any questions or thoughts on this step-tracking app, please leave us a comment below.
Peace!