Welcome to my Easy Wall review!
Have you heard of Easy Wall, the popular app that promises to pay you for playing the games you love? 
With over 1 million installs on the Play Store, it's clear that people worldwide are excited by the opportunity to monetize their playtime. 
While browsing the Play Store a few days ago, I came across this application and decided to test it. 
As soon as I landed on the dashboard, it immediately reminded me of Mistaply and Justaplay – two of the most popular gaming apps that reward players. Here is my complete Justplay review. 
Despite its similarities with other legit apps, I knew I couldn't trust it blindly due to the sheer number of fakes out there. 
So, is Easy Wall legit, or is it another trap? Does it pay? Let's dive in before it's too late! 
Ready to make real money online? So, check out the proven strategy that helped me generate over $2,000 monthly and say goodbye to the 9-to-5 grind in 2019. Click here! 
Easy Wall Review
Name: 

Easy Wall

Developer:

 billfishstudio

Availability:

 Worldwide

Price:

 Free

Payout threshold:

 £9

Overall Rating: 0 stars
What is Easy Wall? 
Easy Wall is a relatively new app that allows users to earn cash using third-party applications, primarily mobile games. 
The concept is simple: Choose an app from the list, install it on the Play Store and collect tokens based on the time you spent on it. 
You can exchange your tokens for cash rewards once you meet the minimum requirement. 
And when it's time to cash out, there are plenty of options, such as PayPal, Cash App, and Coinbase, to name a few. 
It's worth noting that Easy Wall is currently in its early access phase, which is not a good sign. 
I say this because many fake reward apps use the "early access" classification to avoid negative reviews on the Play Store. 
Therefore, it's crucial to approach apps like Easy Wall with caution, which that's why we are here, right? 
How Does Easy Wall Work? 
You can easily install Easy Wall on your Android through the Play Store. The app is free and doesn't require registration before collecting tokens.
This is another red flag since instant access means the developer is not worried about fraudulent accounts trying to exploit the system. 
If the developers were actually rewarding players, I believe they would not neglect such a flaw! 
Upon launching Easy Wall, you will see a dashboard packed with games and apps like TikTok, coin pushers, Solitaire, etc.

Right off the bat, I noticed a few fake money games like LuckySpin, Cash Master, and 8 Ball Club. That's another BIG red flag, folks! 
How to Collect Tokens? 
The first step is to allow usage tracking so that the company can monitor the amount of time you use the application and reward you accordingly. 
Then, select the one you wish to install on your phone and download it from the Play Store.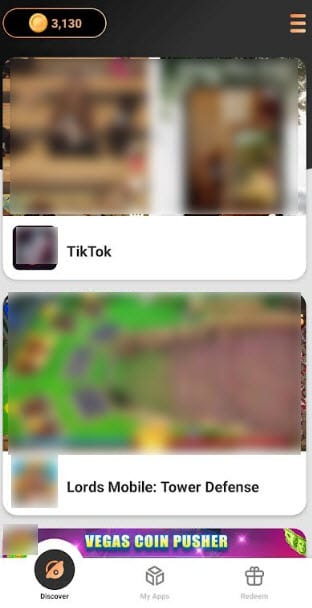 Next, open the app through the "My apps" section on your Easy Wall app.
This is important because it ensures that your playtime is tracked correctly and that you receive the promised tokens. 
In that section, a progress bar will indicate how long you need to use the app and the token reward.
Once you've reached the target, click the "collect" button to add the tokens to your account.
For example, I had to use Cash Inbox for 600 seconds to earn my first 630 tokens. Then, I had to spend an extra 1200 seconds to collect 504 tokens. 
Have you seen the pattern here? They will increase the time required to collect the next reward and give you fewer tokens! 
At some point, the reward becomes so small that you are better off installing another app to stay afloat. 
This common tactic encourages users to play for longer and entices them to try other apps! 

Check out our list of the best game apps that pay you for playing!
How Do You Get Paid? 
So, how do you turn your hard-earned tokens into cash with Easy Wall? 
First, head to the withdrawal section in the app, where you can choose your preferred redemption method.
There are various options, including PayPal, Cash App, Coinbase, AliPay, Line Pay, Paytm, and more.
Keep in mind that the minimum payout for UK users is £9, and you'll need a minimum of 1 million tokens to withdraw that amount. 

This reward platform is going viral! Cash out via PayPal, Visa, Gift Cards, and in-game currencies - Click here to find out how to generate an extra $10+ per day! 
Is Easy Wall Legit? Does it Pay? 

Receiving the money from Easy Wall is practically impossible. 
Think about it. If you made an average of 60 tokens per minute of gameplay, it would take roughly 277 hours to collect 1 million tokens and cash out £9. 
I don't even need to tell you how absurd this offer is!
Wasting 12 full days of your life to earn less than an hour's worth of minimum wage is an absolute joke!
But it's even worse because, as you know, the number of tokens you receive will decrease over time. 
I assume people would have to use Easy Wall for more than a year to be able to cash out the minimum amount. 
This raises another issue – the availability of third-party apps is very limited! 
That means there wouldn't be enough apps even if you were committed to reaching the unrealistic 1 million mark. 
Conclusion 
Easy Wall is certainly not a viable application for making money while playing games. 
The minimum cash-out requirement is set unrealistically high so that unsuspecting users eventually give up. 
Unfortunately, many people will only find the truth about Easy Wall when they have already installed all the apps and wasted countless hours collecting tokens. 
Oh, and let's not forget the cherry on top. If you want to warn others about your experience, you won't find a review button as the app is still in "Early Access." 
How convenient, right? That's why reviews like this are precious and save many people's time! 
If you want a reliable loyalty program that rewards you for your playtime, I highly recommend checking out Mistplay.
With this legit and popular app, you can earn gift cards and other epic rewards by playing games on your Android device. 
I've used the app myself and have had great experiences with it.
Final Words
Thanks for reading my Easy Wall review! If you have any questions or thoughts on this reward app, please leave us a comment below.
Peace!