Welcome to my Veggie Onet review!
This post is all about Veggie Onet, another casual tile game that promises to reward players for matching pairs of vegetables.
The developer promotes the game as if it were a goldmine to everyone who has played it long enough. 
With Veggie Onet, you eliminate tiles by connecting two identical veggies and earn virtual dollars along your journey. 
The possibility of earning huge cash prizes quickly is tantalizing and can hook you up for hours on end to reach the target. 
But does Veggies Onet actually pay? Is it legit or fake? 
In this review, I will uncover the juicy details of its gameplay to the ripe truth about its payouts. So, let's dive in! 
Before you leave, check out the step-by-step program that helped me build an affiliate site and quit my job in 2019. It's free to join, and you don't need any previous experience.
.
Veggie Onet Review
Full Name:

 Veggie Onet

Developer:

 WoW! Game LLC.

Eligibility: 

Worldwide

Price:

 Free (no in-app purchases)

Overall Rating: 0 stars
What is Veggie Onet?
Veggie Onet is an addictive Android game where you connect identical vegetables to eliminate all the tiles on the screen. 
You can connect by tapping the two tiles and linking them by a straight line. 
The best part? You'll be rewarded with cash coupons, diamonds, and puzzle pieces redeemable for excellent prizes.
The catch is that you can only cash out if you meet specific requirements requiring you to play for a long time. 
Besides, you will be lured into watching endless commercials in exchange for virtual dollars and other items. 
Despite being installed 100k times, Veggie Onet is still in Early Access on the Play Store. Unfortunately, that means you won't be able to check reviews from other players before jumping with both feet. 
The game is similar to Royal Onet and Super Onet, two fake money games exposed here in this blog in 2021! 
How Does Veggie Onet Work? 
Veggie Onet is available on Google Play for any Android device and is 100% free. 
In this game, you must tap two blocks with the same veggie or fruit images to connect and eliminate them.
Veggie Onet may seem simple at first glance, but it's pretty challenging since the connection line must run over another tile.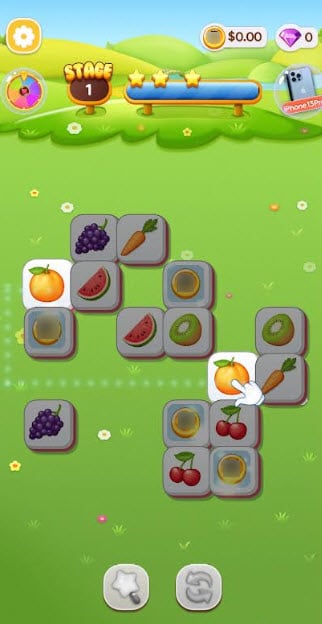 The goal is to eliminate all the tiles from the screen before the 1-minute countdown ends.

If you fail to clear the tiles in time, tap the button to revive your game or try it again by selecting restart. 
Once you complete the stage, you will get the chance to open four reward boxes. 
After watching the video, you may earn virtual dollars, pink diamonds, and iPhone 13 jigsaw pieces. 
But there is more! Connecting two PayPal tiles will collect cash coupons worth over $20, provided you watch the video! 
You can also play the Lucky Spin to win more virtual dollars and diamonds. 
 Earn real cash by sharing your opinions! 
How do You get Paid? 
Before withdrawing your funds from your cash balance, you must reach a certain threshold.
Specifically, you need to accumulate at least $500 before requesting a withdrawal via PayPal.
As for diamonds, you can trade in 680000 diamonds for a $100 gift card to various popular retailers such as Amazon, Google Play, Steam, Xbox, Visa, and MasterCard.
The question is, can you harvest real cash from Veggie Onet or just disappointment? Let's find out in the next section! 
Is Veggie Onet Legit? Does it Pay? 
Don't be fooled by the opportunity to cash out hundreds of dollars with Veggie Onet because it doesn't pay a dime!

Instead, you will be highly disappointed if you try to cash out.
It takes significant time to reach the $500 threshold since the system is designed to pay less and less as you achieve higher levels.
It starts by dishing out a whopping $20 at a time, but as you get closer to the $500 mark, the pay drops drastically to less than $2.
Once you finally reach the $500 threshold and press the redeem button, Veggie Onet will surprise you with a ridiculous requirement.
Instead of transferring the money you deserve, it will ask you to watch 75 videos to activate the order.
Of course, this is a dirty trap to entice players to watch more commercials and help the app earn more revenue with your video views. 

This reward platform is going viral! Cash out via PayPal, Visa, Gift Cards, and in-game currencies - Click here to find out how to generate an extra $10+ per day! 
In other words, Veggie Onet is a game that plays on you instead of the other way around.
Don't be surprised if they require more videos or place you in a fake queue with thousands of people. But, ultimately, the outcome is always the same: $0 in your PayPal account and 100% frustration! 

Conclusion 
Veggie Onet is a fun game for passing the time, but cash rewards and iPhone 13 prizes are totally fake!
The developer has created an online asset for himself at the expense of users, as he collects revenue from advertisers while ignoring payment requests.
Of course, $500 for playing a casual game is utter nonsense! 
If you want to earn that level of income, something drastic has to change in how you spend your time.  
You could grow an online audience by providing helpful content as I do and generate thousands of dollars every month. 
To learn the proper steps to success, click here to check out my #1 recommendation! 
Final Words
Thank you for reading my Veggie Onet review. I hope it was helpful and eye-opening. So, how was your experience with this game? 
Let us know in the comment section below! 
Peace!