Welcome to my Domino Party review!
Domino Party is the new mobile game sensation that claims to pay real money to players who reach $500!
With entirely free gameplay, it's no wonder people are flocking to this app's installation page like moths to a flame.
After all, who doesn't want to make some extra cash without risking their hard-earned money?
It looks phenomenal! But before you start playing and stacking those virtual dollars, it's essential to know whether the money is real or fake.
Otherwise, you might be used for someone else's benefit and waste your time!
Don't be fooled by the empty words and shiny dollar signs on your screen before reading my must-read Domino Party review.
Is it legit or fake? Will it transfer the money to your PayPal account? Let's find out!
Before we dive in, I would like to share with you the step-by-step system that helped me to generate $2,000+ each month and quit my job in 2019. So click here and build an online asset that pays you real money! 
Domino Party Review 
Name:

Domino Party: Multiplayer

Developer:

SteamLand LLC.

Membership Eligibility:

 Worldwide

Type: Entertainment (no financial risk)

Price:

 Free 

Overall Rating:

0/5
What is Domino Party? 
Domino Party is a classic domino game with a multiplayer experience and unrealistic cash rewards!
As you probably know, you will collect virtual dollars and have the opportunity of receiving the funds in your PayPal account.
However, players need to reach the minimum redemption amount of $500 before they can cash out!
This smart tactic is employed to entice people to play more, watch more commercials, and as a result, maximize revenue.
The game has recently seen a massive surge in popularity, with installation numbers skyrocketing from 10,000 to 100,000 in just one week.
Does it mean the app is paying everyone? That's what you will learn s
How Does Domino Party Work? 
Domino Party can be installed on Google Play on all Android devices. In addition, the game is entirely free, with no in-app purchases or registration required.
Upon launching the app, you will get a welcome bonus of $100, which can only be cashed out once your balance reaches $500.
The dashboard presents three rooms where you can play Domino Party with others, but only the first one is open for beginners.
To unlock the second and third room, the player must reach $200 and $500, respectively.

Domino Party features the classic domino game where you play with a real user for a chance to win cash rewards.
They will first match you with another user who is also eager to reach the payout threshold,
You start with seven tiles (dominos) with a specific number of dots on each end.
To play the game, you will drag and place the tile on the table, connecting them to other dominoes with the same number of dots.
For example, if the first domino on the table has a "5" on one end and a "4" on the other, the next player can place any domino with any of these numbers.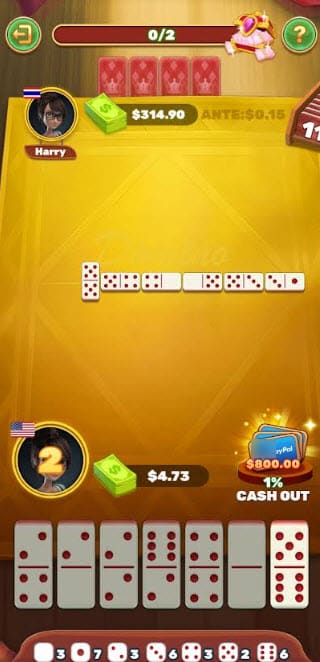 The game continues in this fashion until one of the players has eliminated all their dominos.
If you win the game, Domino Party will award you virtual dollars. Otherwise, they will deduct some cash from your virtual wallet.
The good news is that winners can boost their earnings by simply watching the video.
This is a smart strategy for app developers, allowing them to generate much more revenue through advertising.
The main problem is that cash rewards are unrealistic, especially considering the game is free!
It's a simple game, but players must keep an eye on what dominoes their opponents have left and make strategic moves.
Other ways to collect cash rewards
Domino Party allows the players to earn even more cash by activating the auto money feature as well as playing slots, scratchers, and lucky wheel.

Auto money is the easiest way since it activates rewarding videos that award you virtual dollars every 5 seconds.
So, you don't even need to play domino to reach the target amount and cash out.
Is Domino Party Legit? Does it Pay? 
No, it doesn't! Domino Party is one of those fake money games designed to profit from your time and data.
The cash rewards offered in the game are just there to lure unsuspecting players into watching countless videos!

This reward platform is going viral! Cash out via PayPal, Visa, Gift Cards, and in-game currencies - Click here to find out how to generate an extra $10+ per day! 
The developer collects payments from advertisers and keeps everything for themselves. After all, they are not obligated to reward anyone.
Sadly, these types of "reward" games have been spreading like wildfire on the Play Store for the past four years.

That proves they have found the perfect condition for thriving in a profitable and safe environment.
I activated the auto money section of Domino Party only to reach $500 and see how the app behaves.
So, upon reaching the goal, I was asked to enter my PayPal or Amazon account and wait 24 hours. 
Alternatively, I could pay £0.69 to skip the 24-hour review and receive the money immediately. Oh, that's the same tactic TikTube, and other similar apps use!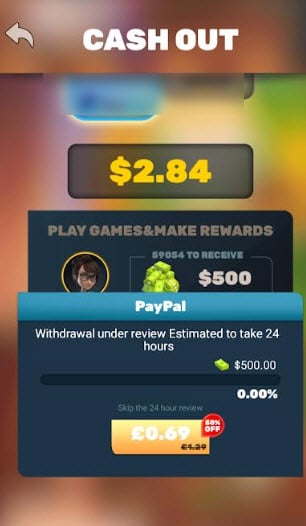 Of course, I didn't pay a dime because I am familiar with fake reward apps and games that ask you to pay this ridiculous fee.
Conclusion 
Domino Party is enticing players with the opportunity to cash out $500 and $1000 once they reach the payout threshold.
But upon closer inspection, it becomes clear that the prize is just an illusion to make players watch more commercials and increase the app's revenue.
The virtual dollars have no real-world value since the developer is not obligated to process the payment.
The app provides a fun and free way to play dominoes with people from all over there world. However, there is no chance of winning real money from it!
Earn a Full-Time Income Online
Are you tired of being trapped in a mundane routine?
It's time to awaken the entrepreneur within and dive deeper into the world of online business!
Imagine the feeling of being truly alive as you have the total flexibility to work wherever and whenever you want.
As an internet marketer, I have unlocked the secrets to creating a life of abundance, and I invite you to join me on this journey.
Don't let fear and procrastination hold you back any longer because you just live once.
Click here and start your online business today! 
Final Words
Thank you for reading my Domino Party review; I hope you found it informative!
Now it's your turn to share your thoughts on this new game. Did you fall victim to their fake reward system? Leave your experiences in the comment box below.
I sympathize with all the people who lost their time, money, or even both.
Peace!