Welcome to my Chili Chili Boom review!
Another free slot game is going viral now, claiming to reward players with $300 a day! 
The advert promises Chili Chili Boom is a real money game with no limit to withdraw to your PayPal account. 
The possibility of winning a lot of money risk-free draws thousands of individuals to the Play Store to download the app. 
What most people don't realize is that the game might be another trap with no payouts! 
I've examined plenty of games with the same premise:
First, reach a minimum amount requirement, then watch an insane number of videos just to be denied payment.
You don't want to be the victim of an unfair system where you waste time chasing fake money. 
So, is Chili Chili Boom legit? Does it transfer money once you meet the conditions? Let's find out!
Recommendation: Join the step-by-step program that helped me to generate $2,000+ per month and become a digital nomad in 2019.
Chili Chili Boom Review 
Name: 

Chili Chili Boom

Developer:

 zhenhstudio

Availability:

 Worldwide

Price:

 Free

Type: Entertainment (no financial risk)

Payout threshold:

 No limit

Overall Rating: 0 stars
What Is Chili Chili Boom? 
Chili Chili Boom is a free slot machine game where you press spin and watch videos to accumulate virtual cash. 
The app starts a one-hour countdown in which you may earn and withdraw up to £800!
After that, a new countdown starts with the possibility of making the same amount of money every hour. 
If the prize was real, I am confident that 99.9999% of the world's population would be willing to quit their jobs to play Chili Chili Boom all day.
Developed using Unity, Chili Chili Boom is an "Early Access" application, meaning you won't find any reviews on the Play Store. 
That's no good for people who values transparency! 
How Does Chili Chili Boom Work? 
Chili Chili Boom is free and entirely funded by advertisements. 
Anyone over 18 can download the app on the Play Store and start playing with no restrictions. 
There is no need to register, allowing anybody to deploy additional mobile phones and multiply their earnings indefinitely.

You must press the spin button and watch the 5-reel machine land different symbols. Each pin will consume at least 20,000 coins from your coin balance. 
Here are some of the game rules:
You will get a monetary reward if you match the winning money bags. 

Fulfilling the progress bar with money bags will trigger 100% bonus wheel bonus mode.

If you play Wheel Bonus 20 times, you can win a slice of the super bonus prize of over £120,000. 
For more rules, open the setting in the game and select "Game rules."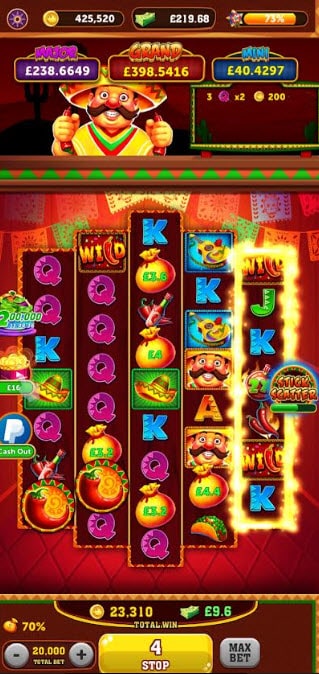 In addition to playing the slot machine, you can tap the bubbles or the gift box in order to collect more rewards.
As expected, clicking these icons will trigger a commercial you must watch until the end to get your cash. 
Chili Chili Boom is identical to Gold Mine Slots but in a different guise.
How To Cash Out? 
To redeem "your cash," you must wait for the 1-hour countdown and then click the cash balance at the top. 
Next, choose your withdrawal method, enter your account detail, and press Submit. 
According to the developer, all rewards are redeemable up to £800 when the countdown ends. 
Is Chili Chili Boom Legit? Does it Pay? 
No, it doesn't! I played Chili Chili Boom for 1 hour and confirmed my account detail only to see the frustrating message:

Please, spin 30 times to approve the order. 
So, I held the spin button to make the process faster, but the game started pushing commercials that required some interaction. 
Since they can add as many requirements as they want, you can waste your life away completing ridiculous tasks for no compensation. 
So, it took me around half an hour to reach the 30-spin mark, but I finally made it. 
The result? I was asked to watch ten videos to approve the order. 
Do you understand what's going on here? They are using meaningless words like "activate" and "approve" only as an excuse to make you play for longer. 

This reward platform is going viral! Cash out via PayPal, Visa, Gift Cards, and in-game currencies - Click here to find out how to generate an extra $10+ per day! 
All they want is for you to get more exposure to videos in the app to maximize revenue for themselves and advertisers alike. 
 In the end, you won't get paid! 

Conclusion 
You can be the luckiest human on planet earth, but you won't receive a single penny from Chili Chili Boom. 
It's not about luck because the cash prize doesn't exist! 
The developer will make you jump through hoops with countless spins and advertisements that will consume your time and soul. 
Watching this virtual machine deliver fake cash is not even entertaining! Therefore, I don't recommend anyone to play Chili Chili Boom! 
Real money online comes with dedication and perseverance. So if you want to follow this road and benefit from the digital economy, check out my #1 recommendation here! 
Final Words
Thank you for taking the time to read my Chili Chili Boom review! I hope that was useful and that it saved you a lot of time.
If you want to express your honest thoughts about this game, please leave a comment below.
Peace