Welcome to my Treasure Scanner review!
In his post, I am exposing another receipt app that claims to pay hundreds of dollars just by scanning barcodes! 
I discovered Treasure Scanner while testing one of those money games that have flooded the Play Store. 
The advert suggested that users would get $300 by scanning receipts ten times daily! 
I was very skeptical about Treasure Scanner since I had already reviewed two fake cash applications with a similar concept: Huuge Scanner and One Scanner. 
In fact, they are using a similar commercial to persuade people they can make easy money. Very suspicious indeed! 
So, is Treasure Hunter Legit? Does it pay? Let's find out! 
This step-by-step program helped me create a lucrative site and reach $2,000 monthly. Join for free and start your first lessons here!
Treasure Scanner Review
Name:

 Treasure Scanner

Developer: 

lfengtechnology

Availability:

 Worldwide

Price:

 free

Overall Rating: 0/5
What is Treasure Scanner?

This reward platform is going viral! Cash out via PayPal, Visa, Gift Cards, and in-game currencies - Click here to find out how to generate an extra $10+ per day! 
Treasure Scanner is advertised as an all-in-one barcode and QR code scanner that pays vast sums of cash for scanning. 
However, there is no mention of monetary compensation in the app's description on the Play Store.
Instead, it only mentions that you can scan many different types of codes, such as QR, item barcodes, URLs, text, and more. 
Suppose a developer advertises the possibility of winning hundreds of dollars but hides it in the app description. In that case, you can bet something fishy is going on.
Treasure Scanner went from 100k to over 500k installations in less than one week, which is impressive. 
Despite its popularity, the app is still in Early Access, which makes it even more suspicious!
The reason is that unethical developers use this classification to prevent users from leaving reviews.
How Does Treasure Scanner Work? 
Treasure Scanner is available for free on the Play Store and requires no registration. 

Before launching the app, I anticipated being greeted with an unrealistic welcome bonus. But that wasn't the case! 
Instead, a dashboard with some basic features will suddenly lay out before you.  
There is an animated barcode symbol with a scan button right at the top and the following message:
"You can get rewards by scanning or playing games."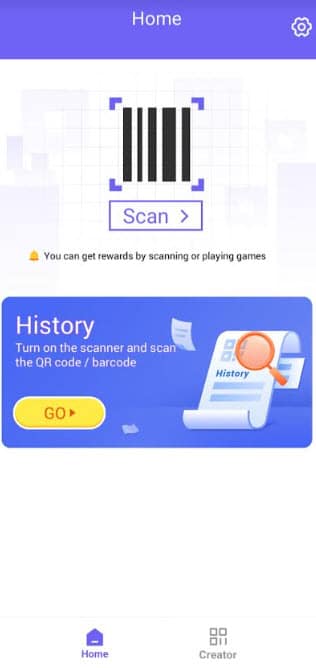 After pressing the button, you must allow the app to take pictures and record videos. 
You can then use the scanner's optical recognition by pointing your smartphone camera at any barcode or QR code. 
The app will display the code number on the screen and show you a few options like Copy, share, search, email, or message. 
Those are pretty useless functions! 
You can access the list of barcodes you have scanned by opening the "history" tab on the dashboard. 
In the creator's tab, you can also create website or text QR codes. But why would anyone want to make a code, for goodness' sake?
Now, you may be wondering where is the cash reward they said you would get for scanning barcodes. 
Well, well… 
Unlike this fake reward scanning app, there are no coins, virtual dollars, cash-out buttons, or PayPal logos. 

Is Treasure Scanner Legit? Does it Pay? 
No, it doesn't! You won't be rewarded for scanning barcodes, which renders the Treasure Scanner app useless! 
What makes it unique is that the developer does not display advertisements, which raises the question:
How is this application making money for the owner? 
If there are no adverts or direct sales of services, the remaining option is to sell information that the app collects from you and your device.
However, it's impossible to know since the Privacy Policy, and Terms of Service do not suggest the company is selling your data. 
Conclusion 
Treasure Scanner is not a money-making application as it's being heavily advertised. 
The developer shouldn't promote this app as an opportunity to win money because there is no sweepstakes or cash-out option. 

Thousands of people are downloading this app, hoping to make real money. But unfortunately, all they get is an app with useless barcode functionalities. 
At least users are not led to watching countless videos that make the developer money. 
But the question remains: how can this firm profit from over 500,000 people all over the world?
Is it collecting critical data from users and selling them without your permission? 
You don't want to take risks with an app that won't benefit you in any way. So, I highly recommend you uninstall it asap and never look back! 
Earn a Full-Time Income Online 
Deep down, you know you can only earn real money by providing value! 
So, put yourself together and make the essential commitment to shift gears and focus on wealth-building techniques! 
One of the best strategies that stood the test of time is called content marketing! 
I have been making a consistent income by creating informational articles like this one on my own website. 
It pays for all my expenses and unforgettable trips with my wife, so I can only say good things about this business model. 
 I am not saying it will be easy, but some resources will help you put yourself on the right track to success. 
Here is the step-by-step training that helped me achieve my online entrepreneurial goals. 
Final Words
Thank you for reading my Treasure Scanner review! I hope you found it helpful and eye-opening! 
If you have any questions, please leave me a comment below.
Peace!