Welcome to my Huuge Scanner review!
Huuge Scanner has gone viral recently, achieving the mark of 50k installations within just a few weeks. 
The main reason for its meteoric success is how the application has been advertised for android users worldwide. 
The commercial portrays a woman scanning barcodes with her phone and earning insane cash rewards.
Everything is so similar to One Scanner that I initially thought it was the same application! They have even hired the same blond lady to promote the app! 
The developer gives users points not only for scanning barcodes but also playing games and watching videos.  
It's hard to believe a reward app can transfer hundreds of dollars for such easy activities. So, will Huuge Scanner pay you hundreds of dollars or not? Is it legit or fake?
Let's find out!
This step-by-step program helped me create a lucrative site and reach $2,000 a month. Join for free and start your first ten lessons here!
Huuge Scanner Review
Name:

 Huuge Scanner

Developer: 

AtlasMobile.Co.Ltd

Availability:

 Worldwide

Price:

 free

Minimum payout: 

500 USD

Overall Rating: 0/5
What is Huuge Scanner? 
Huuge Scanner claims to be an all-in-one QR code scanner that allows users to earn cash and gift cards. 
The platform will give you points for scanning any product's barcodes and playing games on your smartphone. 
Since the app is entirely funded by advertisements, you will be exposed to lots of videos and banners while accumulating tokens. 
Once you collect enough points, you can redeem them for cash using PayPal, Coinbase, OVO, and more options depending on your country. 
Besides, you can win the new Samsung Galaxy S22 if you watch 15 videos during the event. Crazy, right? 
How Does Huuge Scanner Work? 
A legit reward app that pays users for shopping and scanning receipts is usually funded by marketing research companies. 
For example, Storewards is a reputable application that rewards users for scanning shopping receipts. 
However, I am pretty sure Huuge Scanner doesn't work like these apps since you can scan any barcode regardless of where you purchased the item. 
It's basically another simple app that generates revenue through advertising and claims to pay unrealistic sums of cash. 
Once you launch Huuge Scanner, the developer will welcome you to the app and ask if you are ready to win cash by scanning codes or playing games. 

You will then be prompted to choose a payment platform so they can deliver cash to your account accurately. The six options available are PayPal, PicPay, Coinbase, Dana, OVO, and Mercado Libre. 
After that, you'll see different amounts of cash and the corresponding number of points required. 
You need at least 5000 points to withdraw the minimum amount of $500. 
How to Collect Points? 
The primary method of collecting points with Huuge Scanner is to scan barcodes.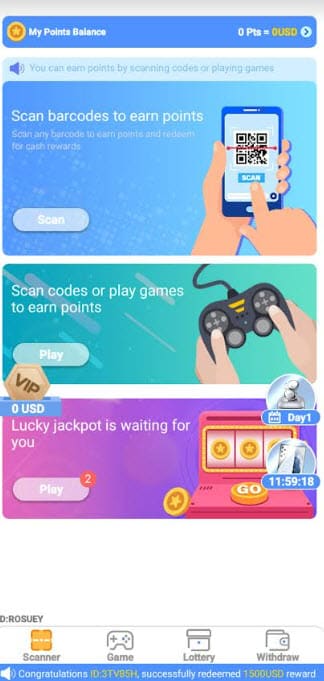 On the dashboard, click the scan button and allow the app to take pictures and record videos. 
Then, aim your phone's camera at any barcode to get your points. 
You will then have the chance to duplicate your earnings by tapping the "Claim 2x" button and watching the video. 
After scanning the package of a Milka bar and watching the commercial, Huuge Scanner awarded me 1600 coins. That's worth 160 USD! 
I mean, Wow! How is it possible? There must be a catch, right? Yes, but I will get into that later. 
They say you can also get points for playing games, but if you tap the play button, you will see a page full of advertisements and a coin bubble. 
The only way to collect more points here is by tapping the bubble and watching the video. Unfortunately, there are no games on this page! 
However, you can play the Lucky Jackpot and collect puzzle pieces towards excellent prizes such as PS5, Sony TV, and Nintendo Switch. 

They will persuade you to watch more videos to spin and collect more fragments. 
Limited Time Activity
If you thought Huuge Scanner had nothing else to offer, think twice! 
Users who clock in for three days can redeem a $199 Samsung Galaxy Buds Pro.
In addition, those who watch 15 videos during the event time will supposedly win a Galaxy S22 Ultra. 
The developer promises to ship the product through the FedEx Logistics Platform. Amazing! 

This reward platform is going viral! Cash out via PayPal, Visa, Gift Cards, and in-game currencies - Click here to find out how to generate an extra $10+ per day! 
Is Huuge Scanner Legit? Does it Pay? 

Do, it doesn't! Huuge Scanner is another fake reward app intended to get users to watch a ton of commercials. 
The barcode scanning is just an excuse to make you believe the application operates like receipt scanner apps like Huyu and Shopkick. 
You can check if the system is fake by scanning the same product as often as you want. They will continue to award you points for the same goods indefinitely.
This would never happen with a real reward application! 
As you get closer to 5000 coins, Huuge Scanner will award you fewer and fewer points. However, reaching the payout threshold and redeem won't take long. 
But after entering your account information, the developer will change gears and as you to watch 15 videos within 24 hours to activate the order. 
I'm sure I've heard that story hundreds of times before!
This app is a lot sketchier than others because it entices users to pay a 1.99 USD fee to activate the order immediately.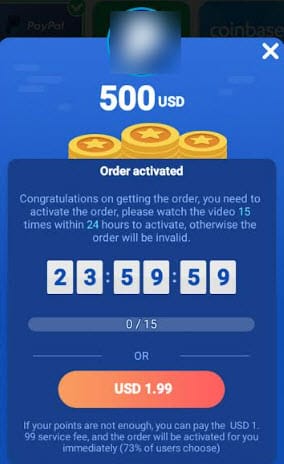 I hope you haven't paid that fee or watched other videos because there is no chance of winning any money. Period! 
Conclusion 
Don't waste your time with Huuge Scanner because it doesn't pay a dime. It works just like One Scanner I mentioned at the beginning of this post. 
If there is one thing you should take from this article is: Never believe anyone saying you can win easy money for this and that! 
There is no free meal, and the economy can only reward well those who provide value! 
That's why you must shift your mindset if you want to earn real money online. 
If you want to learn how to create online assets that pay you passive income, check out my #1 recommendation here. 
You don't need special skills to build a system that can scale and grow from the ground up. This can certainly change your life if you put in the work and give it enough time. 
Final Words
Thank you for reading my Huuge Scanner review! I hope you found it helpful and instructive! If you have any questions, please leave a comment below.
Peace!