Welcome to my Bobi Step review!
I came across another walking tracker yesterday that entices users with fantastic prizes, such as the new iPhone 14 and AirPods 3.
Bobi Step also allows users to convert coins to crazy sums of cash. It reminds me of some fake reward pedometers I reviewed, like WalkingJoy and Step a Lot!
You don't want to spend so much time trying to reach targets only to discover that they are simply one among many.
So, is Bobi Step legit or fake? Does it reward players just for walking and watching videos? Let's find out!
Before leaving this page, check out the step-by-step system that helped me generate $2,000+ per month and quit my job in 2019.
Bobi Step Review
Name: 

Bobi Step: Walking Tracking

Developer: 

FI GAME

Availability:

 Worldwide

Price:

 Free

Payout threshold:

 £200

Overall Rating: 0 stars
What is Bobi Step? 
Bobi Step is a pedometer application that allows you to convert your steps to cash rewards and other amazing prizes.
The Android app will count every step you take in the background and award coins for meeting daily targets.
You can then redeem coins for cash rewards and achieve progress towards your selected gift. 
Over half a million people have installed Bobi Step with high hopes of winning a prize, such as the sought-after iPhone 13. 
But it's hard to believe a simple pedometer can pay users for something so trivial. It feels like free money, which is why I am not buying it!  
How Does Bobi Step Work? 
Like all the pedometers and lifestyle apps on the Play Store, Bobi Step is funded by advertisements – Lots of it, to be honest!
The application is free to download and run on your phone or tablet.
Besides, no registration is required from users, which is a red flag considering that it would facilitate multiple accounts and abuse. 
As soon as you open the app for the first time, Bobi Step will ask you to select the gift you would like to receive. 
Some options include MINISO Bluetooth Ear, Huawei Matepad, Xiaomi Band 7, and Galaxy Tab A8. 
New users can choose any prize but cannot change it later on. 
Next, you will be encouraged to check in to win thousands of coins. The more days you sign in, the more coins you will get.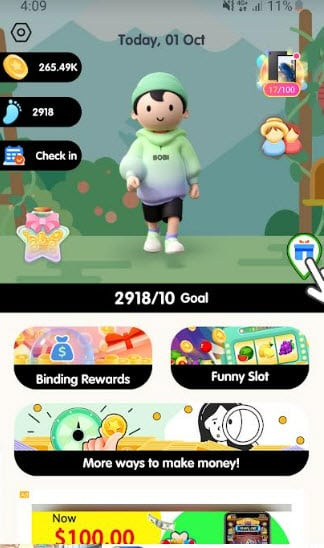 Bobi Step will then run in the background, tracking your movement as you go about your day.
Complete today's missions to earn more coins. Here is a full list:
Sign in – 10k 

Watch five videos – 25k

Watch ten videos – 50k

500 steps – 30k

1000 steps – 50k

Invite two friends – 60k

Watch 5 minutes of video – 30k
The amount of money you can withdraw depends on your country. For example, in the UK, I could convert around £26 with under 3000 steps. 
Bobi Step allows users to collect more tokens by playing Funny Slots, spinning the Lucky Wheel, and inviting friends. 
According to the developer, you can retrieve £0.04 immediately for every friend you invite. 
How Do You Get Paid? 
You can cash out by clicking the coin balance at the top. It will then open the currency mall, where you will find the corresponding amount of cash in your currency. 
In the UK, 100k coins equal £10, and people can only claim the cash prize once they accumulate at least £200.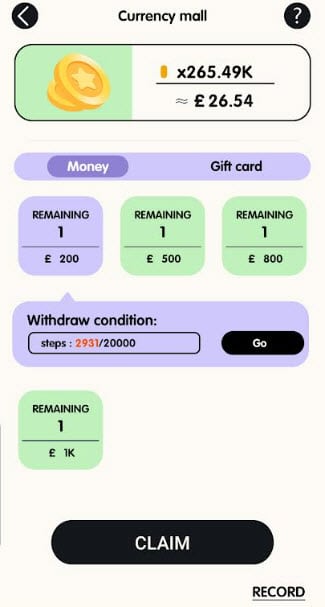 In some developing countries, the minimum cash out requirement is much lower.
For instance, someone from the Philippines recorded gameplay showing the payouts of ₱ 0.19, which is worth less than 1 cent of the dollar. 
Redeem Gift 
The gift you selected at the start may also be claimed by accumulating enough coins. 
First, you must open the dedicated section by clicking the prize icon on the top-right corner. 

Then, you must complete tasks that allow you to progress towards your gift delivery, such as signing in, watching videos, and walking. 
When you reach the step limit, tap "claim" to increase the progress bar by 0.40%.
Is Bobi Step Legit? Does It Provide Real Rewards? 
Bobi Step will probably transfer the money to your account IF you live in a country where the minimum cashout requirement is ridiculously low! 
But if you use the app in the UK or the US, you will likely not receive the high payouts advertised. 

This reward platform is going viral! Cash out via PayPal, Visa, Gift Cards, and in-game currencies - Click here to find out how to generate an extra $10+ per day! 
I wouldn't say it's impossible to get paid because the company may reward a few lucky users.
However, it's hard to believe without enough evidence, especially considering there are so many fake money-making apps out there.  

Another essential thing to mention about Bobi Step is that the app is still in Early Access despite being downloaded over 500,000 times. 
That means users cannot publish their honest opinions on Google Play and spreat the word. This adds another layer of doubt to the cash incentive.
Conclusion 
Bobi Step counts your steps and supposedly allows you to exchange coins for excellent prizes. 
It's a shame that the developer is trying to persuade users to watch videos and achieve targets towards large sums of cash.
Unfortunately, there is no guarantee that Bobi Step will transfer more than a few cents to the user's accounts. 
It's also unrealistic to expect to win those luxurious gadgets without effort.
I wouldn't bother with Bobi Step because it's just another advertising machine that works around the clock to benefit the creator. 
Likewise, I would avoid similar applications offering large sums of cash to play games, watch videos, and even drink water.
Final Words
Thanks for reading my Bobi Step review! I hope it was informative and helpful! If you have any questions, please feel free to leave us a comment below. 
Peace!