Welcome to my Rampage Ball review! 
Thousands of people are playing Rampage Ball with high hopes of winning free Robux worth hundreds of dollars. 
The Play Store is jam-packed with such games that make players believe they have just found a gold mine! 
Indeed, they are getting so repetitive that developers have difficulty coming up with original titles for these apps.
Rampage Ball is basically a clone of Stack Smash and Money Ball since its gameplay is identical. 
While playing the game, you will collect diamonds that can be exchanged for an insane quantity of game currency. 
But does it reward players, or is it another way to outsmart them? Is Rampage Ball legit or fake? Let's find out! 
Top recommendation: discover the step-by-step program that helped me generate 2,000 USD+ per month and kiss my job goodbye in 2019. No special skills are required! 
Rampage Ball Review
Name:

 Rampage Ball 

Developer: 

quinbystuart

Availability:

 Worldwide

Payout threshold: 

100,000 Diamonds

Overall Rating: 0 stars
What is Rampage Ball? 
Rampage Ball is a simple 3D game in which you demolish the helix tower by forcing the ball downwards. 
Once you eliminate all the colored plates, you will be awarded diamonds redeemable for Robux or another game currency. 
Rampage Ball got a lot of attention because it promises to award players with over 130,000 Robux valued at over USD 1,000!
Although the app has been installed over 100k times, no one can publish reviews on the Play Store as it's still in development. 
This brings up the possibility that the developer may wish to censor comments from people who were not rewarded. 
How Does Rampage Ball Work? 
Rampage Ball is available for free on Google Play, and it doesn't require registration. 
Launching the game for the first time prompts you to select one of the three games: Roblox, Free Fire, and PUBG. 
Then, you have to enter your game ID to receive the reward and tap "Ok." 
Next, Rampage Ball will show you the Limited Time Event offer, which consists of winning 130,000 Robux when you collect 100,000 diamonds. 
It also claims that if you reach the target within 24 hours, you will earn an additional 30,000 Robux. 
Simply touch the screen to force the bouncing ball downwards. As a result, it will break all the platforms along the way apart from the black ones.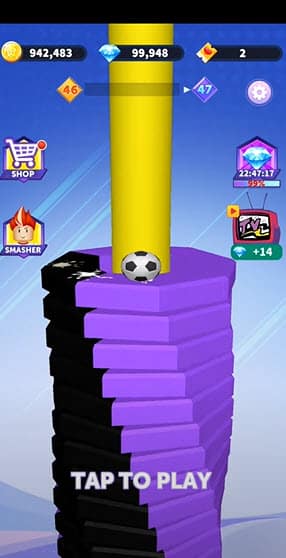 Once the ball reaches the bottom, you will complete the level and earn diamonds. Then, you can tap the "Get More" button to stop the gouge and increase winnings by up to 5 times. 
Naturally, you will have to watch the video before the diamonds are credited to your account.
If the ball reaches the back segment, it's game over, but you can always restart without losing your balance. 
After completing the fourth level, Rampage Ball gives you bonus diamonds.
Because the game is simple, the only real challenge is enduring tedious and repetitive advertisements.
Is Rampage Ball Legit? Does it Reward Players? 
No, it doesn't! Rampage Ball is just like other fake money games developed using Unity. 
You need 100,000 diamonds to be able to withdraw 130,000 Robux, but they will probably never let you reach the goal. 
It starts swiftly, offering thousands of gems after each level. However, the closer you get to the reward amount, the fewer diamonds you'll get.
It's so ridiculous that once you overcome the 99,000 mark, Rampage Ball will start giving you fractions of diamonds! 
They'll include a decimal to represent the fractions you'll get from that point. 
Of course, you'll end up watching more commercials and wasting a lot of time with no guarantees!

If you continue to play, the game will gradually reduce your reward to the point when it adds four decimal places to your balance.
I hope you realize that it's impossible to reach the target in this condition where the system is totally against you. 
Conclusion 
Rampage Ball will not transfer any game currency to your Player ID, regardless of how many levels you complete.
The system will cheat big time by fractioning your diamonds at Infinitum to make you watch endless videos! 

This reward platform is going viral! Cash out via PayPal, Visa, Gift Cards, and in-game currencies - Click here to find out how to generate an extra $10+ per day! 
These applications have been thriving for years, and nothing seems to stop them. 
Therefore, one way to help people avoid them is by explaining how they work and how the developers operate. 

With so many fake reward apps on the Play Store, I hope more people realize they are not working in their best interest. 
If you want game currency but cannot afford it, I suggest using well-established platforms to earn a little extra cash online. 
You can then use the money to buy any game currency or even withdraw real cash via PayPal. 
Check out my list of the best GPT sites here! 
Final Words
I hope this post about Rampage Ball is helpful and eye-opening to you.
If you want to share your experience with this game, feel free to comment below! 
Thanks for reading!