Welcome to my One Scanner app review!
There has been a surge in mobile apps that pay users for scanning barcodes and receipts in recent years.
Although there are decent options available, many unscrupulous developers are riding the trade to defraud people.
A few days ago, I came across One Scanner after watching one of its commercials on my phone.
It showed a happy woman in a red dress earning $35, $21, and $33 for each barcode that she scanned.
I have seen this lady in many other adverts promoting fake money games! Here is one from Diamond slots. 
Besides, legit receipt scanning apps like Huyu and Storewards only pay 5 – 10 cents per receipt!
The unrealistic payouts and the fact they are using the same actor is not a good sign. So, is One Scanner fake?
Read on to discover how this app works and whether or not you will receive your money!
This step-by-step program helped me create a lucrative site and reach $2,000 per month. Join for free and start your first ten lessons here!
One Scanner Review
Name: One Scanner – Earn Cash & Gift
Developer: BerryKongStudio
Availability: Worldwide
Price: free
Minimum payout: $10 or £10
Overall Rating:

0/5
What is One Scanner? 
One Scanner is an Android app claiming you can earn real money by scanning barcodes or QR codes.
Once you earn enough points, you can redeem them for gift cards or even cash via PayPal.
This method of making money online has become very popular in recent years.
Apps collect data from those receipts and sell them to companies that want to perform marketing research.
Then, they use the information to develop or improve existing products based on consumer purchasing habits.
Many receipt scanning program pays participants a few cents for each uploaded receipt. However, Scanner is advertised as if users could make over $20, which is insane!
You can also collect points by spinning the wheel, playing slots, and scratching cards.
One Scanning has been installed over 500k times on Google Play and rated 3.8 stars. 
How Does One Scanner Work? 

One Scanner is the type of app usually funded by companies that want to collect data from shoppers.
However, I am still not convinced that the application uses this monetization method.
One thing is for sure, though. One Scanner is making good profits by displaying a ton of advertisements.
You will be exposed to many banners and sponsored videos while using the application.
Their core tactic is to give you points in exchange for watching the commercial till it ends.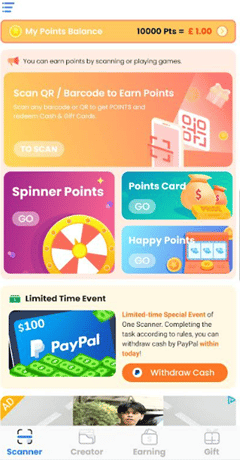 Installation
One Scanner is only available for Android devices. The app is entirely free, and you don't even need to create an account to begin scanning and collecting points.
After installing it on the Play Store, you will receive a newcomer gift of 1000 points ($0.10).
Points Vs. Rewards
One Scanner operates a point-based system where 1000 Points equals $1 or £1 if you live in the UK.
You can redeem your points for cash (PayPal) or gift cards when you accumulate at least 100,000 points ($10).
There is an extensive range of gift cards you can choose from, such as Amazon, Best Buy, Walmart, Target, Spotify, and Google Play, to name a few.
If you don't earn any points for more than 20 days, the company can freeze or deduct points from your account.

Scanning Barcodes and QR Codes
Earning points with One Scanner is very straightforward.
Just tap the Scanner icon at the bottom and point your smartphone camera to any barcode or QR code.
First, you will be asked to allow One Scanner to access your camera, photos, media, and files on your device.
When the code is centered correctly and in focus, the app will take a snapshot and submit it right away.
The code doesn't need to be for any particular store or supermarket.

This reward platform is going viral! Cash out via PayPal, Visa, Gift Cards, and in-game currencies - Click here to find out how to generate an extra $10+ per day! 
After submitting your code, a window will show you got 200 – 1000 points for this Scanning. Then, you must tap the button and watch the video to collect the points.
This behavior reminds me of fake money games since they also lure users into watching the video to collect rewards.

The number of points you earn can change over time. Besides, there is a daily limit of roughly 12 scannings.
Playing games
Apart from scanning products, users can collect more points and gift cards by playing games.
Remember, you must always watch a video to collect these rewards.
Spinner points – activate the wheel and collect the prizes.
Points Cards – Scratch the card and match 6 symbols to win points and gift cards.
Happy Points – trigger the slot machine and win more rewards if you match three fruits or diamonds.
You can also win 500 Points every day by checking in and watching the video.
Is One Scanner Legit? Does it Pay? 
With so many complaints on the Play Store, it's hard to believe that One Scanner rewards users.
I couldn't find any person who was able to reach $10 and cash out.
So, it's likely that One Scanner is a fake money app designed to get people to watch lots of sponsored videos for no pay.
Many people report that the closer you get to $10, the fewer points you will earn. At some point, One Scanner will refuse to give you points even after watching the video!
One user said the first day, the app worked fine, but the following day the app didn't credit the points.
There are reports of other different issues preventing people from cashing out.
This application is clearly designed to generate cash for the creators while users waste their time and data.
Conclusion 
One Scanner is not a money-making app! I suspect they are not even using the barcodes since you can scan virtually anything and collect points.
The scanning activity works as a facade to persuade users there is something tangible behind the business.
But all people are doing is watching videos and collecting useless points while the developer is making a killing.
It's no different than the hundreds of fake money games I reviewed in the past four years.
They give you points or virtual dollars but stop rewarding you before reaching the payout threshold.
Don't fall for applications that advertise the opportunity to win hundreds of dollars with little to no effort.
Otherwise, all you'll get is stress and frustration!
Is There an Alternative to One Scanner? 

Fortunately, some decent receipt scanning apps will put real money in your pockets.
Here is a list of the best options in the US: CoinOut, iBotta, ReceiptPal, Shopkick, ReceiptHog, and Fetch Rewards.
In the UK, you can use Shoppix, Huyu, Storewards, and SnapMyEats.
Final Words
Thanks for reading my One Scanner review. Leave us a comment below to share your personal experience with the app or ask questions.
Peace!