Welcome to my Ticket 2248 review!
The creators of Ticket 2248 are promoting their game as if players could win thousands of dollars. 
They claim it pays directly via PayPal with no withdrawals needed.
One of the main reasons people think these games are real is that they use the PayPal logo in the advert.
As a result, people believe PayPal trusts them and that they must follow their guidelines. But, unfortunately, that is not the case!
I have reviewed countless merge games using this clever tactic of luring players with fake cash rewards.
So, is Ticket 2248 legit or fake? Are players getting paid? Let's find out!
Are you tired of fake money games? This step-by-step training helped me generate over $2,000 per month online and quit my job three years ago.
Ticket 2248 Review
Name: Ticket 2248
Developer: Lauren34S
Eligibility: Worldwide
Price: Free
Overall Rating: o/5
What is Ticket 2248? 
Ticket 2248 is a casual game where you connect tickets to unlock higher numbers and collect virtual dollars.
I've tested many similar games that come in many shapes and forms, such as Chip Winner 2048 and POP Chip Star. Here is my POP Chip Star review.
What's crazy about Ticket 2248 is that players can accumulate $1000 within less than 30 minutes of gameplay.
The company claims all the money you collect during the event will be transferred to your PayPal account.
It's also possible to withdraw at least $10,000 via Amazon gift cards!
Because the game only generates revenue through advertising, it's hard to believe they can pay this amount of money.
How Does Ticket 2248 Work? 
Installation 
Ticket 2248 is available on Google Play for Android devices. You can install the app for free and play right away without registration.
It's important to mention the app can read, modify and delete the content of your SD card. Therefore, you are grating the developer a high level of control over your data.
What guarantees do we have that they won't misuse your data? None!
How to Play? 
It's very simple! You just have to link tickets of the same number or those that follow the sequence: 2 – 4 – 8 – 16 – 32 – 64 – 128 – 256 – 512 – 1028 – 2048.

The first two numbers must always be the same before linking higher numbers. Here are some examples:
8 – 8 – 16 – 32 – 64 – 128
32 – 32 – 64 – 64 – 128
4 – 4 – 4 – 4 – 8 – 16
Besides, you can connect the tickets in all directions – horizontally, vertically, and diagonally.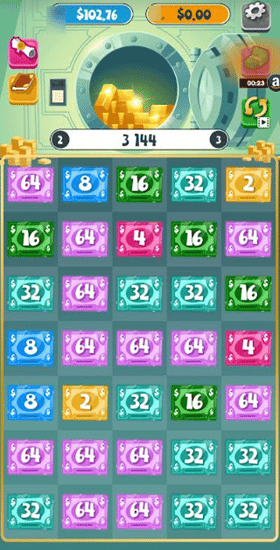 After the tickets are connected, they will merge into a single ticket with a higher number.
As a result, you will receive a decent amount of virtual cash, but only after tapping "confirm" and watching the sponsored video.
Most of them are commercials for other money games that will try to convince you they are the real deal.
Here are other ways to collect more cash rewards with Ticket 2248:
Merge special tickets with the PayPal or Amazon logo.
Complete daily mission and win withdraw $1000 on the third day.
Sign in daily.
How Do You Get Paid? 
Once the 24-hour countdown is up, you should be able to withdraw all the money using PayPal.
However, you can cash out immediately when you accumulate $1000.
Just tap "Fill in PayPal account," enter your email address twice and click "Confirm."
As for the Amazon gift card, the minimum cashout requirement is $10,000, but you can redeem up to $50,000.

Is Ticket 2248 Legit? Does it Pay? 
No, it doesn't. It's impossible to make real money by playing games like Ticket 2248.
The cash rewards are only used as bait to entice players to keep playing and watching an insane number of videos.
They will initially give you $100, but the amount will gradually decrease as you approach $1000.
This is a well-known tactic to prolong the gameplay for as long as the developer wants.
Some fake games will stop rewarding players before they get the chance to tap the cash-out button.

This reward platform is going viral! Cash out via PayPal, Visa, Gift Cards, and in-game currencies - Click here to find out how to generate an extra $10+ per day! 
But Ticket 2248 will let you reach the target and request the payout.
However, you will need to watch 60 more videos to activate the order.

This "order activation" means nothing, and I hope you didn't proceed with this nonsense.
Those who watch the videos will be disappointed to learn that all orders have already been fulfilled.
They say you should wait another 24 hours or watch an extra 80 videos to apply without waiting.
It's clear they won't transfer any money regardless of how many tasks you complete.
Conclusion 
Ticket 2248 is another fake money game with no intention to make PayPal transfers.
The app would not have been installed so many times if it weren't for the generous cash incentives.
Furthermore, the developer can significantly increase revenue by enticing players to watch many videos.
By playing Ticket 2248, you are wasting your time collecting virtual dollars with no real-world value.
Legit games cannot give you so much money and will never ask to watch videos in return for rewards.
If it looks too good to be true, then it probably is!
Earn a Full-Time Income Online
It's possible to generate thousands of dollars per month if you provide content and attract a large audience.
You can accomplish this by ranking posts on Google or videos on YouTube. Those are the two best methods to generate revenue on the internet.
Some people, like myself, perform better with the first option, whereas others prefer to create videos for YouTube. Some people use both strategies to complement each other!
In 2015, I joined this excellent program that showed me step-by-step how to create a successful online business.
Thanks to this platform, I quit my job at the coffee shop to enjoy the laptop lifestyle! I highly recommend you give it a try today. 
You can join for free and start today with no strings attached! Click here to learn more! 
Final Words
Thanks for reading my Ticket 2248 review. I hope it was helpful!
If you have any questions or thoughts about this game, write to us in the comment section below.
Peace!