Welcome to my Mega Win Slots!
This week, I discovered yet another mobile game that allows users to make vast sums of cash!
Mega Win Slots is a slot simulation in which players earn virtual dollars just by pressing the "Spin" button.
This application has attracted over 100,000 people who dream of making easy money risk-free! Well, who doesn't?
The problem with this kind of game is that they entice players with fake dollars and never pay out.
I reviewed hundreds of them in this blog, and the story is always the same. Players wind up wasting hours of their lives watching countless videos for nothing!
So, is Mega Win Slots legit or fake? Does it Pay? This review will explain how it works and expose its true colors!
Before you go, don't forget to check out the step-by-step system that helped me to generate $2,000+ each month and quit my job in 2019.
Mega Win Slots Review
Name: Mega Win Slots
Company: Jia22
Availability: Worldwide
Type: Entertainment with no financial risk
Price: 100% free to play
Payout threshold: $1000
Overall Rating:

0/5
What is Mega Win Slots?
Mega Win Slots is another free slot game where players can supposedly win real money and great prizes.
What makes it so appealing is that players have to watch videos instead of risking their hard-earned money.
You can install the app for free and press the spin button as often as possible.
However, users must meet specific requirements before they are allowed to claim their prizes.
As a result, the game will require you to play for hours and watch several adverts to achieve the goals.
How Does Mega Win Slots Work?
Installation
Anyone can install Mega Win Slots on Google Play for Android devices. The app is 100% free and available worldwide.
Note that the game is exclusively for persons above 18 years old due to the possibility of receiving cash prizes.
How to Play?
Mega Win Slots features a 3-reel slot machine with a big "Spin" button in the center.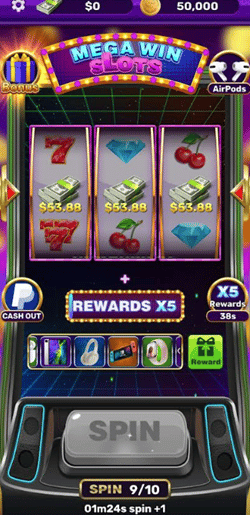 Just trigger the slots and match 3 symbols to collect cash, coins, and other virtual items.

For example, if you get three banknotes in the slots, you will earn over $50. But the money may only be deposited in your account if you click "collect" and watch a video until the end.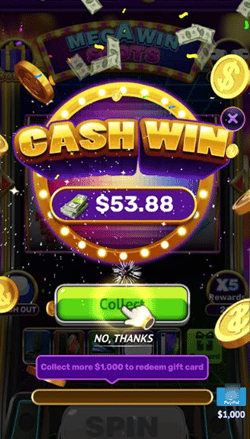 If you match the number 7, you will earn lots of coins that can be traded for $1,000 gift cards.
You can also collect virtual items such as bells, diamonds, gold bars, and cherries. As with coins, these items can also be redeemed for gift cards.
Mega Win Slots will give you ten free spins in the beginning and add an extra spin every 1 minute and 30 seconds.
How to Withdraw the Money?
Click the "cash-out" icon with the PayPal logo or open your cash balance.
Then, you are given the option to redeem $1000 via PayPal or Amazon gift cards.
You cannot cash out before you collect this amount of cash.
Another way to redeem $1000 is by collecting at least 9.8 million coins or 100 virtual items.
In this case, open the coin balance or click the bonus icon.
You can choose from a variety of gift cards such as Amazon, Steam, Google Play, PlayStation, XBOX, and Visa Prepaid.
According to the app's rules, the advertiser will send the reward to you within seven business days (weekends not included).

Redeem Gifts
If you match three gift symbols, you can collect puzzle pieces that correlate to a lucky gift.
Once you accumulate ten fragments, you can win prizes such as Samsung Galaxy S21, Macbook Pro, Airpods, Ipads, Nintendo Switch, and more.
Win AirPods
When you first start Mega Win Slots, you will find that you may redeem Aipods Pro worth $249 if you clock in for three days.
You need to spin 20 times to activate each clock in.

This reward platform is going viral! Cash out via PayPal, Visa, Gift Cards, and in-game currencies - Click here to find out how to generate an extra $10+ per day! 
Is Mega Win Slots Legit? Does it Pay?
No, it does not! The game is another clever developer's ploy to increase video views and profits.

Google Play is jam-packed with complaints from players who didn't receive any prize despite meeting the conditions.
Mega Win Slots makes you believe you will make money if you reach $1000. But it is only the first of three requirements!
Next, you are enticed to watch 60 videos to activate the order. As if that "activation" meant something!
After helping the developer make more money from adverts, he will ask you to collect 25 bells.
Those who achieve these requirements will be told to wait for seven days only to realize the reward is fake.
Mega Win Slots won't share any money generated from hundreds of commercials you watched.
Conclusion  
Mega Win Slots is another boring slot machine simulation that offers no tangible rewards. 
The illusion of easy money is what entices players to view countless videos that only benefit the owner.
So, don't waste your time trying to meet the conditions because there are no payouts.
All these games that make big income claims are only operating in the developer's best interest.
They get paid by advertisers and never reward users responsible for generating revenue for them.
Avoid fake money games at all costs! 
How to Make Real Money Online? 
One of the best strategies is creating a website that ranks helpful content on Google.
If you want to make real money online without relying on greedy developers, this step-by-step program will show you the way!
This training assisted me in creating a website, working independently, and earning a full-time income from my laptop.
You can do the same if you apply the techniques and take massive action!
Final Words 
Thanks for reading my Mega Win Slots review. I hope that was useful and saved you some time.
If you have anything to say about this game, please leave a comment below.
Peace!