Welcome to my Ball of Beach review!
I was playing a game on my phone when I stumbled across Ball of Beach and the opportunity to win free Robux.
The commercial showed a player accumulating diamonds redeemable for in-game currency.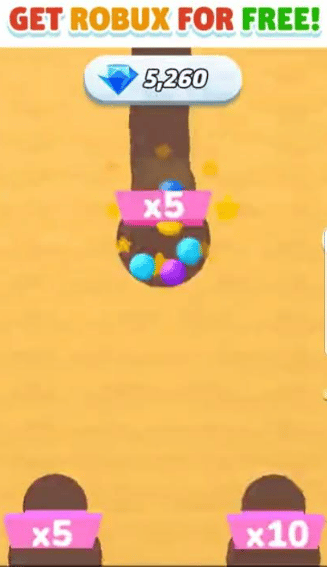 Over 1 million people have already installed Ball of Beach in hopes of receiving the reward in their player's account.
The point is that the amount of gaming credit it claims to provide is unreasonable.
For example, it claims that the minimum quantity of Robux available is 6800, worth more than $50.
How is it possible that a game funded entirely by advertisements can afford that? Is Ball of Beach legit or fake?
Let's find out!
Ball of Beach Review
Name: Ball of Beach
Developer: pebblemaster
Availability: Worldwide
Price: Free (no purchase required)
Overall Rating: 0/5
What Is Ball of Beach?
Ball Of Beach is an Android game where you drag your fingers to dig the sand and release the balls.
After completing the level, you will get diamonds that may be traded for your preferred game currency.
In addition, Ball Of Beach allows players to redeem skins once they collect enough skin pieces during the game.
Some games available include Roblox, League of Legends, and Free Fire.
If you play one of these games, you might be tempted to install Ball of Beach to enjoy in-game content.
How Does Ball Of Beach Work? 
Installation 
Ball of Beach is available on Google Play for Android users in all countries.
After launching the app, you will be asked to choose which game currency you want to earn and enter your Player ID.
Then, you can play the game right away with no registration.
How to Play? 
Slide your finger across the sand to create a pathway for the balls to flow through.

The objective is to move the balls downwards across small sections until they fall into the boat at the bottom.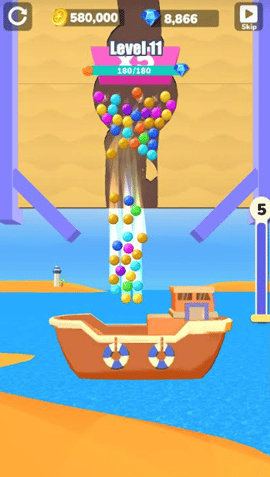 Some sections allow you to multiply the number of balls or collect diamonds.
You always begin with a single ball, which is divided into numerous balls based on the multiplier.
Once the balls reach the boat, you will complete the level and win coins, diamonds, keys, and game skins.
You can use keys to play scratch-offs and win more diamonds and coins.
Even though the game is fun, the sheer amount of advertisements makes it very annoying.
You will be bombarded with videos after every level when you tap the claim button.
How do You Collect Your Reward? 
To claim your game credits, you need to meet any of three following requirements:
10,000 diamonds
3,000,000 coins
Complete level 150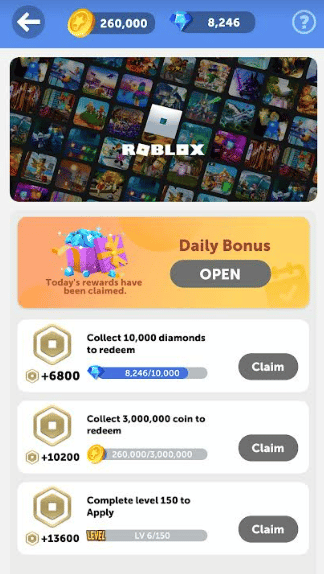 For example, if you meet any of the conditions above, Ball of Beach will allegedly award you 6800 Robux.
As I mentioned, you may also get skin pieces after completing each level. You must first earn a specific number of fragments depending on the skin.
According to the app instructions, Ball of Beach does not provide any cheating method to hack the game.

They claim to transfer the game currency from the official website. But is it true? That's what you will find out in the next section.
Is Ball of Beach Legit? Does it Pay? 
No, it doesn't! Ball of Beach will never transfer any Robux or other game currency to your Player ID.
All of these games that claim to give an unrealistic amount of Robux are not serious amount rewarding players.
Many fake Robux games are operating on the Play Store, such as Cut Grass and Emoji Liner. Here is my Emoji Liner review! 

This reward platform is going viral! Cash out via PayPal, Visa, Gift Cards, and in-game currencies - Click here to find out how to generate an extra $10+ per day! 
Even if the developers wanted, they could never afford such generous rewards.
As you probably know, these game credits are costly, especially for people who live in developing countries.

The game was designed to trick players into watching an insane number of videos to maximize profits.
So, what happens if you play Ball of Beach for an extended period to meet the requirements?
The game operates similarly to many other fake games in that the longer you play, the fewer diamonds and coins you will receive.
As a result, you will be unable to get 10,000 diamonds or 3 million coins.
One player reported wasting 48 hours only to get lots of adverts and disappointment.
Another person was able to claim the reward after completing the 150th level. He was told to wait for 7 – 15 working days but didn't receive the gems.
Conclusion 
Ball of Beach is a fake reward game targeting gamers who want free in-game currencies.
They entice people with the opportunity to win Robux, but the app is not operating genuine giveaways. Click here to find legit sweepstakes apps! 
So, if you're just playing to earn your virtual goods, I recommend you pause and delete Ball of Beach.
Otherwise, you will waste time and data playing commercials that only benefit the developer.
Verdict: Not Recommended 
If you wish to earn virtual currency in your favorite game, use the Freecash app! 
This application gives you tokens when you complete simple tasks from your phone, such as surveys and offers.
These tokens can be redeemed for a wide range of prizes, such as cash via PayPal, cryptocurrency, and gift cards.
Some include Roblox, League of Legends, Fortnite, Amazon, Google Play, Steam, and many more!
Now, if you'd rather earn money by playing free games, here's a comprehensive list of legitimate applications.
Final Words
Thanks for visiting this blog and reading my Ball of Beach review. I hope it has been informative and helpful!
If you want to share your thoughts about this game, use the comment box below. We can't wait to hear your story!
Peace!