Welcome to my Cash Tap review!
I just saw an advertisement for a reward app called Cash Tap and decided to put it to the test.
The advert depicted someone holding a mobile phone and earning over $140 just by tapping the screen.
In the end, it shows stacks of cash and the message: "Earn Money Playing Games."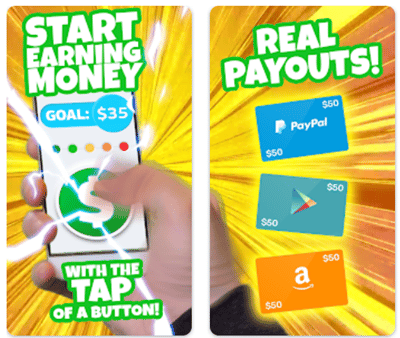 Most people who are yearning for quick money will not hesitate to bite the bait and download Cash Tap.
However, you should always be wary of applications trying to sell the idea of easy money.
The majority of them are nothing more than traps meant to take advantage of unsuspecting people.
So, is Cash Tap legit or fake? Does it pay for playing games? Let's find out!
Before you go, don't forget to check out the step-by-step process that enabled me to earn $2,000+ each month and quit my work in 2019. Click here and apply the method today! 
Cash Tap Review 
Name: Cash Tap
Developer: JustForge
Availability: Worldwide
Price: Free (no purchase required)
Overall Rating: 1.6/5
What is Cash Tap? 
Cash Tap is an application that claims you can earn money just by tapping the green button on your screen.
This app is owned by JustDice GmbH, a German company that operates countless apps to earn money by playing games. 
They make you think Cash Tap is one of the easiest ways to make money using your mobile phone.
However, most people who try to cash out are highly disappointed with their results.
Before I reveal the technique used by this application, I'll explain how it works in detail.
How Does Cash Tap Work? 
Cash Tap is available on Google Play for your Android device and is completely free. Keep in mind that you must be at least 18 years old to use the app.
After installing and launching the app, it will ask you to accept the Terms of Service.
Next, you are presented with this captivating screen: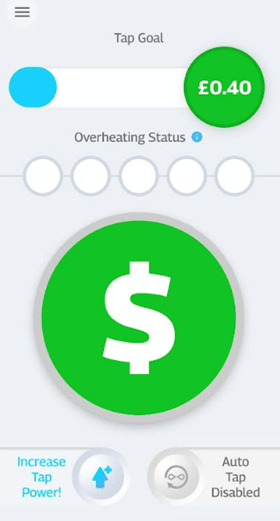 Cash Tap features a big button with a dollar sign in the middle.
It claims you must tap this button until your reach the goal, which is currently £0.40 in the UK.
Note that the progress bar will advance towards the prize every time you tap the button.
Now, here is the catch:
The quicker you tap the screen, the easier it is for the button to overheat. Note there are five levels of "overheat."
In the beginning, Cash Tap will "Overheat" if you tap too fast and reach the 5th level.
As a result, it will interrupt you with a pop-up enticing you to download and play a third-party game under the premise of "cooling it down."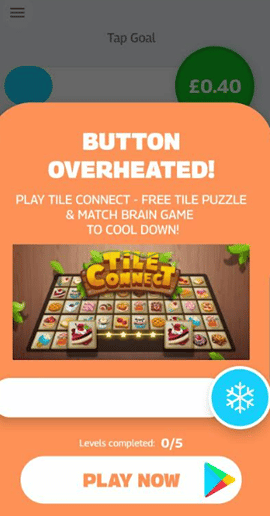 First, you need to allow usage tracking on your phone so the developer can check if you have played the game for the required amount.
You must play the game for 5 minutes or until you reach a specific level.
Cash Tap allows you to boost your power by 10% if you watch a video. You can also initiate Auto Tap by downloading a sponsored app and using it for 5 minutes. 
How Do You Cash Out?
You can cash out only if you manage to complete the progress bar. 
The company claims you will receive the payment to your bank or PayPal account.

You must submit not only your payment details but also a selfie before you can receive a payout.
The company claims that such a requirement exists to avoid fraudulent behavior.
Is Cash Tap Legit? Does it Pay? 
I could bypass the requirement to cool down the button on many occasions by closing and reopening the app.
However, I realized Cash Tap was becoming more sensitive and prone to overheating the closer I got to the goal.

This reward platform is going viral! Cash out via PayPal, Visa, Gift Cards, and in-game currencies - Click here to find out how to generate an extra $10+ per day! 
After my progress bar was halfway through, I started getting interrupted every time I reached the 3rd overheat level.
It's essential to notice the developer wants us to download and play the game to earn commissions from advertisers.

It worsens to the point that the app won't let you continue if you don't fulfill an offer!
However, many users struggle to reach the goal even if they install and play the sponsored games.
The truth is that you may never cash out regardless of how many times you tap or how many games you play.
Despite this, Cash Tap is not a scam because the Terms of Service clearly disclose that the Provider does not guarantee any winnings.
It feels like cheating, I know! But that's how it works…
If you check the reviews on Google Play, you will find many disappointed players who couldn't make a dime.
I found very few people who were able to cash out, but it seems like a hit-and-miss opportunity.
Conclusion
Cash Tap is a mobile app cleverly designed to get people to install third-party applications and watch commercials.
This button overheat is just a lame excuse for ambitious developers to maximize profits.
However, there is no guarantee that you will be compensated for your time and effort.
Based on the reviews on the Play Store, I assume that only tiny percentage of players are able to cash out.
There is a very small chance of getting paid, but one thing is certain. You'll waste a lot of time as thousands of gamers contribute to the app's earnings.
By no means does the Cash Tap commercial represents reality. You will not earn over $140 by tapping as they show in the advert.
Earn a Full-Time Income Online
It's nearly impossible to earn hundreds of dollars with these gaming applications. Many of them are outright scams! 
If you want to earn a job-replacing income, you need to grow a significant online presence.
For example, I created this website where I attract visitors who are searching for information on applications.
One of the strategies I use to make money is by promoting products as an affiliate. You can do the same by targeting topis of your interest!
I can now work whenever and wherever I please thanks to my site.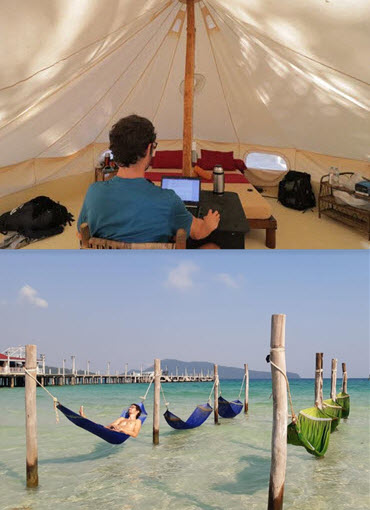 If the laptop lifestyle appeals to you, check out this excellent step-by-step program and start on the right foot.

Final Words
Thanks for reading my Cash Tap review. Please leave us a comment below if you want to share your opinion on this app.
Peace!