Welcome to my Crazy Pusher Master review!
I am writing this post to expose yet another viral coin pusher game!
The game Crazy Pusher Master has already been downloaded over 100k times on Google Play.
It's simple to understand why this game is so popular!
As you probably know, the developer is giving players virtual dollars that you can supposedly cash out.
I'm talking about hundreds of dollars redeemable via PayPal, Cash App, and gift cards. That makes Crazy Pusher Master one of the most attractive games in the world!
But it does not stop there! You can also win an iPhone 13, an iPad, a Sony TV, and other excellent prizes!
Of course, you don't want to waste time dropping coins and watching countless videos for nothing.
So, is Crazy Pusher Master legit or fake? Does it pay? Let's find out!
Top recommendation: This step-by-step program helped me generate over 2,000 US Dollars and quit my day job in 2019. Replicate my results by joining the Free membership here! 
Pusher For Cash App Review

This reward platform is going viral! Cash out via PayPal, Visa, Gift Cards, and in-game currencies - Click here to find out how to generate an extra $10+ per day! 
Name: Crazy Pusher Master
Developer: TopFun Studio
Membership Eligibility: Worldwide
Price: Free
Type: Entertainment (no financial risk)
Overall Rating:

o/5
What Is Crazy Pusher Master?
Crazy Pusher Master is a classic coin pusher game that makes people dream of a better life!
That's because players earn virtual dollars by tapping their phones and dropping green coins off the platform.
Your cash balance will grow faster than if you were working at a regular job!
You wish the reward were real. But it's important to know what will happen if you play this game for long enough.
Like most fake money games, Crazy Pusher Master is still in development (Early Access) even though it has been installed over 100k times. That's why you won't see any reviews on Google Play!
How Does Crazy Pusher Master Work? 
Installation
Crazy Pusher Master is available worldwide for Android users.

After installing the game on Google Play, you will be taken through a quick tutorial about the gameplay, withdrawal page, and tools.
How to Play?
Upon launching the game, you will immediately see a page saying you are a lucky user and that you can redeem the special card if you meet the requirement.
It suggests that you need to watch ten videos within 24 hours to win a whopping $1000 prize!
Crazy Pusher Master features a coin dozer that moves back and forth, pushing dimes off the front edge.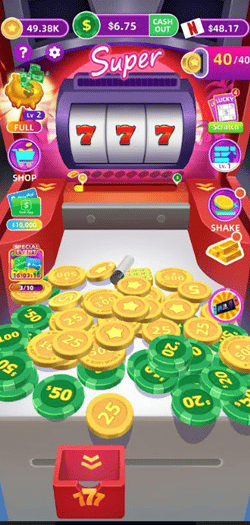 Tap anywhere to drop yellow or green dimes over the platform and earn tokens and virtual cash once they fall off.
For example, a green coin 100 will add $1 to your cash balance.
Try to push dimes into the red box to get a chance to play the slot machine. You will earn the corresponding prize if you match the symbol, such as extra coins and fruits.
Use the shake or wall to drop more dimes at once and boost earnings.
After triggering the slot machine five times, the game allows you to get a Netflix gift card.
In the Redeem Corner, you can collect puzzle pieces to win gifts such as iPhones 13, Apple iPad Pro, Nintendo Switch, Airpods, etc.
You can collect these fragments by opening the puzzle bubbles or playing the Lucky Spin.
Crazy Pusher Master'll always lure you to watch commercials to earn more rewards, extra 40 coins, and tools.

Every time you watch the videos promoting other money games, the developer gets paid by advertisements.
There are many other ways to collect rewards from Crazy Pusher Master, such as scratchers and piggybanks.
How Do You Get Paid? 
There are different ways to cash out from Pusher for Cash. As you play the game, you collect many virtual items that require a specific amount to cash out.
You must reach at least $300 to withdraw the money via PayPal or Cash App.
Redeem $500, $777, and $1000 if you get 5 Million tokens, 777 in the slots, and 36 fruits, respectively.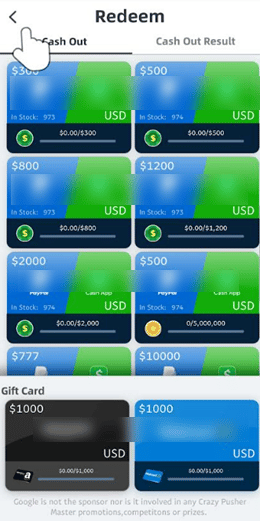 Once your Netflix balance reaches $1302.26, you can supposedly redeem the gift card and enjoy the service for many months.
They claim transfers to your account may take up to 7 business days. Can you believe them?
Is Crazy Pusher Master  Legit? Does it Pay? 

No, it doesn't!
Pusher For Cash won't transfer the funds to your PayPal or Cash app account no matter what you do.
It took me less than 15 minutes and a handful of videos to reach $300. Please note that each video earns the developer a few cents!
That's enough proof that he cannot afford to give away hundreds of dollars!
After reaching $300, Crazy Pusher Master encouraged me to click the cash out button and start the payout process.
Then, I had to choose PayPal or Cash App and fill in the account email or number.
The checking process takes seven days, but the developer encourages you to earn more money to cash out higher amounts.
Unfortunately, you won't receive the money, so I hope you did not play for too long!
The game will most likely crash, preventing you from accessing your cash balance. Or they will simply ignore you!
Also, there is no way to exchange fruits, puzzle pieces, and tokens for real prizes.
It's all an illusion to prolong the amount of time people play and maximize advertising profits.
Conclusion 
Crazy Pusher Master is another fake money game trying to make you watch as many videos as possible.
Thousands of people are dropping coins with the expectation to cash out. Unfortunately, this game is only wasting people's time and causing frustration!
Don't fall for it; if you already did, now it's time to focus on real strategies to make money online!
Here is my top recommendation! 
Verdict: Not Recommended 
Thanks for reading my Crazy Pusher Master review. I hope it was helpful!
If you have any thoughts about this game, please share them with us in the comment box below.
Peace!