Welcome to my Jewel Village review!
Thousands of people are merging items on the game Jewel Village, expecting to win lots of money.
It appears that there is no limit to how much you can withdraw from this app, but of course, there is always a catch!
Players are expected to accumulate a specific amount to cash out.
The main problem is this might be just the first of many additional tasks they will try to persuade you to accomplish.
With no guarantee of payouts, you are wondering if Jewel Village is legit or fake. Is the developer rewarding those who reach their cash-out requirements?
Let's find out!
Before you leave this page, check out the step-by-step program that helped me to generate $2,000+ each month and quit my job in 2019.
Jewel Village Review
Name: 

Jewel Village – Gem Magic

Developer:

Jamly CC, Inc

Availability:

 Worldwide

Price:

 Free (no in-app purchases)

Overall Rating: 0 stars
What is Jewel Village? 
Jewel Village is a match puzzle game where you earn virtual dollars by merging gems of the same level.
It also claims you can win an Apple Watch if you clock in for seven days. It's shocking!
The game is an identical clone of Jewel Mystery, which has been installed over 1 million times on the Play Store.
Even the cash prizes and requirements are the same, leading one to believe they are run by the same people. But who knows?
As you merge the items, you will collect cash rewards in two different balances: PayPal and Amazon.
You can then cash out once you meet the conditions, which will be revealed later in this article.
How Does Jewel Village Work? 
Jewel Village can be installed for free on the Play Store and doesn't require registration.
After launching the game, you will immediately see a super prize offer.
The developer is enticing users to win an Apple Watch Series 7 if they clock in for three days.
However, this is not a prize draw, considering the developer says you can redeem the watch if you complete the task.
Of course, most people believe Jewel Village is promising to give away the prize provided they complete the task.

How to Play Jewel Village
Simply move a gem up, down, left, or right and match at least three items to merge them.
Whenever three or more gems are placed side by side, they will merge into a different gem with a higher level.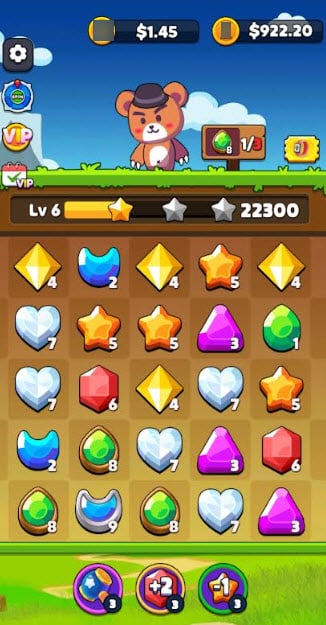 Each merging results in $0.10 being added to your Amazon account and pushes the progress meter forward.
Once the bar hits the star, Jewel Village will give you a PayPal cash prize, provided you click the "Claim" button and watch the video.
You can earn more rewards when you reach the goal indicated by the bear character.
Tap the Spin button to reveal your next cash prize. Flip three more cards by tapping spin and watching commercials to maximize your earnings.
The open space is then replaced by more gems that can automatically merge, achieving the so-called combos.
VIP Membership
It's important to mention that although Jewel Village is free to play, the developer offers VIP benefits for $4.99/week.  
As a paying member, you will supposedly get more rewards while benefiting from ad-free gameplay.
The game will give you 20 lucky coins every day so you skip the annoying videos and get rewards directly.
I highly advise you don't open your wallet to any app developer before reading reviews!

How do You Get Paid? 
At $500 and $1000, you supposedly have the option to cash out via PayPal and Amazon gift cards.
But as you will see in the next section, that's only the tip of the iceberg!
Is Jewel Village Legit? Does it Pay? 
No, it doesn't! Jewel Village is another fake money game designed to profit from your time and even your hard-earned money through a useless VIP membership.
Note that your cash award will decrease as you get closer to the payout limit.

This reward platform is going viral! Cash out via PayPal, Visa, Gift Cards, and in-game currencies - Click here to find out how to generate an extra $10+ per day! 
That's a well-known tactic to make you stick to the game, watch many more videos, and hopefully, purchase the VIP package.
It makes you feel powerless, but you keep pushing forward as you don't want to give up on all the time you already spent.

So, what happens after you reach $500 in your PayPal or $1000 in your Amazon account?
Jewel Village will ask you to bind your account and click the redeem button.
Then, it says the order has been successfully submitted and that your money will be transferred to your account in 24 hours.
When you close the window, you will find a different story, though. The cash-out page is updated, and now you must 30 videos to activate the order.
No, I am not joking, folks. Here is the proof: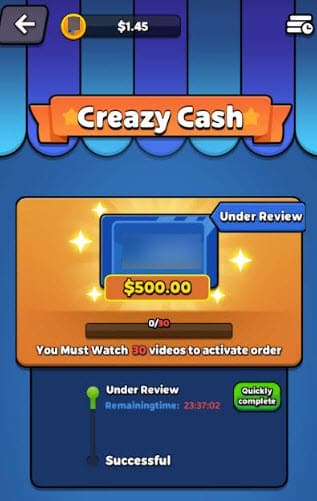 Since the game is in Early Access, you cannot read what players who completed all the steps went through.
But after reviewing hundreds of similar games, I can tell you this is not the end!
They will probably come up with more video requirements before ignoring your payment or, worse, putting you in a never-ending queue.
It's been proven time and time again that such unrealistic money games do not pay!
Conclusion 
Jewel Village provides a nice gameplay like most match-3 puzzle games, but the cash reward doesn't exist.
So, don't fall into this rabbit hole of thinking you can be one of the lucky ones because there is no chance.
This is not a real sweepstakes kind of app, considering that users don't even need to identify themselves.
Think about it. If this were real, people would install Jewel Village multiple times and cash out ad infinitum.
There is no free meal, and if something looks too good to be true, it probably is!
You cannot earn thousands of dollars unless you put substantial effort into adding value or risk a lot more money in the process.
I prefer the first option since I know that it will result in long-term wealth accumulation.
If you want to learn the strategies, I use to make real money online and take your first steps to success, check out my #1 recommendation here! 
Final Words
We'd love to hear your thoughts on Jewel Village! Did you meet all the video requirements? 
Please share the outcomes and your thoughts in the comment box below! 
Peace!