Welcome to my Gold Mine Slots review!
I recently found Gold Mine Slots following a video that advertised the chance to win $300 daily.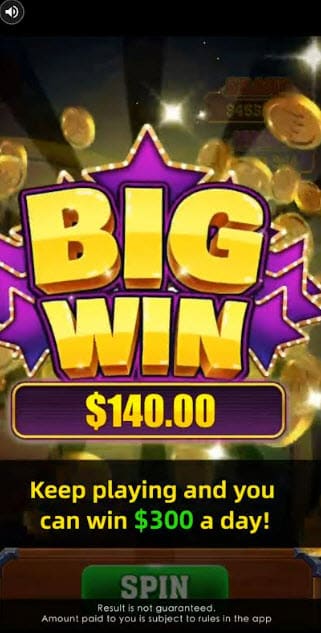 In the commercial, a call center girl claims all cash prizes will be paid directly to your Cash app in less than 1 minute. 
She also mentions auto withdrawals daily and that you can get a $100 prize bonus. 
It's hard to believe such bold claims when we all know so many fake money games are out there! 
You can find hundred of them in this blog, from match puzzles to ball shooting games that never pay a dime.
So, is Gold Mine Slots legit? Does it transfer the funds to your real account? Let's find out!
Before you leave this page, don't miss out on the step-by-step program that helped me to generate $2,000+ each month and quit my job in 2019.
Gold Mine Slots Review
Name:

 Gold Mine Slots

Developer:

htech

Availability:

 Worldwide

Type: Entertainment with no financial risk

Payout threshold: 

$800

Overall Rating: 0 stars
What is Gold Mine Slots? 
Gold Mine Slots is a free slot machine game for Android devices where users can supposedly win real money risk-free.
If that's true, then it's probably the best way for the average joe to get rich quickly! 
Simply install the app via the Play Store and keep tapping the spin button to collect virtual cash rewards. 
The money accumulates in your account, and you can redeem it as soon as you reach $300. Seems pretty straightforward, right? 
If it's so simple, you might be wondering why everyone isn't using Gold Mine Slots to strike gold. You will understand why by the end of this review. 
Gold Mine Slots has been installed over 100k times and rated 4.7. However, I wouldn't take the Play Store's ranking system too seriously!
How Does Gold Mine Slots Work? 
Gold Mine Slots can be downloaded from the Play Store and is 100% free to play. So, it is important to emphasize that you will not be prompted to deposit actual money into the app!
Also, you don't need to create an account before accessing the slots. 
This is a big red flag considering people can easily create multiple accounts and exploit the system.
Every reward app requires users to sign in with their email or social media accounts. 

When you launch Gold Mine Slots for the first time, you will get a welcome bonus of 400,000 coins. 
The game consists of a 5-reel machine that you can activate by pressing spin, and it will consume 20,000 coins. So it's very similar to SlotCashHunt!
You will collect virtual cash and great perks depending on the symbol arrangements.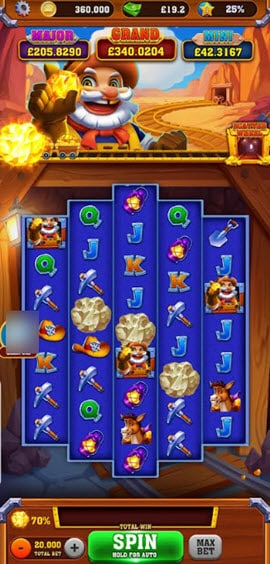 For example, you can trigger the scatter wheel if you collect enough gold ores. It will then give you the chance to win generous cash prizes.
It can be quite overwhelming to understand what triggers what in the game. But it doesn't really matter because it has no control over winnings. 
So, if you just keep spinning and watching commercials, you will eventually collect enough rewards to be able to cash out. 
Don't waste your time with games! Get paid for your opinions here! 
How Do You Get Paid?
You can only withdraw the money from your cash balance after reaching at least $800. 
Payment options include PayPal, Cash App, Paytm, Tez, Coinbase Alipay, and others. 
According to the app's instructions, your cash reward will be transferred to your account within 3 – 15 business days. 
Is Gold Mine Slots Legit? Does it Pay? 

No, it doesn't! Gold Mine Slots is nothing more than a slot simulation with a fake balance and fake cashout system. 
This app is literally a gold mine for the developer who makes money off your video views. 
Yes, they capitalize on your desire to make easy money while you waste your time and data playing a slot simulation. 
Fortunately, the Google Play review area is accessible for everyone to read and comment on.
I was not surprised to find a staggering number of people who claim to have not been paid despite their commitment to reach $1000.  
Some claim the reward gets smaller and smaller as they get closer to the payout threshold. Others complain that they are put on a never-ending waiting list. 

This reward platform is going viral! Cash out via PayPal, Visa, Gift Cards, and in-game currencies - Click here to find out how to generate an extra $10+ per day! 
Regardless of your experience with the cashout system, you won't get paid since the cash prize is incompatible with their business. 

Conclusion 
I don't recommend Gold Mine Slots because it follows the same script as hundreds of other fake money games. 
They advertise the game as an opportunity to earn $300 per day, which is utter nonsense. 
The reward process is utterly fake as the developer would never be able to fulfill such generous cash incentives. 
So, don't squander your time! Uninstall the app and shift your focus to another activity that will result in real money in your pocket. 
I always recommend starting your own online business to take advantage of the best internet offers.
Having an online asset you control is always preferable rather than playing on someone else's playground!
Even without any special skills, I was able to start this website and achieve a full-time income just by creating helpful content. 
It allowed me to work remotely, travel the world, and enjoy life-changing flexibility! Click here to learn the process step-by-step. 
Final Words
Thank you for taking the time to read my Gold Mine Slots review! How was your experience with this game? 
Please leave your comments or questions in the space below. I am always willing to help! 
Peace!