Welcome to my Happy Goal review!
I was browsing the Play Store, and let me tell you, it's becoming increasingly difficult to find a legit reward application.
This is because it is far more profitable for developers to treat users as fools. You might agree that reflects our current state of moral degeneration in our world.
After a quick search, I came across Happy Goal, which supposedly pays you to download and use sponsored applications.
The Play Store is jam-packed with similar apps that don't live up to people's expectations.
And it's so frustrating because you risk wasting time and data on something that doesn't give you any return.
So, can you make real money with Happy Goal? Is it legit or fake? Let's find out!
Before you leave this page, don't miss out on the step-by-step program that helped me to generate $2,000+ each month and quit my job in 2019.
Happy Goal Review
Name:

 Happy Goal 

Developer: 

Yelgstudio

Availability:

 Worldwide

Payout threshold: 

$100

Overall Rating: 0 stars
What is Happy Goal? 
Happy Goal is an Android application that awards tokens for installing and using third-party apps on your phone or tablet.
Virtual currency can supposedly be exchanged for cash and withdrawn through PayPal, Amazon, and Walmart gift cards.
At first glance, Happy Goal can be compared with popular platforms like Cash Giraffe, JustPlay, and Mistplay.
However, I felt sickened when I entered the reward area and saw the minimum payout of $100!
That's because I am yet to find a real money-making app offering such generous cash incentives.
Another red flag is that Happy Goal is still in Early Access, preventing users from submitting honest reviews on the Play Store.
How Does Happy Goal Work? 
Happy Goal is free to download from the Google Play Store, and you don't need to create an account to access the dashboard.
As soon as you launch the app, you will receive a generous welcome bonus of 200,000 tokens ($20).
Remember that you need 1 million tokens to redeem the minimum amount of $100.
Next, Happy Goal will ask you to enable usage access to record your playtime and give you tokens correctly.

Tapping the "Discover" icon opens up the list of third-party games and apps you can install on your phone or tablet.
Unlike other apps, it doesn't tell you how many tokens you will get per minute or level.
Instead, it informs you of the highest award you will earn for installing and playing the game.
That means you must accept anything they give you in return for your time. Not good!
After choosing your app, tap "play now" and install it on the Play Store. Then, you must enter the "in progress" section and open the app by clicking the "Play Now" button.
Here is where you'll find out how many tokens you'll get if you play for a given period.
Once you reach the goal, tap the collect button to receive your tokens.
Remember that even though the next prize is bigger, the following milestone will take twice as long to complete. So, you won't have enough motivation to play for so long at some point!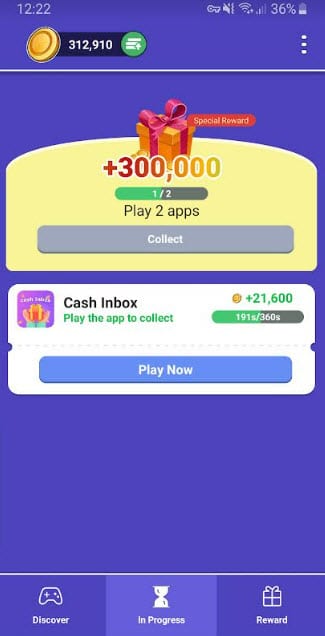 How do You Get Paid? 
As I mentioned earlier, you can request the payment once your balance reaches 1 million tokens. 
First, you should choose your withdrawal method and enter your account details. Your options include PayPal, Coinbase, Alipay, LinePay, and more! 
Then, tap your balance right at the top, followed by "Redeem." 

Is Happy Goal Legit? Does it Pay?
No, Happy Goal will never transfer $100 to your account, even if you can reach 1 million tokens. 
The developers will have to install many sponsored applications and waste hours playing them for nothing. 
It goes without saying he is the one getting paid by advertisers every time someone uses them. 
However, it's unrealistic to expect any app of this kind will transfer $100 just for completing offers. 
I am saying this from logic and experience testing hundreds of similar apps.

This reward platform is going viral! Cash out via PayPal, Visa, Gift Cards, and in-game currencies - Click here to find out how to generate an extra $10+ per day! 
It's been proven repeatedly that the rewards are bait to boost profits at the expense of people's time!
Unfortunately, many individuals fall for them due to a desire to make quick money and a lack of information.

Conclusion 
I don't recommend wasting your time completing gaming offers on the Happy Goal platform because they won't pay you a dime. 
The minimum payout is far too high, indicating that you will not receive the funds.
Even if you choose a reputable app like Freecash or JustPlay, there is no guarantee that you will get rewarded. 
The truth is that developers never guarantee that users will be able to convert points into cash rewards! 
Why? First and foremost, it's their business, and second, they have the freedom to allocate people's earnings to their corporate accounts to increase profits or stay afloat.
Final Words
Thanks for reading my Happy Goal review. So, did you reach 1 million tokens? How was your experience? 
Please share your thoughts or ask questions in the comments section below. I am always happy to help.
Peace!