Welcome to my Walking Fit review!
Today, I am exposing another Android fitness app that claims to pay large sums of money for your steps. 
I accidentally found Walking Fit while searching for another money-making application on the Play Store. 
The app's description states that you may receive step rewards without specifying how much you can earn.
However, given that it has been downloaded over 500,000 times, I feel the developers are making it incredibly appealing!
I am very skeptical since most pedometer apps I have reviewed don't honor their monetary incentives. 
So, is Walking Fit legit or fake? Is it converting steps to real money? Let's find out! 
Before you leave this page, take advantage of the step-by-step program that helped me to generate $2,000+ a month and quit my job in 2019.
Walking Fit Review
Name: 

Walking Fit

Developer:

 FitnessLabs

Availability:

 Worldwide

Price:

 Free

Payout threshold:

 $500

Overall Rating: 0 stars
What Is Walking Fit? 

This reward platform is going viral! Cash out via PayPal, Visa, Gift Cards, and in-game currencies - Click here to find out how to generate an extra $10+ per day! 
Walking Fit is another step-tracking app that claims to reward users for walking and, of course, watching lots of commercials. 
I am not talking about earning a few pennies after thousands of steps like with Winwalk. 
Walking Fit supposedly pays users hundreds of dollars, which is unbelievable, given that the service is solely supported by advertisements.
The concept is simple – The app will track your movements so you can convert steps into virtual dollars. You can then cash out once you accumulate the minimum amount of $500! 
Thousands of people feel like this app is a great incentive to exercise, get fit, and earn a decent passive income on the side. 
The problem is that it looks too good to be true! 
How Does Walking Fit Work? 
Walking Fit is available for any Android device worldwide. 
The first thing I noticed when I launched the app was the absence of a registration form.

This is one of the red flags to be wary of, as legitimate applications always require some identification.
Upon launching Walking Fit on your smartphone, you will receive a new user reward of $10. 
Again, I don't remember any real money-making app giving away such a generous welcome bonus for doing nothing! 
I could put an end to this review with an inconvenient conclusion right now, but my post would be incomplete if I did.
So, let's move on to the details! 
The dashboard features a progress bar and the number of steps you have taken today.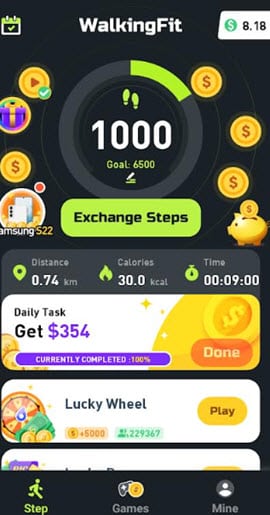 This number will grow as you walk, and you can exchange your steps for cash rewards simply by tapping the "Exchange Steps" button and watching a commercial. 
You can expect to make around $2 every 100 steps! But you can also boost your earnings by tapping the coins, gift icon, or piggy bank on the side. 
Walking Fit features a few games where you can win even more cash, such as the Lucky Wheel, Lucky Draw, Scratch and Match, and Lucky Shake. 
It's important to note all of these in-app games will trigger commercials that generate revenue for the developer. 
How Do You Get Paid? 
The minimum cash out amount is $500, and you can withdraw the money via PayPal or Cash App. 
Once you reach the goal, the app suggests you open your cash balance and choose the payment method you use. 

Then, you are required to enter your name, email, and ID.
WARNING: Don't enter your ID number because no company needs your personal details to transfer money!
Is Walking Fit Legit? Does it Pay? 
No, it doesn't! Walking Fit is just another fake reward pedometer designed exclusively to earn revenue for developers.
It earns money by displaying commercials nearly every time you tap something. It isn't very pleasant! 
I didn't even have to lift from my chair to reach $500 and hit the cash-out button. 
But after entering fictitious details on the redemption page, it said I had to complete six missions to receive it. It behaves exactly like Lucky Charge! 
A task may consist of redeeming step rewards or playing games several times.
However, you won't receive the money after completing all the missions, as cash prizes are fake. 
I read several reviews, and there was a consensus that Walking Fit does not pay!

The outcome may differ among users. For example, some people claim the app does not record the number of times they play a game.
Others report that they were asked to view additional videos to speed up their number on the pay queue.
However, every time their wait number went to the hundreds, Walking Fit would raise it back to the 5000s. It's a complete joke! 
Of course, their algorithm was designed never to let you get compensated for your steps! 
The number of 1-star reviews on Google Play is astonishing and eye-opening. If Walking Fit offered real money, I am sure there wouldn't be so many complaints! 
Conclusion 
Sadly, you won't get a single penny from this step-tracking application called Walking Fit. 
It lures the user into converting steps into cash rewards, but the dollars are nothing more than worthless pixels on your screen. 
The developer could provide a small sum of cash by sharing the revenue from advertisements like other apps do. 
However, promoting the illusion of winning hundreds of dollars appears to be far more profitable!
So, don't waste your time with Walking Fit. Instead, you could use a reward platform that pays you for simple tasks like surveys and offers. 
Or, even better, you could build your own online business, as I did back in 2015! It still pays me after seven years since it's a solid business model. Click here to learn more! 
Final Words
Thanks for reading my Walking Fit review! So, how was your experience using this app? 
Use the comment box below to share your valuable opinion. 
Peace!