Welcome to my Cashstory review!
We all know books are the perfect escape from reality!
This application called Cashstory is taking this idea one step further by supposedly rewarding users for reading novels.
I am talking about hundreds or even thousands of dollars!
The commercial begins with someone walking on a floor covered in dollar bills while holding a large sum of cash.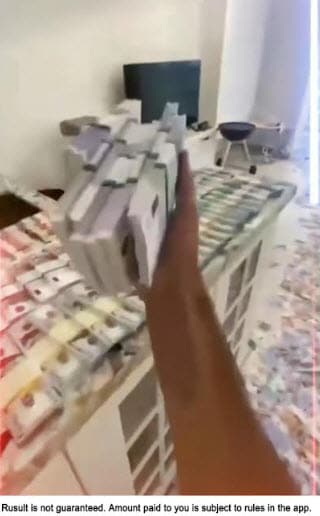 It's an indication that the prizes advertised by the developer are straight from a fairy tale land.
The question is: Can people make their reading habits profitable with Cashstory? Is it legit or fake?
In this review, I will reveal what is behind this app and, hopefully, help thousands of people who intend to use it.
Before you leave this page, don't miss out on the step-by-step program that helped me to generate $2,000+ a month and quit my job in 2019.
Cashstory Review

This reward platform is going viral! Cash out via PayPal, Visa, Gift Cards, and in-game currencies - Click here to find out how to generate an extra $10+ per day! 
Name: 

Cashstory – Massive Stories

Developer: 

Cashstory Dev

Availability:

 Worldwide

Price:

 Free

Payout threshold:

 $1000

Overall Rating: 0 stars
What is Cashstory? 
Cashstory is an intriguing application claiming to pay users for doing what many love: Reading books!
The company awards coins to those reading novels and watching commercials through the app.
You can then exchange points for cash and withdraw the funds to your PayPal account. At least, that's what the developer would want everyone to believe.
Cashstory has the same concept as News Pie and Buzzbreak, which rewards users for reading the news.
But there is one main difference: The cash rewards are ridiculously higher! 
How Does Cashstory Work? 
Cashstory is a free app that is available worldwide for any Android device.

It's free and will not require people to sign up before accessing the reward platform. 
This is a big red flag considering every new user will receive a welcome bonus of $100 without completing any task. 
All genuine applications encourage people to sign up so they don't create several accounts. But for some reason, Cashstory developer doesn't seem to care about it! 
Once you access the dashboard, scroll down, and you will find a huge list of novels you can read through the app.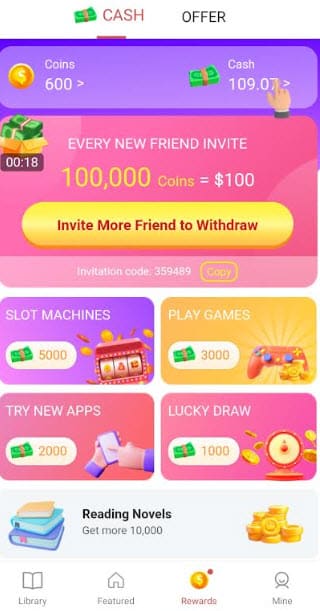 If you click on the "Featured" tag, you can filter them by genres, such as General Romance, Modern, Teen Fiction, and Fantasy. 
Then, select the book you want to read and tap the "Read now" button. 
As you swipe to the first page, a timer starts counting down from one minute. Once the timer finishes, tap the gift icon at the top to collect 100 coins. 
You may have to watch a commercial before the coins are credited to your account. 
Remember that you must keep leafing through the novel, so the timer keeps counting down.
This activity will expose you to advertisements between the pages and even activate sponsored videos, usually promoting other money-making applications. 
Collecting More Coins
There are many other ways to collect coins or virtual dollars with the Cashstory app. Here is a complete list:
Open the cash balance, tap the "Earn Cash" button and watch the video. 

Slot Machines

 – Tap Spin and win coins when you match 3 symbols. 

Play Games 

 – Allow usage tracking, install a sponsored game on the Play Store and earn coins per minute of gameplay. 

Lucky Draw

 – Spin to win coins. 

Try new apps

 – Complete offers by downloading and using sponsored applications. 

Invite Friends

 – Click the button to share your link with your friend. If your friends download Cashstory and enter your invitation code, you will earn coins based on how active they are. 

Withdrawing Your Funds
Like other reward apps, Cashstory requires users to accumulate a specific amount before they can cash out. 
First, you must convert coins into cash at the exchange rate: 1000 coins = $1. 
Then, you need to reach a hefty $1000 in your cash balance to be able to withdraw the money via PayPal.
This will take ages if you focus on reading books because you will get a measly 100 coins per minute. Not to mention the time required to watch the videos.
Is Cashstory Legit? Does it Pay? 
No, it doesn't! Cashstory is just another application luring the user into watching many videos in the false hope of making real money.
The main idea behind this app is to expose users to as many advertisements as possible so the dev maximizes profits. 
This is achieved by convincing users that their cash balance will be transferred via PayPal once it reaches $1000.
Of course, this is just an illusion because the app doesn't generate so much revenue to pay everyone this ridiculous amount. 
So, after collecting $1000, Cashstory may ask you to watch 30 videos to speed up the process. But then, every time you complete the task, another one emerges following a lame excuse. 

Following that, you must view 50 and then 80 videos!
One user had a different experience. He said when he collected 1 million coins, the cash equivalent dropped to $17, preventing him from cashing out! 
Conclusion 
Cashstory is not an actual money-making application, so you won't receive any money despite reading all the books in their library. 
But there is more to complain about it! Novels are incomplete, and the grammar is riddled with mistakes, which is a bummer!
Therefore, I would not suggest Cashstory to anyone, even those who enjoy reading!
However, you could earn a little extra cash by reading the news and free novels on Cashzine. Here is my Cashzine review! 
Just don't get your hopes high because the earning potential is low, and there are no guarantees! 
Earn a Full-Time Income Online
If you want to benefit from the digital economy and generate a decent income, the first step is to avoid distractions! 
There are many strategies the so-called gurus will try to sell you!
One method that has consistently worked for me since 2015 consists of providing helpful content through my website. 
I am talking about writing reviews and "how to" articles that rank on Google's search results and attracts visitors. 
There are millions of active sites worldwide, which is enough proof that individuals and companies are making decent profits daily. 
Thanks to this excellent training program, I built my site and worked hard to make it highly profitable. 
For the last seven years, I have enjoyed the fruits of my online work by earning revenue that covers all my living costs.
It also allowed me to work from my laptop and pay for my 3-year trip around South East Asia! 
You can do the same by following the training and putting in the work to grow your online business. Click here to start today! 
Final Words
Thanks for reading my Cashstory review!
Please leave us a message below and share your honest opinions on this game.
Peace!