Welcome to my Hi Dessert review!
Hi Dessert has been advertised as an opportunity to easily win cash by swapping and matching candies.
The commercial claims you only have to play for 10 minutes to win $300!
It's as if someone you don't even know rewarded you with a money-making machine that pays you on demand.
Despite how unrealistic it might seem, you might be willing to play and meet this game's requirements to see if the money is real.
Please, don't do that because there is a high chance you will want your time chasing fake rewards!
I decided to install Hi Dessert and evaluate it on My Room is My Office, so you don't have any regrets later!
So, is it legit? Will they transfer the money to your PayPal account?
Let's find out!
Don't miss out on the step-by-step method that allowed me to generate $2,000+ per month and become a digital nomad in 2019.
Hi Dessert Review 
Name: 

Hi Dessert

Developer:

fengylnet

Availability:

 Worldwide

Price:

 Free

Payout threshold:

$800

Overall Rating: 0 stars
What is Hi Dessert? 
Hi Dessert is a match-3 game proposing to pay up to $800 to anyone who accumulates this amount in their cash balance.
You can play it free and earn decent cash rewards as you achieve combos and watch commercials.
There are a plethora of similar games on the Play Store trying to suck you in with exaggerated financial incentives.
Only this year, I've probably reviewed over 180 games that make ludicrous claims to boost revenue. Match Snow, for example, was offering $14,999! 
Hi Dessert has been installed over 50k times, which is nothing compared to the popular candy-crush with over one billion installations.
How Does Hi Dessert Work? 
Hi Dessert can be installed worldwide for free on the Play Store.
The game begins immediately after starting the application, with no need for registration.
Your job is to swipe and place at least three identical desserts (same level) side by side to combine them.
As a result, they will merge into a higher-level object, which can then combine with other desserts nearby.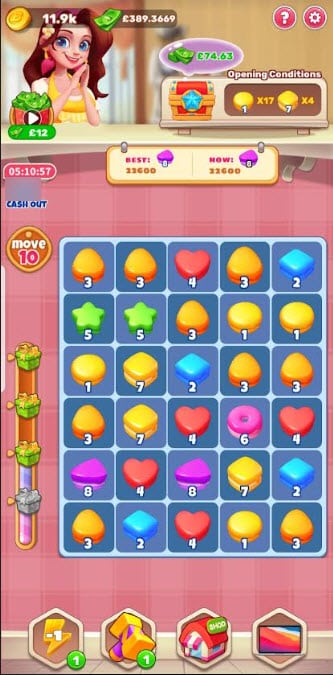 Note that a vertical progress bar on the left side advances whenever you merge the desserts.
When it hits the green gift icon, you'll get a significant sum of money, which you can double by pressing the button and watching a commercial.
The video will most likely promote another money game or investing app that just look too good to be true.
Sometimes, you will achieve multiple combination that will triggers the super combo slots.
If you match 3 identical symbols, you will collect the reward, which can be more cash or puzzle pieces for a specific prize.
You can redeem one of the following gifts once you collect 10 fragment:
Chanel Bag, MacBook Pro 13, PS5, Galaxy S20, iPad Pro,  Dyson Supersonic, Nintendo Switch, VR oculus, and AirPods.
Amazing right? Bust there is more!
If you satisfy the chest opening requirements, you can earn even more money. However, the criteria continue to rise, making it increasingly difficult to meet them!
Searching for real money-making games? Check out my full list here! 
Withdrawing the Funds
Hi Dessert allows you to cash out only after 24 hours or immediately when your balance reaches $800.
It takes ages to get there, which is not that bad considering the generous cash incentives.

However, that means you be enticed to watch countless videos before claiming the prize, which may never be credited to your PayPal account.
If they don't pay you, then you will have wasted hours playing another fake money games!
Is Hi Dessert Legit? Does it Pay? 
No, it doesn't! Again, we are talking about a another game that displays fake dollars with the only intention of maximizing its profits.
There is no chance that the Hi Dessert developer would send real money or provide you a lovely gift.

This reward platform is going viral! Cash out via PayPal, Visa, Gift Cards, and in-game currencies - Click here to find out how to generate an extra $10+ per day! 
Those are nothing more than fantasies designed to attract players to watch adverts.
After collecting $800, you will be confronted with a hidden condition to be able to activate the order.

You must watch 30 videos in order to be placed on a waiting list with potentially thousands of people ahead of you.
If you follow my blog, you already know this tactic.
Your number in this fictitious queue will stop decreasing, and your time to get paid will almost certainly never come.
Some players also say that after reaching the goal, the cash out button became greyed out, preventing them from even attempting to cash out.
Conclusion
The reality is that there is no way to withdraw your funds because Hi Dessert is not a real money-making application.
Regardless of your experience with this game, the outcome is the same: No compensation for all the time you spent playing and watching videos!
So, I highly recommend you uninstall the game if money if your only motivation to keep playing.
Otherwise, the game itself is not bad, but there are plenty of similar option on the Play Store.
Besides, I don't think this developer deserves a single penny from advertisers.
Earn a Full-Time Income Online 
If you are searching for an alternative income that can grow with your time and effort, online entrepreneurship is the way to go!
As a website owner, you have the freedom to work from your laptop anywhere you want without the constraints of a brick and mortat business.
This is incredible because it gives you time and location freedom!
If you want to learn how to set up a website, attract and audience and monetize it, click here and join my top-rated program. 
I joined this platform in 2015, and I'm still making a life off of the skills I learned there.
Final Words
Thanks for reading my Hi Dessert review! I hope it was helpful and sve you plenty of time. 
Please leave us a note below if you want to share your honest opinions on this game.
Peace!