Welcome to my Fruit Magic Journey! 
Fruit Magic Journey is another match 3 puzzle game enticing players with the opportunity to cash out $1,000. 
All games that offer massive profits with no risk should be regarded as highly suspicious!
The reason is that they are designed with the only goal of generating revenue for the developer. 
With so many misleading adverts and fake money games flooding the market, you should do proper research before investing your time. 
So, is Fruit Magic Journey your ticket to financial freedom? Is it legit or fake? Let's find out! 
Recommendation: Join the step-by-step program that helped me to generate $2,000+ per month and become a digital nomad in 2019.
Fruit Magic Journey Review 
Name: 

Fruit Magic Journey

Developer:

 YY Happy

Availability:

 Worldwide

Price:

 Free

Payout threshold:

 $1000

Overall Rating: 0 stars
What is Fruit Magic Journey? 
Fruit Magic Journey is another match-3 game that rewards virtual cash when completing each level. 
The gameplay involves placing three identical fruits on a vertical or horizontal row to blast them. 
Simply drag and drop the items into the spaces available to create the perfect match and unleash rewards. 
Once the tempting $1000 is reached, you can withdraw the funds via PayPal. 
Fruit Magic Journey has been installed over 10k times on the Play Store, which is not impressive considering its generous cash prizes! 
How Does Fruit Magic Journey Work? 
Getting started with Fruit Magic Journey is pretty straightforward. You can install it from the Play Store and play for free without creating an account. 
That would make it easy for people willing to exploit this app to benefit from unlimited cash. 
Right off the bat, the developer will give you an insane sign-up bonus of $199! 
In this game, you must drag and drop fruits onto the grid, matching at least three identical fruits on a vertical or horizontal line.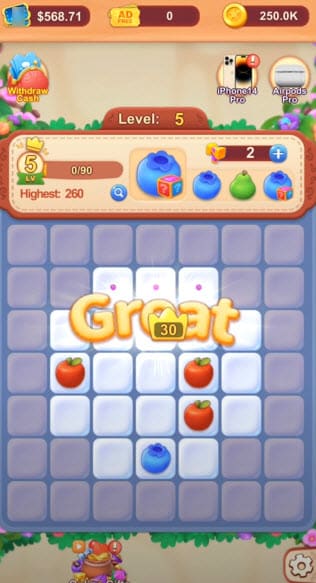 Once the fruits are aligned, they immediately disappear and open space in the grid. 
Every time you succeed in removing the fruits, you will collect points and fill in the progress bar.

Once you complete the target, you will receive a cash reward worth over $100 provided to tap "Get" and watch the video.
From time to time, fruits with the PayPal logo trigger additional cash prizes. 
Fruit Magic Journey will also ask you to flip virtual cards and play the Lucky Spin to collect more rewards. 
Note that all these activities in the game are just an excuse to play advertisements on your phone, which benefits the developer. 
So, while you are collecting all those virtual dollars, he is getting paid real cash from advertisers for generating views. 
Win iPhone 14 Pro
Ready for more? Fruit Magic Journey also gives players a chance to win the sought-after iPhone 14! 
By watching the videos, you will collect puzzle pieces to redeem the $1499 Apple smartphone. 
To claim the prize, you'll need to accumulate 150 puzzle pieces.
Are you buying the idea of winning so much for your time? I doubt it! 
Is Fruit Magic Journey Legit? Does it Pay?
No, it doesn't! Fruit Magic Journey won't transfer a single penny to your PayPal account, let alone an iPhone 14 Pro! 
It doesn't take long to reach $1,000, and press that big green "Withdraw" button. 
However, the bait-and-switch method comes into play after entering your account information. 

They suggest now that you complete another condition, which involves watching additional five videos! 
That's not too bad, right? Who wouldn't do that for the opportunity to win $1,000? 
The problem is that if they used this tactic once, you could not trust this would be the last. 
In fact, your advertising journey doesn't end here, as you will need to sit through an extra 30 and 50 videos to activate the order.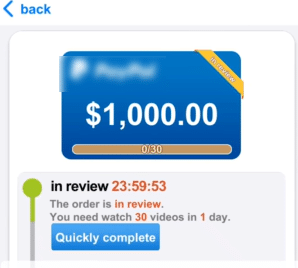 Great, so what's next? They will put you in line with thousands of users, and you must wait your turn to receive the money. 

This reward platform is going viral! Cash out via PayPal, Visa, Gift Cards, and in-game currencies - Click here to find out how to generate an extra $10+ per day! 
That's a classic behavior of fake money games exposed countless times in this blog! Your number in this queue will get stuck, and you will never get paid. 
This is an undeniable reality, just like 2 + 2 = 4! 

Conclusion 
The idea of receiving $1000 for playing a free elimination game on your phone is unrealistic and misleading.
The developer is only prioritizing his own pocket as this kind of business could never give away so much money! 
So, although Fruit Magic Journey provides a nice casual game to kill time, I don't recommend it to anyone.
Save yourself the time and frustration of playing a money game full of adverts! Uninstall this app and focus on proven strategies to make money online. 
Earn a Full-Time Income Online
Are you yearning for a proven method to earn thousands of dollars online? 
You can do just that by providing helpful content, which will become available to billions of people worldwide! 
Operating a website is like having a robot staff selling products on your behalf 24 hours per day without a break. 
That means you can generate residual income while you sleep, travel, or scale your business! 
I have experienced living as a digital nomad for three years in Southeast Asia thanks to my online commissions!  
Surely your dreams could become a reality by being able to work remotely! 
If you want to learn how to set up your online asset and attract enough audience, check out my top recommendation here! 
Final Words
Thank you for visiting my blog and reading my Fruit Magic Journey review. I hope it was helpful and eye-opening. 
So, how was your experience with this game? Please drop us a comment below with all the details! 
Peace!