Welcome to my Fish Paradise review!
I saw this advert promoting Fish Paradise as an opportunity to win big rewards. 
It shows a brief game simulation of merging fish and collecting fantastic cash rewards.
Of course, the PayPal logo is always present in the commercial, and multiple payments of $10 are transferred to the player's account. 
Since my job is to expose fake money-making applications, this seemed like another exciting case for my blog. 
I clicked the video and immediately installed the game, which has already been installed 10k times. 
So, is Fish Paradise legit or fake? Does it transfer real money via PayPal? Let's find out!
Before leaving this post, check out the step-by-step program that helped me build an affiliate site and quit my job in 2019. It's free to join, and you don't need any previous experience.
Fish Paradise Review 
Name:

 Fish Paradise

Developer: 

xsxd

Eligibility:

 Worldwide

Payout threshold:

$100

Price:

 Free 

Overall Rating: 0 stars
What is Fish Paradise? 

This reward platform is going viral! Cash out via PayPal, Visa, Gift Cards, and in-game currencies - Click here to find out how to generate an extra $10+ per day! 
Fish Paradise is an aquarium simulation where you combine two identical fish to unlock higher-level fish. 
The mechanics are similar to another game I reviewed in 2021 called Royal Fish Hunter. 
As you merge fish and other sea creatures, you will collect cash rewards that accumulate in your account. 
Once your balance reaches $100, you can transfer the money to your PayPal account or redeem an Amazon gift card. 
With over 10k installations, Fish Paradise has failed to impress users so far, receiving a poor rating of 1.8 stars on the Play Store.
You may have correct assumptions of the game. But let's dive deeper to understand how it works! 
How Does Fish Paradise Work? 
Fish Paradise is a free game on Google Play and doesn't require registration. 
As soon as you start the game, you be greeted by a mermaid enticing newcomers to take a look at those dreamy waters. 

A large PayPal logo is in the center, trying to hypnotize you with the opportunity to win easy money. 
Your goal is to raise a variety of fish and make your fishery more beautiful. 
Right off the bat, you will receive a $7 cash coupon bonus. 
To play Fish Paradise, tap the oyster to get your first level 1 fish.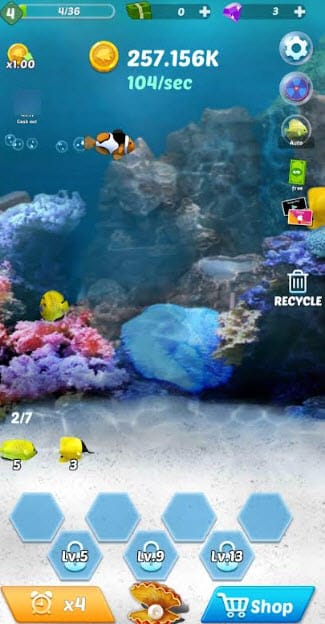 Next, repeat the process to get another level 1 fish, and merge both to unlock the level 2 fish. 
Whenever you break a record, and the highest-level aquatic animal is created, you will receive a cash prize of $2. 
Like most money games, you must tap the "claim" button and watch the video to collect the reward. 
Any fish that you have in the box can be dragged to the aquarium, where it will generate coins per second. 
The higher the fish level, the more coins it will generate. 
You can then use these coins to purchase more fish in the shop and save time!
Just keep merging and buying more aquatic life to unlock higher levels and accumulate cash.  
I have to confess it's a very addicting game, especially since you are collecting virtual dollars that can eventually be cashed out! 

How do You Cash Out? 
You can withdraw the funds via PayPal or Amazon gift cards once you hit the $100 mark. 
Additionally, you can redeem $100 iTunes or Google Play gift cards if you unlock the level 30 fish. 
Is Fish Paradise Legit? Does it Pay? 
No, it doesn't! Fish Paradise is not a real money-earning game by any means!
Therefore, this game simulates an aquarium and the opportunity to withdraw cash using PayPal and Amazon. 
Of course, thousands of people are falling for this because of the way it's being advertised. 
In addition, the cash-out system with the PayPal logo doesn't suggest this is only virtual cash. Quite the opposite!  
At first glance, it seems easy to accumulate $100 and cash out. 
But the longer you play, the longer it takes to unlock a new marine creature to rack up cash. 
Therefore, you will have to spend hours on end to achieve meaningless progress toward the payout threshold. 

I checked the reviews on the Play Store to find out if someone had tried to cash out, but not a single player seemed to have received the money. 
Only one person reported reaching $100, only to discover that he had exceeded a hidden time limit. As a result, he was not eligible for the cash reward.
WHAT? 
Conclusion 
Fish Paradise is another fake money simulator using the PayPal logo and virtual currency to attract the unwary.
So, don't play this game with the false hope of making money because there is no chance of getting paid. 
There are plenty of fun aquarium games for Android, so you don't need this one with fake dollars. 
The more you play it, the more the developer earns from advertisers.
Then, the person or company will have the funds to invest in another game, causing even more frustration. Stop funding these people! 
Earn a Full-Time Income Online
Do you want to work from your laptop and break free from the rat race?  
Then, I highly encourage you to build an online business that allows you to generate multiple income streams. 
Over time, you can scale your online revenue and achieve earnings that cover all your living expenses. 
One of the best strategies consists of publishing helpful articles and promoting products as an affiliate. 
You can monetize the traffic by growing an online audience and earn excellent commissions! 
To build this type of business, click here is check out my top recommendation! 
Final Words
Thanks for reading my Fish Paradise review. I hope it was eye-opening! 
If you want to voice your opinion on this app, please do so in the comments box below.
Peace!