Welcome to my BananaBucks review! 
I was chasing money-making applications on the Play Store yesterday when I found BananaBucks. 
Its name immediately reminded me of platforms like Swagbucks, Time Bucks, and Easy Bucks. 
However, BananaBucks is a more straightforward app that only pays users for their valuable opinions. 
The company claims to offer the easiest and fastest way to make money through online surveys. 
Besides, it promises to pay 40% more than other apps! 
Oh, boy. I lost count of how many platforms pledge exceptional experience and benefits only to disappoint users with frequent disqualifications and slow earnings. 
In this review, we will explore everything this platform has to offer and answer critical questions:
Does it pay? Is it legit or fake? Let's find out! 
Before leaving this post, check out the step-by-step program that helped me build an affiliate site and quit my job in 2019. It's free to join, and you don't need any previous experience.
BananaBucks Review

This reward platform is going viral! Cash out via PayPal, Visa, Gift Cards, and in-game currencies - Click here to find out how to generate an extra $10+ per day! 
Name:

  BananaBucks – Surveys for Cash

Developer: 

Kowzha

Availability:

 Worldwide

Price:

 Free

Payout threshold:

 $5

Overall Rating: 3 stars
What is BananaBucks? 
BananaBucks is a mobile app where you can qualify for high-paying surveys and get paid for your opinions.
It partners with marketing research companies and other businesses to help you earn money. 
These researchers rely on your answers to gain valuable insights into consumer behavior and opinions that will shape their products and services. 
Therefore, you will receive survey invitations daily to participate and earn cash for your answers. 
How Does BananaBucks Work? 
BananaBucks is available for Android and iOS devices, so it can be installed for free on Google Play or App Store. 
The first step is to create an account by just entering your email address and verification number. 

Next, complete the Intro Survey worth $1. It's more like a briefing explaining some important aspects of taking surveys with Bananatics. 
You must follow through with the instructions and write at least 30 characters about what you have learned.
You will also need to read and accept their Privacy Policy. 
Your next step is to complete your profile survey worth $0.50.
It only takes 5 minutes to answer basic questions, such as your age, gender, ethnicity, education, and job status. 
Completing Surveys
After completing your profile, BananaBucks will unlock the list of all surveys that match your profile. 
The first one on the list is the Daily Poll, with only one simple question that pays $0.02. That adds up slowly, but it only takes 10 seconds, anyway! 
Most marketing studies on the list pay less than $0.50 but only takes an average of 5 minutes to complete.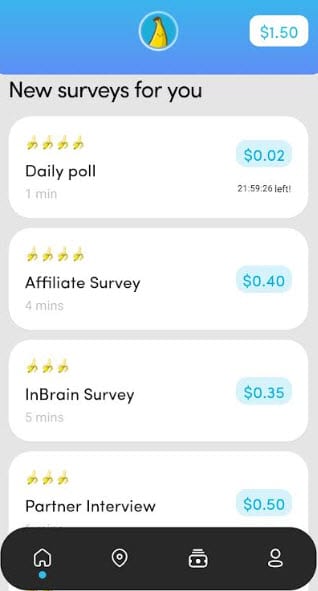 Therefore, I doubt BananaBucks is paying over 40% more than other companies.
The first few questions will check if you qualify. And why is that?
Researchers are almost always looking for people with specific demographic information or experiences. 
For example, let's say a company is developing a new moisturizer for women over 50. 

They will only want to qualify women within that age group to complete the survey.
The reason is that other people's opinions might lead to an incorrect conclusion about the product. 
If you don't qualify, you will be redirected to another survey and earn $0.02. 
It's very annoying because you can be stuck answering qualification questions for over half an hour with no money to show for them. 
You will be connected to third-party marketing research firms like Samplicio, Tap Research, inBrain, Pollfish, and more. 
BananaBucks expects you to provide quality responses that are free of grammatical errors and as descriptive as possible. 
That means you must be detailed in your answers if they are not multiple-choice questions. 
When you finish, simply close the tab, and your earned money will be in your account. 
Location-Based Surveys
BananaBucks gives you $0.05 every time they send you a location-based push notification. 
You must allow location access and push notifications to activate this benefit. 

How Do You Get Paid? 
You must earn at least $5 to withdraw your funds via PayPal, Visa, and Amazon gift cards. 
Simply enter your payment information in the field provided and press the button when your balance exceeds $5. 
Is BananaBucks Legit? Does it Pay? 
BananaBucks is a legit application, but unfortunately, very few reviews report that the money was transferred. 
One person said he had been waiting for two weeks to receive his funds
The company will tell you it takes 1 – 3 days, but people have been waiting for far too long and uninstalling the app with no compensation. 
Many panelists also complain that it takes a lot of work to qualify for surveys. 
You're often redirected from one survey to the next based on your demographics, only to be screened out for no apparent reason. 
Therefore, collecting the minimum $5 to cash out is certainly a big challenge for most people. 
Conclusion 
I don't recommend BananBucks to people who don't have the determination and patience to reach $5. 
You will waste a lot of time with survey disqualification and redirects, which most people are unwilling to do long term. 
They will uninstall the application and search for a better alternative! 
To make matters worse, those brave souls who reach $5 risk not receiving their money. 
Due to the nature of surveys, choosing reliable platforms is paramount! 
One of the best survey apps is Qmee, which allows users to cash out as little as $0.01! 
Earn a Full-Time Income Online
I know how frustrating it is to get disqualified for multiple surveys and earn very little for your time. 
That's why in 2015, I stopped taking these online surveys to build my own online business.
I wanted to work remotely and eventually quit my job to travel the world
So, I joined this excellent site-by-step program that helped me set up and grow this website you are reading. 

It now covers all my expenses, even while traveling in South East Asia for three unforgettable years. 
If you want to learn how to generate a solid income stream from your laptop, check here and start your journey today! 
Final Words
Thanks for reading my BananaBucks review. I hope it was helpful! 
Please feel free to leave a comment below if you have any questions or would like to share your experience with this survey app.
Peace!