Welcome to my GameXpert review!
GameXpert entices people to discover new games and turn their joyful moments into cash. 
This is one of those applications that will track your playtime and award you coins redeemable via PayPal. 
Since the launch of this website back in 2015, I have reviewed countless platforms that offer this opportunity. 
One of the most popular competitors in the market is JustPlay, with over 5M installations! 
You choose a sponsored application, download it on the Play Store and collect coins based on a certain length of time. 
Although GameXpert operates a legit business model, it's essential to do proper research to avoid potential pitfalls. 
That's why I decided to try it and share my honest findings with the world. 
So, does GameXpert legit? If so, are you compensated fairly for your time? Let's find out!
Before leaving this post, check out the step-by-step program that helped me build an affiliate site and quit my job in 2019. It's free to join, and you don't need any previous experience.
GameXpert Review

This reward platform is going viral! Cash out via PayPal, Visa, Gift Cards, and in-game currencies - Click here to find out how to generate an extra $10+ per day! 
Name:

  GameXpert – Play & Earn

Developer: 

The GameXpert

Availability:

 Worldwide

Price:

 Free

Payout threshold:

$0.50

Overall Rating: 0 stars
What is GameXpert? 
GameXpert is an Android app that partners with game developers to provide game offers.
The application provides a list of mobile games that users can download on their phones and play for coins. 
After accumulating enough coins, the users can exchange them for cash and withdraw the funds via PayPal. 
GameXpert has been installed over 50k times and rated 4.2 out of 5. 
Despite the high overall rating, I noticed an avalanche of negative reviews in the past few months. 
How Does GameXpert Work?
Installation Registration
GameXpert can be found on the Play Store for Android users worldwide. 
The app is free to download and requires no transaction fee to withdraw your funds. 

After the installation, open the GameXpert app and accept the Terms of Service.
It's boring, but I highly advise everyone to read the terms carefully to understand how data is collected and used.
With GameXpert promises to encrypt your data on their servers to ensure a high level of security.
You must sign up using Facebook, Google, or your email address to access the platform.  
Next, you will earn a welcome gift of 100 coins and land on the dashboard with a list of sponsored games. 
Allow Usage Tracking 
GameXpert will request permission to track your usage to reward you with the correct number of coins based on your playtime. 
Simply toggle on "allow usage tracking," and you are good to go! 
Collecting Coins
Browse the list of available games divided into four categories: Other, casual, puzzle, and simulation.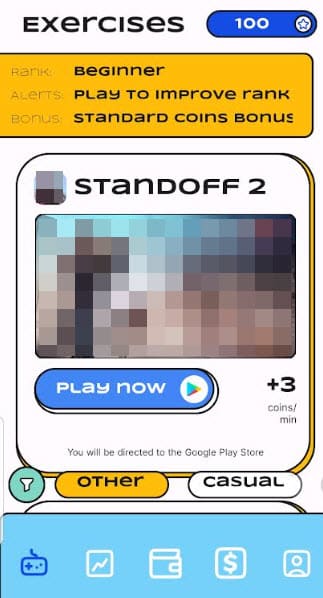 Each game shows the coins/minute rate. However, that doesn't present the specific amount of coins you will earn per minute. 
So, don't think you if you play for 60 minutes, you will get 60 times the rate.
The "play now" button will direct you to the Google Play Store, where you can install the game. 

You must launch all your installed games through the GameXpert Platform. 
Otherwise, it won't be able to track your playtime and credit your account. 
Besides, it can take a few minutes to update your installed apps and playtime. 
Tired of playing games for pennies? Create a content-based business to achieve time and location freedom! Learn step-by-step here! 
How do You Get Paid? 
To withdraw money from GameXpert, you must accumulate 4999 coins to redeem $0.50 via PayPal. 
However, this small cashout amount may not be available, depending on your location. 
In addition, GameXpert allows you to trade your coins for gift cards from various brands such as Amazon, Google Play, Starbucks, and more.
Each option has its own minimum cashout requirements. 
Be aware that the developer may require facial recognition to verify your account before transferring the funds. 

Is GameXpert Legit? Does it Pay? 
GameXpert is a legit application for game lovers who want to monetize their playtime.
However, this application has significant drawbacks that should not be ignored. 
Looking at the reviews on the Play Store, it seems like a big challenge to reach the target and receive the money.  
One user reported GameXpert conveniently stopped working when she was just 3,000 coins shy of cashing out. So, she cannot cash out $10! 
Another user was disappointed for not earning the promised coins based on his playtime. 
He said he was supposed to get 100 coins per minute but only got 15 coins per minute. 
I have also noticed many people complaining about frequent errors that prevent them from raking up coins and cashing out. 
That is not to say the app is completely useless, as many people have been able to cash out with no issues. 
Conclusion 
GameXpert provides a genuine opportunity to earn cash rewards for trying new games. 
However, from all the user comments I have seen, it feels like a hit-and-miss opportunity! 
This is due to the significant risk of your app crashing and restricting access to your coins.
That's why I am not recommending GameXpert until it becomes more dependable and people can be sure to redeem their winnings. 
There are many reliable apps to earn money by playing games, but none are 100% bulletproof. 
The best ones are JustPlay and MistPlay. Here is my Mistplay Review! 
You can also check my complete list of game apps here! 
Final Words
Thanks for reading my GameXpert review. I hope it was helpful! 
Please, use the comment box below to share your experience and thoughts about this reward app. 
Peace!