Welcome to my Robu TV review!
I was playing a game on my Android the other day when I stumbled across an advert for Robu TV. 
It suggested users could earn crazy amounts of free Robux just by watching shorts on their smartphones. 
Furthermore, the commercial boasted no limits to withdrawals! 
This wasn't new to me, as I've tried many reward apps claiming to offer game currency and even cold hard cash.
These applications use very similar marketing tactics and programming to get the most out of your time. 
So, it's crucial to do your research to avoid apps that promise the world and deliver only disappointment. 
Is Robu TV legit, or another fake reward application? Will you receive 10,000 Robux worth 100 USD? 
Let's find out! 
Robu TV Review
Name:

 Robu TV – Fun Videos

Developer: 

Firefly 2023 Studios

Availability:

 Worldwide

Payout threshold: 

10,000 Robux

Overall Rating: 0 stars

This reward platform is going viral! Cash out via PayPal, Visa, Gift Cards, and in-game currencies - Click here to find out how to generate an extra $10+ per day! 
What Is Robu TV?
Robu TV is an Android app that supposedly rewards users with Robux for watching videos and playing in-app games. 
For those who don't know, Robux is the virtual currency used in the popular online gaming platform called Roblox. 
It allows you to purchase in-game items, accessories, and even games developed by other users. 
The problem is that Robux is quite expensive, which can be challenging for teenagers or those who cannot afford the high price tag. 
For example, 10,000 Robux is for sale on the official Roblox site for 100 USD! 
This is where the appeal of earning free Robux through apps like Robu TV comes in. 
As a member, you will get virtual Robux by watching videos, but you need a minimum balance of 10,000 Robux to redeem.
The app has been installed over 100k times, highlighting the high demand for free Robux within the Roblox community.

How Does Robu TV Work? 
Robu TV is available on the Play Store and works on any Android device. 
Upon launching the app, it asks if you want to win 10,000 Robux and prompts you to enter your Roblox account. 
The developers claim they will transfer the game currency to you through the official website once you collect enough Robux. 
The minimum threshold to redeem your earned Robux is 10,000.
You will then receive a lucky user bonus of 2000 Robux, which gives you a head start. 
After gaining access to the dashboard, you'll see a blog page featuring a mix of articles and advertisements.
Right at the top, a hand points to a progress bar that only takes 5 seconds to complete.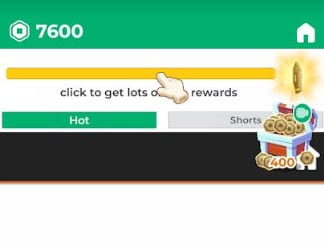 Once it's complete, tap it to trigger the reward page, where you are presented with two options:
You can either tap the "Get Double" button and watch a video to earn twice the number of Robux or select "claim."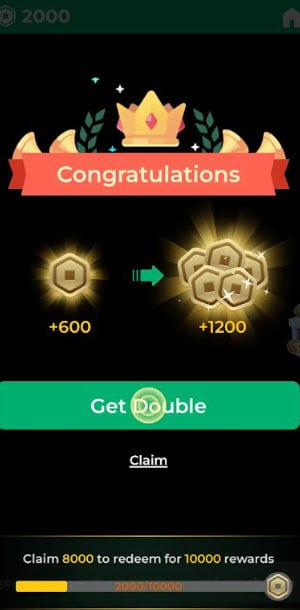 Wait another 5 seconds until the bar is full again, and repeat. 
That's how you accumulate virtual Robux! 

 Moreover, playing games or watching TikTok videos is unnecessary since these activities are mere distractions. 
You can collect more tokens by signing in and completing daily tasks. 
Additionally, a Mystery Box offers a chance to collect puzzles and redeem them for exciting skins.
Is Robu TV Legit? Does it Transfer Robux? 
No, it doesn't! Boys and Girls, the developers of Robu TV, are not running a charity for broke gamers!
Therefore, you won't receive any Robux even if you record a TikTok dance while watching all those adverts.  
In the beginning, each video view will award you hundreds of virtual Robux, giving you a false sense of accomplishment. 
But don't be fooled by how easy it may seem! 
As you approach the 10,000 Robux threshold, your earnings per video will gradually decrease.
It gets to a point where you are making a fraction of Robux at a time, which may feel like you are chasing a carrot on a stick. 

But unfortunately, it gets even worse for those determined to collect their game currency. 
But wait! It gets even worse! 
Once you finally collect enough Robux and press the redeem button, it will uncover another requirement. 
You will be asked to watch an x number of videos to redeem, which is nonsense! 
They treat you like a hamster running in a wheel, generating revenue for the developers without getting any compensation. 
And even if Robu TV claims they Robux will be sent to your account, it won't! 
Conclusion 
Don't waste your time using Robu TV; the Robux reward is entirely fake! 
Also, be aware of other apps that claim to dish out a ludicrous amount of free Robux. 
Developers who only generate revenue through advertisements cannot afford such generous prize giveaways! 
If you are a gamer who cannot afford the high price tags imposed by Roblox, consider joining a reputable reward platform. 
For example, I recommend a gpt site called Prizerebel, where you can get paid for simple activities such as watching videos, taking surveys, and testing new apps. 
You can then cash out via PayPal and use the money to buy anything, including Robux, through the official site. 
Final Words
I hope my review has helped you open your eyes to the true colors of Robu TV.
 Please let us know in the comments below if you have any questions or feedback about the app.
Peace!