Welcome to my City Rush review!
Have you ever wished there was a free app that would pay you for playing a cool strategy game? 
Developed by Givvy, City Rush has been hailed as the hottest earning app of 2023!
In this addictive game, you will earn coins by connecting cities and turn them into real cash prizes.
If you are a regular reader of my blog, you know very few games actually pay. 
However, City Rush stands out in a sea of fake money-making apps as its operator has a track record of rewarding users. 
While this may provide a glimmer of hope in an otherwise unreliable industry, it's still wise to exercise caution. 
In this review, I will explain everything you need to know about this app and why it may not meet your expectations.
So, is City Rush legit or fake? Does it pay? Let's find out! 
Recommendation: Join the step-by-step program that helped me to generate $2,000+ per month and become a digital nomad in 2019.
City Rush Review
Name:

City Rush – Earn Money

Developer: 

Givvy

Availability:

 Worldwide

Price:

 Free

Payout threshold:

 0.35 USD

Overall rating: 0 star
What is City Rush? 
City Rush is an idle game where you connect cities with roads and earn coins based on progress. 
You can build roads and unlock new islands to expand your "empire" using your coins. 
With an addictive gaming experience, the game may get you hooked for hours! 
That's mainly due to the opportunity to convert coins to cash and withdraw the money via PayPal, Revolut, GCash, Payeer, and many other methods. 
Developed by the talented team at Givvy Ltd, City Rush has already been downloaded over 100k times and is gaining more popularity by the day. 
The company operates many other popular apps that reward users for watching videos, listening to the radio, and even using social media.
How Does City Rush Work? 
You can download City Rush on any Android device from the Play Store. 
The app is 100% free and doesn't require creating an account before jumping into the action.
After agreeing to the terms and conditions, you must tap the "Start Earning" button. 

How to Play?
The game presents a world of various islands where players must connect cities with roads.
Simply touch and drag to link two cities with the road.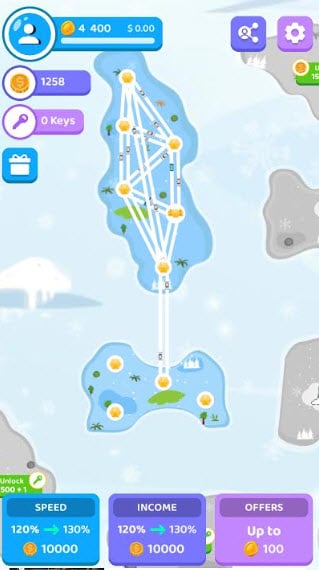 Connect two cities in City Rush, and you'll set in motion traffic that will earn you coins passively. 
However, maintaining those roads will consume coins, which means you will eventually get stuck. 
To overcome this hurdle, you must increase the speed and income to start generating profits from your network. 
But there's a catch. The game will force you to watch an advertisement about a ludicrous cash game every time you want to upgrade.
You will be enticed to watch those videos as you need a large number of coins to unlock a new island. 
Unlocking an island also requires keys, which you can earn by creating enough roads between cities.
 Remember that your earnings will drop as you build more coins, meaning you will be stuck in this never-ending loop to expand your territory. 
Once you have enough coins and keys, tap to unlock a new island and keep connecting cities. 
It's worth noting that you will be bombarded with adverts while trying to play your game. 
These videos will relentlessly invade your gameplay and ruin your overall experience! 

Earning Cash Rewards
It's time to cut to the chase and talk about what most people are here for: MONEY!
But how are coins converted to cash in City Rush? 
First, it's essential to realize that there are actually two different types of coins:
The first type is earned by connecting cities, while the second type is earned through your overall progress in the game.
Remember that you can only exchange the second type of coins for real money, and the game sets the exchange rate at $0.01 per 10,000 coins.

This reward platform is going viral! Cash out via PayPal, Visa, Gift Cards, and in-game currencies - Click here to find out how to generate an extra $10+ per day! 
It takes significant time to accumulate over 10,000 coins, only to see your balance grow one penny at a time. 
The reality is that making money with City Rush is a Herculean task that requires hard work and patience.

In fact, the developers intentionally created it to annoy players with copious amounts of commercials, so players eventually try the offers.
Special Offers by Givvy
The offer tab features a list of Offer Walls and survey providers, such as TapJoy, AyeT-Studios, OfferToro, Theorem Reach, and Pollfish. 
You can earn between 10k to 20 million coins with a single offer! 
The rewards offered can vary depending on the type of offer, such as installing a new app, completing a registration form, and taking a survey.
Withdrawing Funds
To withdraw money from City Rush, click the profile symbol in the top left corner.
Then, touch the "Withdraw" button and select your preferred payment method. 
City Rush offers users 15 payment methods, each with its own minimum withdrawal amount.  
Here is a list of the most popular options with the minimum cash-out requirement:
Payeer: 

0.35 USD

GCash:

 0.35 USD

Coinbase:

 0.35 USD

Revolut:

 0.35 USD

Amazon:

 1.04 USD

PayPal:

 1.04 USD
Givvy may take up to 7 days to process and deposit your withdrawal into your account.
Note that they will pay you in EUR, even if your balance is in US dollars.
Is City Rush Legit? Does it Pay? 
City Rush is one of those hit-and-miss apps that may work well for some users but not for others.
Many users have reported that the app has blocked their IP address even though they didn't use VPN. 
So, the outcome is uncertain – you could be compensated for your time or left empty-handed and frustrated. 
Imagine playing this game for hours and watching hundreds of videos, only to receive an unfair label of "fraudster"?
If they accuse you of something, they should prove what they say, right?
Otherwise, they should play it fairly and admit you weren't chosen for the cash prize. 
Does that make City Rush a scam? That said, I prefer not to make any accusations here based on what I think and without proof. 
But the odds don't seem to be in your favor!
With so many people getting banned for allegedly "fraudulent" activity, the prospects of receiving money from Givvy are bleak! 
Final Words
I hope my review has helped you open your eyes to the reality of playing City Rush. 

If you've played City Rush, we want to hear from you!
Share your experience with the app in the comments below, and let us know if you received the money.
Peace!