Welcome to my Golden Piggy Slot review!
I was playing one of those fake cash games when a banner full of apps appeared at the bottom of my screen.
And there was the Golden Piggy Slot logo, shining like pure gold with its flashy gold pig and the tempting word SLOT!
The fact it was being promoted alongside other fake apps raised alarm bells in my head!
But despite my better judgment, I installed the game, only to realize it was yet another "opportunity" to earn free money.
The reason why it's so tempting is that players can press the spin button unlimited times without spending any money.
With each winning combination on the reels, it's only a matter of time before you reach the payout threshold and cash out!
The question is: Will you receive the money? Is Golden Piggy Slot legit or fake? Let's find out!
Before you leave this page, don't miss out on the step-by-step program that helped me to generate $2,000+ each month and quit my job in 2019.
Golden Piggy Slot Review
Name:

 Golden Piggy Slot

Developer:

 xtgame

Price:

 Free

Type:

 Entertainment

Payout threshold: 

$1000

Overall Rating: 0 stars
What is Golden Piggy Slot? 
Golden Piggy Slot is a free game for Android that mimics a 5-reel machine, rewarding users with virtual currency.
Players must press the "Spin" button to activate the machine and wait for the reels to stop spinning.
Whenever Pigs land on the reels, you can collect cash rewards ranging from $0.10 to over $50.
Depending on the position the pigs appear, you will also collect puzzle pieces representing lucky gifts, such as iPhone 13, MacBook Pro, Pandora Jewelry, and more!
As of writing this review, Golden Piggy Slot is going viral thanks to massive advertising campaigns.
It's been downloaded over 10k times, but I bet it will reach 100k soon!
How Does Golden Piggy Slot Work? 
Golden Piggy Slot is available for free on the Play Store and does not require any actual money deposits to play.
Also, there is no need to sign up before accessing the money-making simulator!
Tap on the "Spin" button to start the game. The reels will start spinning and come to a stop one by one.
Each time a pig lands on the reels, the scorecard will stamp all the pigs in the exact location where it appears.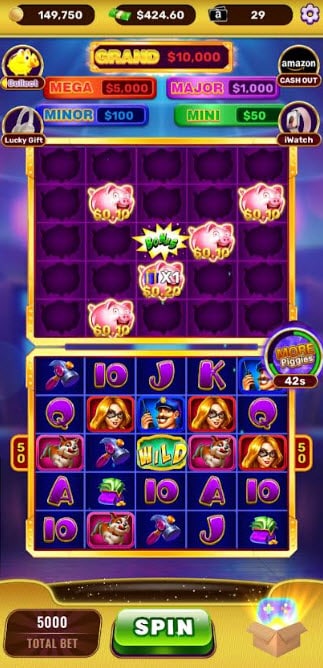 Pigs worth $0.10, $0.20, or $0.30 will be combined into a single payout at the end of the game.
When you get a pig worth over $50, you will be encouraged to tap the collect button and watch the video to claim the prize. 
It's worth mentioning that those are mostly advertisements for other money games with unrealistic payouts. 
You will then earn more cash rewards by filling the entire row or column with pigs. 
Furthermore, you can unlock treasure chests with Amazon cards and puzzle pieces from iPhones, MacBooks, and more lucky gifts. 
You can redeem the Lucky Gift prize by collecting 10 fragments tracked in the Lucky Gift section.
Withdrawing Funds
Before you can cash out, you must ensure you've met the minimum withdrawal amount of $1000.
When you achieve your target, head to the cash-out section in the screen's top right corner.
Then, you'll need to choose one of the three methods: PayPal, Cash App, and Amazon.
Golden Piggy Slot claims the reward will be sent to you within seven business days after you request your cash out. 
Are you on board with this? I urge you to read on if you still have a spark of optimism.

Is Golden Piggy Slot Legit? Does it Pay?
No, it doesn't! Golden Piggy Slot will never transfer the money to your account since all the rewards are fake. 
Thousands of people will learn the hard way that the virtual currency in this get-rich-quick simulation has no real-world value. 
The game's sole purpose is to entice players to watch countless adverts and profit passively from their time. 
It took me approximately 40 minutes to reach $1000 and press the cash-out button.
But after entering my account information, the order was put under review with the condition I watch 60 videos to activate it. 
I lost count of how many games I reviewed with the same excuse to get more views – Probably hundreds of them! 

This reward platform is going viral! Cash out via PayPal, Visa, Gift Cards, and in-game currencies - Click here to find out how to generate an extra $10+ per day! 
All in all, Golden Piggy Slot is a golden opportunity for the developer, but it's more like fool's gold for the players.

Earn a Full-Time Income Online
Don't waste your time with the illusion of tapping spin and making a big win!
Instead, use it wisely by creating an online business to help you reach your life goals. 
Having the flexibility and freedom to work from my laptop was why I decided to become an online entrepreneur. 
Thanks to this excellent step-by-step program, I started this lucrative site without previous experience. 
Of course, success doesn't happen with little effort, as many influencers want you to believe. 
But with hard work and determination, anyone can generate a life-changing income online and enjoy the laptop lifestyle. 
Final Words
Thanks for reading my Golden Piggy Slot review! I hope it helps to raise awareness! 
Please feel free to share your experiences with this game in the comments section below.
Until next time! 
Peace!