Welcome to my Magic Slots review!
I bet you're as eager to discover whether this irresistible, free arcade game will make us all filthy rich or take us for a ride. 
Who wouldn't want to tap a button and generate lots of cash out of thin air like the central bank?  
The advert is a pure masterpiece. A charming woman practically bed us to download her game NOW and get a whopping $100!
Then, we're treated to a mesmerizing game simulation where the cash balance skyrockets to $1,000 in mere seconds.
It finishes with a messy guy assuring us of quick withdrawals via PayPal, with no purchase required.
What could go wrong?
As we all know, the Play Store is teeming with fake games that promise the world but deliver nothing.
So, naturally, we must approach Magic Slots with skepticism and disbelief.
Is it legit or fake? Will they transfer the money to your PayPal account? Let's find out!
Grab your popcorn and prepare to be enlightened as I expose the reality behind this money game. 
Recommendation: Join the step-by-step program that helped me to generate $2,000+ per month and become a digital nomad in 2019.

This reward platform is going viral! Cash out via PayPal, Visa, Gift Cards, and in-game currencies - Click here to find out how to generate an extra $10+ per day! 
Magic Slots Review 
Name:

 Magic Slots: Forest Jackpot

Developer:

 OGLE BEOG ASDF

Price:

Free (no financial risk)

Type:

Entertainment 

Payout threshold:

$200

Overall Rating: 0 stars
What is Magic Slots? 
Magic Slots is a simple and addictive arcade game claiming to pay hundreds or thousands of dollars!
The game features a 5-reel machine to win "cash" without any risk of losing money. 
And the best part is that you can cash out immediately once they reach the payout threshold of $200!
Simply tap the spin button and watch as the reels of the enchanting machine whirl before your eyes.
As you indulge in unrealistic cash bonuses, you will watch many adverts that line the developer's pockets. 
Magic Slots' popularity is rising, with over 100,000 downloads on the Play Store! 

How Does Magic Slots Work? 
Magic Slots is easily accessible for adults 18 and older on the Play Store.
Users can jump right into the action without creating an account, making it super convenient to start. 
You will start with 30 free spins, with an extra one added to your account every 2 minutes.
Simply tap the spin button to set the five reels in motion for your chance at exciting cash prizes.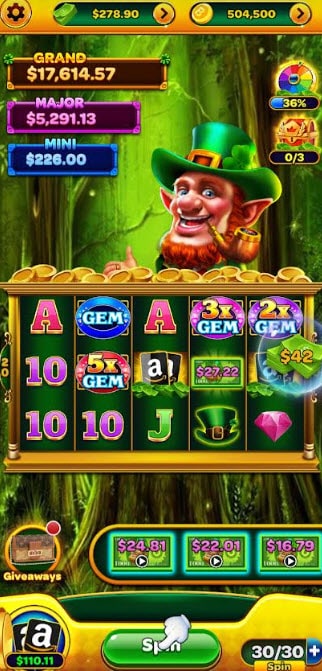 You will collect virtual dollars when the reel lands on the PayPal and Amazon logos. 
Along the way, you'll encounter various perks designed to help you reach your target faster.
For example, matching three or more scatters will trigger the free spin for a chance to win rewards. 
Additionally, you can flip cards and earn more money if you collect three keys. 
But the most effective way to grow your cash balance is to watch the sponsored video when Magic Slots offers you Lucky Cash.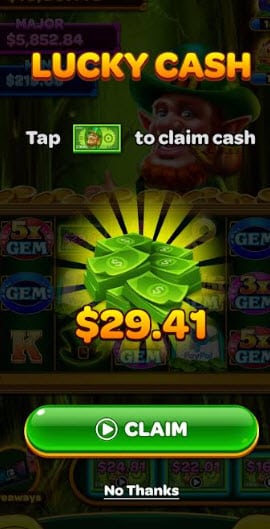 Of course, this is a tactic developers use to maximize revenue since players have a good reason to tap claim and watch the advert. 

Withdrawing your Funds
Magic Slots offers players six convenient options for withdrawing their earnings: PayPal, NPay, PayTm, Yandex, and Ovo.
Simply select the option that works best for you and enter your account ID.
But remember, you'll need to accumulate a minimum of $200 in your account before you can hit that cash-out button.
Oh, and about those coins you've collected – you can exchange them for Amazon gift cards! You'll need a minimum of 2,000,000 coins to redeem a $5 gift card.
Giveaways 
As if free cash wasn't enough, Magic Slots also features a giveaway section full of amazing prizes! 
You need to collect enough puzzle pieces while spinning to win $200 PayPal cash, MacBook Pro, Samsung Galaxy, and more!  
Is Magic Slots legit? Does it Pay? 
No, it doesn't! This app is playing a clever game with its users with the only purpose of maximizing profits. 

Cash rewards are nothing more than virtual dollars used to entice players into a deluge of advertisements. 
Since the developer makes money from video views, it's only natural he will try to get the most out of your time! 
As you diligently collect your $200, you'll soon discover that the goalpost has been moved.
When you reach the goal and try to cash out, Magic Slots asks you to get the Lucky Cash bonus five times and wait 24 hours. 
But the twist doesn't end there. After that, the app updates its requirements again, requesting ten keys and a 48-hour waiting time.
Can you feel the dirty smell of bait-and-switch here? 
They lure you in with the promise of easy money, only to change the requirements as you reach the target.
This psychological manipulation is exactly what keeps players engaged and not willing to give up.
Unfortunately, you won't receive any money even if you complete all the requirements! 
Conclusion 
Magic Slots is an app that capitalizes on people's desire for instant cash rewards.
It uses grand prizes and sneaky tactics to keep the player hooked and ensure profits continue to pour in.
As you invest your time and effort into this dull game, you raise the developers' bottom line with no actual payout.
It's important to be aware of fake money games' strategies to exploit players and avoid such traps. 
Remember, if something seems too good to be true, it probably is! 
Earn a Full-Time Income Online
If you've had enough of fake money games and need a serious way to make money online, here is my top recommendation: 
Build a content-based business and tap into the endless potential of the digital economy! 
This website is the foundation of my business! It generates income 27/7 and gives me the freedom to work anywhere and at my own pace! 
If you want to create a digital asset that can provide you with a reliable source of income, check out this excellent step-by-step program. 
It's the very same program that has helped me build a lucrative site and escape the 9-5 grind in 2019! 

Final Words
I hope you found my Magic Slots review helpful. I'd love to hear your thoughts on the app, so please feel free to share in the comments section below.
Peace!