Welcome to my Mega Pinball: 3D Flipper review!
Fasten your seatbelts as we dive into the magical world of money-making games, where cash rewards are unlimited!
I discovered Mega Pinball: 3D Flipper through an advertisement depicting a flustered man being interrogated by an official.
The guy explains himself by saying his daughter downloaded this game that sent him money!
What? Yes, folks, this is one of those games that entice players with the prospect of no-effort riches!
The advert continues by saying you can win a $100 new player bonus and claims to pay directly to your PayPal account.
Of course, this seems too good to be true. So, you can't help but wonder if Mega Pinball: 3D Flipper is legit or fake. Does it transfer real money to your pockets?
Let's find out!
Recommendation: Join the step-by-step program that helped me to generate $2,000+ per month and become a digital nomad in 2019.
Mega Pinball: 3D Flipper Review 
Name:

Mega Pinball: 3D Flipper

Developer:

A3 Hostingker

Price:

 Free (no financial risk)

Type:

 Entertainment 

Payout threshold:

$1000

Overall Rating: 0 stars
What is Mega Pinball: 3D Flipper?
Mega Pinball: 3D Flipper is a free Android game that supposedly awards ridiculous cash prizes. 
You simply play this generous virtual Pinball machine, and as you hit certain obstacles, voila!
Cash bonuses are unleashed as if by magic!
But when it comes to cashing out all the money, there is always a requirement to keep you engaged for a long time on the game.
You can only withdraw the funds via PayPal once your balance reaches the lofty sum of $1000.
Mega Pinball: 3D Flipper is free to play unless you want to upgrade to remove the adverts or benefit from perks.
How Does Mega Pinball: 3D Flipper Work? 
You can download this game via the Play Store on any Android device.
Simply hold the button to launch the ball to the playfield, filled with bumpers, ramps, and obstacles.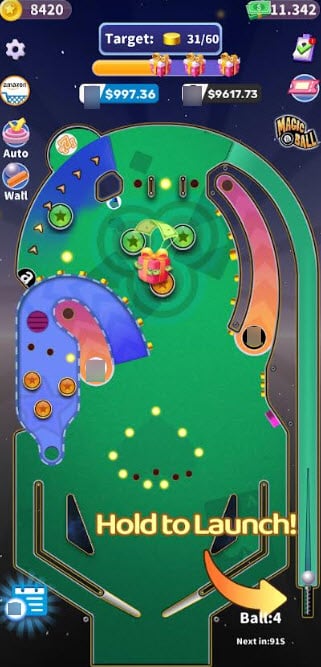 Then, skilfully manipulate the flippers to keep the ball in play, ricocheting off obstacles that unlock the tempting cash prizes.

You will get massive PayPal or Amazon bonuses whenever the ball hits the green obstacles.
If the ball goes through the high score area, the reward will be doubled, and if it hits the slot area, it will activate the 3-reel machine.
Bear in mind the developers are not giving you all these virtual dollars for no reason!
They want something valuable from you: your undivided attention toward their sponsored videos!
You probably know that whenever you watch them, the developer gets paid by greedy advertisers who want you to download their latest money-printing app! 
That's why they will entice you t click the "get" button and watch the commercial before giving you the unrealistic reward.
And what happens when you run out of balls? Yep! You get an extra five balls if you watch the video or deduct $2 from your virtual wallet.
I am blown away by the number of advertisements that this game has!
You will spend over 95% of the time watching them instead of playing the pinball game itself, which is very annoying.
However, most people are only interested in reaching the $1000 anyway. So, they don't care about the gameplay! 
How to Cash Out? 
Mega Pinball: 3D Flipper allows you to withdraw all the money after the 24-hours.
Alternatively, you can withdraw the fund immediately once your wallet reaches $1000.
When it comes to Amazon gift cards, the developer is even more generous.

However, brace yourself for a much higher payout threshold of $10,000.
To cash out, you must open the balance and fill up your account details.
Is Mega Pinball: 3D Flipper Legit? Does it Pay? 
No, it doesn't! Mega Pinball: 3D Flipper doesn't pay a dime.
That's right, folks! This seemingly lucrative pinball machine is nothing more than smoke and mirrors.

This reward platform is going viral! Cash out via PayPal, Visa, Gift Cards, and in-game currencies - Click here to find out how to generate an extra $10+ per day! 
It's just another fake cash game lurking in the depths of the Play Store, preying on the hopes and dreams of unsuspecting players.
The game entices you with endless cash rewards and Amazon gift cards with the condition of reaching $1000 and $10,000.

As you collect the virtual dollars, the developer uses a well-known strategy of diminishing rewards.
It works by decreasing your cash incentives to less than $1 as you approach the minimum cash-out requirement.
So, you end up watching even more videos than you initially thought.
Ultimately, the developers rack in actual revenue at the expense of your time while you earn absolutely NOTHING! 
 You may eventually achieve the target and request the payout, but Mega Pinball: 3D Flipper will probably come up with an excuse and demand more views. 
Simply uninstall the app and forget about it! 
Conclusion
The truth is that Mega Pinball: 3D Flipper is the classic "too good to be true" application!
By playing this game, you are just helping developers grow their bank accounts. 
So, don't waste your time with it! 
Instead, I recommend reading the next section to discover an effective and proven way to make money online.
Earn a Full-Time Income Online
If you're ready to transform your life and make thousands of dollars online, this section is for you. 
Here is the best strategy the internet offers: build an online asset that will generate decent income month after month! 
You can achieve your goals by creating valuable content just like I do with this website. 
So, how did I go about it? First, I committed to a comprehensive, step-by-step program and consistently put in the effort.
Now, I work entirely remotely, free from the constraints of a dreadful job that once drained my soul. 
If the idea of a location-independent lifestyle appeals to you, click here and start your journey today! 
Final Words
Thanks for reading my Mega Pinball: 3D Flipper. I hope that my insights have helped you avoid the frustration of wasting more time on this game. 
Feel free to leave your honest review in the comments section below to warn others. 
Peace!